Data. You need it to make wise business decisions.
Actually, you need to understand it in order to make those prudent decisions. Reports that present your business's data in an organized fashion will help you uncover patterns and find actionable intelligence. As PwC put it:
Applying analytics technologies, tools, techniques and talent can transform dry facts and figures into strategic insights that deliver intelligence in the moment. You can now solve specific and complex business problems on reliable intel, not gut-instinct.
An OnSIP cloud phone system provides a variety of built-in reports and dashboards that are available for your use. These features present invaluable call tracking metrics that measure how your company is using the phone system.
OnSIP Dashboards Provide Real-Time Call Tracking Metrics
The OnSIP Admin Portal Dashboard
Each OnSIP account comes with access to the Admin Portal, a user-friendly web interface where you administer your phone system. Here, you can add or delete users, create features, purchase phone numbers, and set up call routing rules.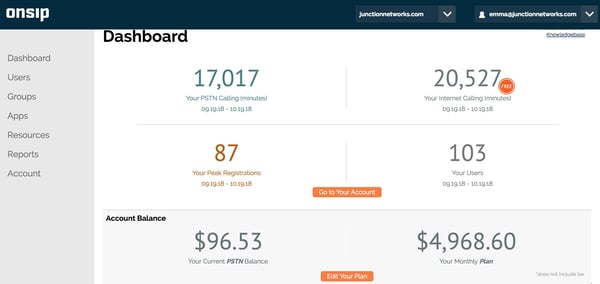 Upon login, you are taken to the Admin Portal Dashboard, which provides a snapshot of your account information. Your business's phone system administrator can use this view to monitor the company's usage statistics in one glance. S/he can see:
PSTN (Public Switched Telephone Network) Calling totals: Inbound calls to your phone numbers (both toll and toll-free numbers), as well as outbound calls to outside numbers
Internet Calling totals: This covers extension dialing the coworkers on your OnSIP account and any other SIP-to-SIP calling you are doing. Since these types of calls do not traverse the PSTN, they are free calls!
Important account information: Total number of users; your account's current PSTN balance (used to make phone calls— if you're on the Pay as You Go or Metered User plans— and purchase phone numbers); your billing plan's monthly cost, and more
The Enhanced Queue Dashboard
Call queues are used to efficiently handle a business's inbound calls, especially in a call center environment where there are many calls coming in at any one time. OnSIP offers an advanced queue solution— Enhanced Queues— which provides sophisticated monitoring tools.
Customers can access the Enhanced Queue Dashboard within the OnSIP app, our business softphone that's free for each and every OnSIP user. The app runs on Mac, Windows, Chrome, and Firefox.
The Queue Dashboard tab (found in the app's Header) provides a real-time dashboard of all Enhanced Queues on your account. This view gives you an up-to-the-minute look into what is going on in your queues. You can see:
How many calls are currently waiting in the queue(s)
Which call has the current longest wait time
How many calls are currently active ('on call')
The call status of all queue agents
In the dashboard, you also have access to advanced call monitoring capabilities that let you supervise call agents and assist callers:
Use Call Monitor ('Listen In') to silently listen in on any call agent that is on a live call. Neither the agent nor the caller knows that you are listening to the call.
Use Call Whisper to speak with the call agent without the caller knowing. This is especially useful if you want to coach an agent on how to respond to the caller's question or provide encouragement when an agent is following your company's support best practices.
Enter into a call using the Call Barge ability. This allows you to speak with the agent and caller directly; use this when you need to provide additional support for the caller.
You can even set alert notifications, via browser popups and emails, for when specific situations are encountered. These are essential in notifying you when there are X number of callers waiting in a queue, for instance.
The Enhanced Queue Dashboard is an essential sidekick for all queue supervisors.
OnSIP Reports Bring Call Metrics, Statistics, and Trends to Light
Historical Queue Reports
The Enhanced Queue Dashboard additionally enables supervisors to download reports on the queue's performance history. These reports are also found in the Queue Dashboard tab.
By selecting the specific queue, date range, and Time Zone, you can generate reports that compile important data on how your queue is being used. Call tracking metrics for the selected date range in these reports include:
Average call wait time
Maximum call wait time
What was the busiest time of day for the queue
Call agent information: including how many calls the agent answered and the average amount of time spent on a call
For your convenience, you can have these reports automatically emailed on a periodic basis (daily, weekly, monthly, or quarterly) to specified individuals.
Armed with this information, you will be able to make informed, proactive decisions on how to efficiently staff your call center or customer support department.
OnSIP Account Call Detail Records
All OnSIP accounts are provided with Call Detail Records (CDRs). These are the complete record of every PSTN phone call that is made on your account.
CDRs are generated in the Admin Portal. In the Reports tab, you just select the time period that you want the report to cover and timestamps for the calls found there, and you are presented with a wealth of call tracking metrics.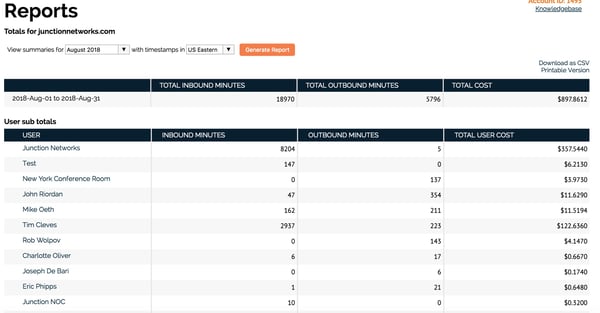 The data is presented in both organization call totals (both the number of minutes and cost total), as well as subtotals broken up by each account user. You can download these reports into .CSV files, which provide granular information such as:
Date and time of call
Cost of call
Call time length
And much more
These CDRs give phone system administrators and company executives a comprehensive view into the staff's calling patterns.
For more details on the reports and dashboards found in an OnSIP account, download our free guide below. And gain the confidence of knowing that you are making good business decisions based on accurate information.
Topics: About VoIP, SMB Leadership, Business Technology