In the first customer feature of the year, we feature Brite Electric, an OnSIP customer for a year and a half. The family-owned company, founded in 1979, specializes in electrical and air-conditioning contract work and services in the Central Florida area. Judy Wolek is the president, and she spent some time telling us what she likes most about OnSIP.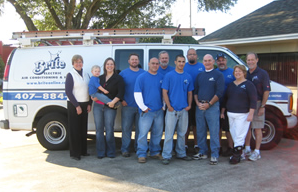 What phone service did you previously use and why you decided to look for other options?
At Brite, we have tried numerous phone services since the company was created. Initially, we had traditional POTS with the local telephone company. We then tried remote carriers and a number of companies over time. We had telephone service through Cablevision for several years. One day, lightening hit our phone system and we were faced with having to replace it at a cost of at least $10,000. Then our IT consultant, who manages our computers, suggested that we look into VoIP as an alternative. That is when we came across OnSIP. We chose OnSIP over its VoIP competitors for its attractive pricing packages, which lent itself well for use in our office.
Tell us about your transition to VoIP, specifically OnSIP.
When we decided to try VoIP, we didn't switch all at once. Instead of buying the equipment for a full phone system like our previous one, we ordered individual phone lines for all the key personnel in our office. All the field employees used their cell phones. We then bought one number registered with OnSIP and tried it. The calls were clear with no echoes and we were pleased with the quality. Then we started using another phone with OnSIP. We found that calls were uniformly of good quality. So we decided to go all out and use OnSIP fully for Brite Electric.
What are your favorite features?
My favorite feature while managing OnSIP is how the admin portal is online. I don't have to be in the building to make changes. If the front office people are on leave, I can manage the system from anywhere, even after office hours. As an example, if I forget to change the greeting and office hours for a holiday, I can still do that when I remember, sitting at home. Very nice! I have to add that, the first time I tried exploring the admin portal, I was a bit hesitant. I spent about 20 min on the phone with Larry Browne (member of the support team) who explained everything and set me off in the right direction. Even now, when I have any questions, I just have to call Larry and he helps me out patiently. I'm a heavy speed dial user – I have more than a hundred customer numbers set to three-digit dialing and I constantly use the feature. I am a fan of voicemail-to-email, which tells me about important customers who need our help right away when I'm away from my office. I also have set up the system so as to receive texts when there are missed calls, which allows me to call back important customers when the front desk is overloaded.

How has your experience with OnSIP been so far?
I love that OnSIP is very reliable. In the year and a half that we've been OnSIP customers, we've had one minor hiccup and even that was solved immediately. I cannot say the same for the other phone systems we've tried. And last, but not least, our savings using OnSIP is tremendous. With my old phone system, our bills used to be anywhere from $400 to $600. With OnSIP, our bills are never more than $150 for the same call volume and features. I could use the difference to pay for my truck!
We thank Judy for taking the time to share her experiences with us at OnSIP.