In 2020, video conferencing went from a "nice to have" business phone system feature to a "must have" one. Can your employees make video conference calls using your business's current phone service?
OnSIP hosted VoIP equips each and every person at a business with the ability to host and join video conference calls on their computers or laptops. Staff members can set up a call in seconds, and they can invite in-house coworkers, as well as external parties, to join the video call.
Video Conference Calls in the OnSIP Web or Desktop App
Once OnSIP is set up at your business, each staff member can log into the OnSIP app, a personalized and full-featured business softphone. The app is available in a web browser (Chrome, Firefox, or Opera) window, as a downloadable desktop application, and as an app for your iOS or Android smartphone. Staff members can use any or all of these apps to find the one(s) that best fits their working habits.
Employees who use the web app or desktop app on a video camera-enabled computer or laptop can set up video conference calls directly in the app's interface. The option to enlarge the video call to full-screen mode is available, and call handling buttons like hold, mute microphone, and mute video are displayed below the video feed.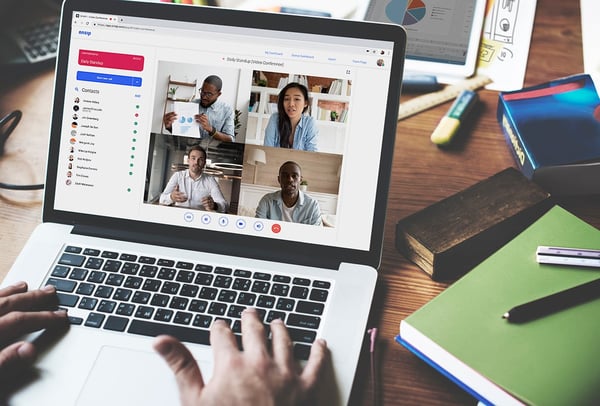 Once the video conference has started, you can have up to five video callers join the conference call, provided they are also using a video camera-enabled computer or laptop. Work colleagues can video call in straight from their own OnSIP web or desktop app. You can also invite people from outside your company to join the video call by having them open a unique web page in their web browser windows. (More on both of these options below.)
How to Start a Video Conference Call in the OnSIP App
Starting a video conference call in the web or desktop app is simple:
Log into the web app at app.onsip.com, or open the desktop app on your computer or laptop.
Once in, click on the "start a video conference" link, located on the left side of the interface below the "start new call" button.
In the text field, enter a descriptive name for your video conference. It can be something like: "SalesMeeting," "WeeklyCatchup," or "ExecutiveTeamConference." If you don't enter a name, your conference call will be assigned a random string of letters and numbers.
Then, click on the "Start Conference" button to launch the call.
Once the call has started, you'll see a black screen with "No One's Here Yet." This is the screen that displays when no one else is on your conference call. A popup will alert you to the unique conference link for this particular call. You'd send this link to external parties when you want them to join.
How Coworkers Join Your Video Conference
Coworkers can join your video conference call in a matter of seconds. Have a coworker log into the web app or open the desktop app with her own personal credentials and click on the "start a video conference" link. In the text field, she needs to type in the exact name of the conference you created. Once she clicks on the "Start Conference" button, she will join your video call.
How External Parties Join Your Video Conference
External parties (non-OnSIP users) can join your conference just as easily, too. After you've launched the video conference, click on the button with the link icon that's underneath the video feed to automatically copy the unique conference link for this particular call. Then, send that link to the person over email.
When he opens that link in a Chrome, Firefox, or Opera browser window, all he has to do is type in his name in the text field and click on the "Video Conference" button. He'll instantly video call into your conference, having access to the same call handling buttons as you do.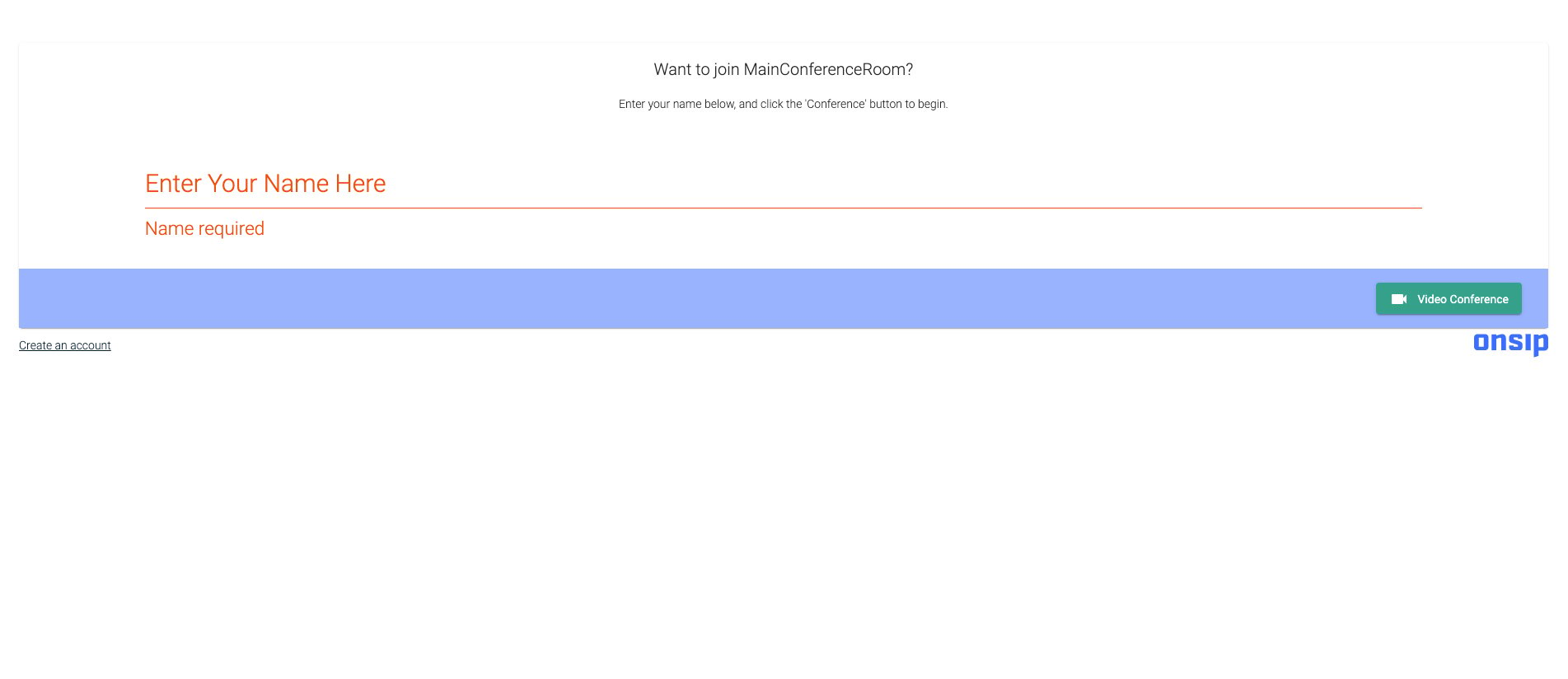 OnSIP Video Conferencing at Your Business: 5 Benefits
#1: Have Team Standups, Department Meetings, and Client Conferences When You're All in Separate Locations
Are you and your coworkers working from home? Not a problem! Use video conferencing in the OnSIP app to continue your daily team standups and department meetings. All of your colleagues can use their own OnSIP apps to video call into the conference at the meeting's start time.
When you need to have a conference call with a lead, client, or vendor, just create the video conference in the app and email him the conference call link. The caller(s) will appreciate the fact that he doesn't have to download any software or application in order to join the video conference—all he needs to do to video call in is open his web browser window.
And keep using OnSIP video conferencing when your team is back in the office. You can continue your daily meetings even when a colleague is on business travel or working from home because they're not feeling well.
#2: Use the Same Conference Call Name and Web Link for Recurring Meetings
Once you've named a video conference call, that specific conference will be available to you even after the call has ended. This is particularly helpful if you have recurring meetings on a daily or weekly basis. Meeting participants who use the OnSIP app can "redial" into the conference (by typing in the same conference's name) at the meeting's appointed time, while external callers just have to open that same conference call link in their web browsers. You won't have to create a new video conference or email out a different link for recurring meetings that you have during your workweek.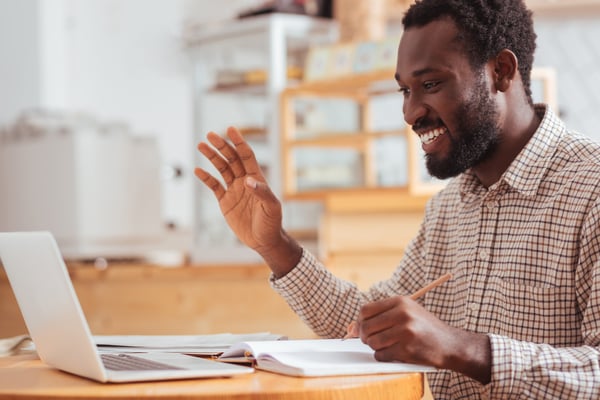 #3: Ensure Your Video Conference Call Is End to End Encrypted
Video conference calls in the OnSIP app are encrypted end to end. While we handle call creation and call "hangup," the audio and video content of the call is completely encrypted. For more information, check out our blog post that covers how we achieve end to end encrypted video conferencing.
#4: No Conferencing Hardware Needed, No Long Strings of Numbers to Dial
You won't need any separate video conferencing hardware or equipment when using the OnSIP app to make a group video call. The entire conference call is handled by the app itself, with each participant having direct access to call control buttons (mute, hold, hangup, etc.) on her computer monitor or laptop screen.
You also won't have to worry about dialing long strings of numbers to enter the video conference or to enable audio streams. When you create the conference, you'll give it an easy-to-remember name. Your video callers will thank you when all they have to type in is "MarketingMeeting"—or just their names, if they're external callers—instead of "473-87-9100-23#."
#5: When Using the OnSIP Web App: No Software to Download Either!
Finally, if your coworkers are using the OnSIP web app, they won't even have to download any software or applications onto their computers in order to join these video conference calls. They'll log into the app in a web browser window and be on the call in seconds. And when they're done with work for the day, they simply log out of the app and close their browsers.
OnSIP Video Conferencing: Essential to Your Business Operations
OnSIP's video conferencing is key to continuing business as usual during periods when some or all of your business's staff is working from home. But it will also be a valuable collaboration channel for when you're all back in the office. And to make sure that you don't end up on a "funniest videos" compilation, check out our blog on video calling etiquette. 😉