Today's business phones allow you to efficiently handle multiple calls at the same time.
This ability also extends to business softphone apps. The OnSIP app, our softphone available for free for all OnSIP customers, provides multi-call capability in both its web and desktop versions. This can be especially helpful for staff members who answer both sales and support lines at your company. Log into the app and see how you can use it to organize and manage different conversations with ease.
Multi-Call Management in the OnSIP App
The OnSIP app presents a telephone interface in your web browser or in a desktop application on your computer or laptop. From it, you can dial numbers on a keypad and use call handling features like Hold, Mute, and Transfer.
Starting a call is simple: Just click on the blue Start new call button on the left sidebar, type in the phone number in the Phone number or contact field using the number keys on your keyboard, and then click on the Voice Call or Video Call button to call the number. An on-screen keypad is available if you want to use it.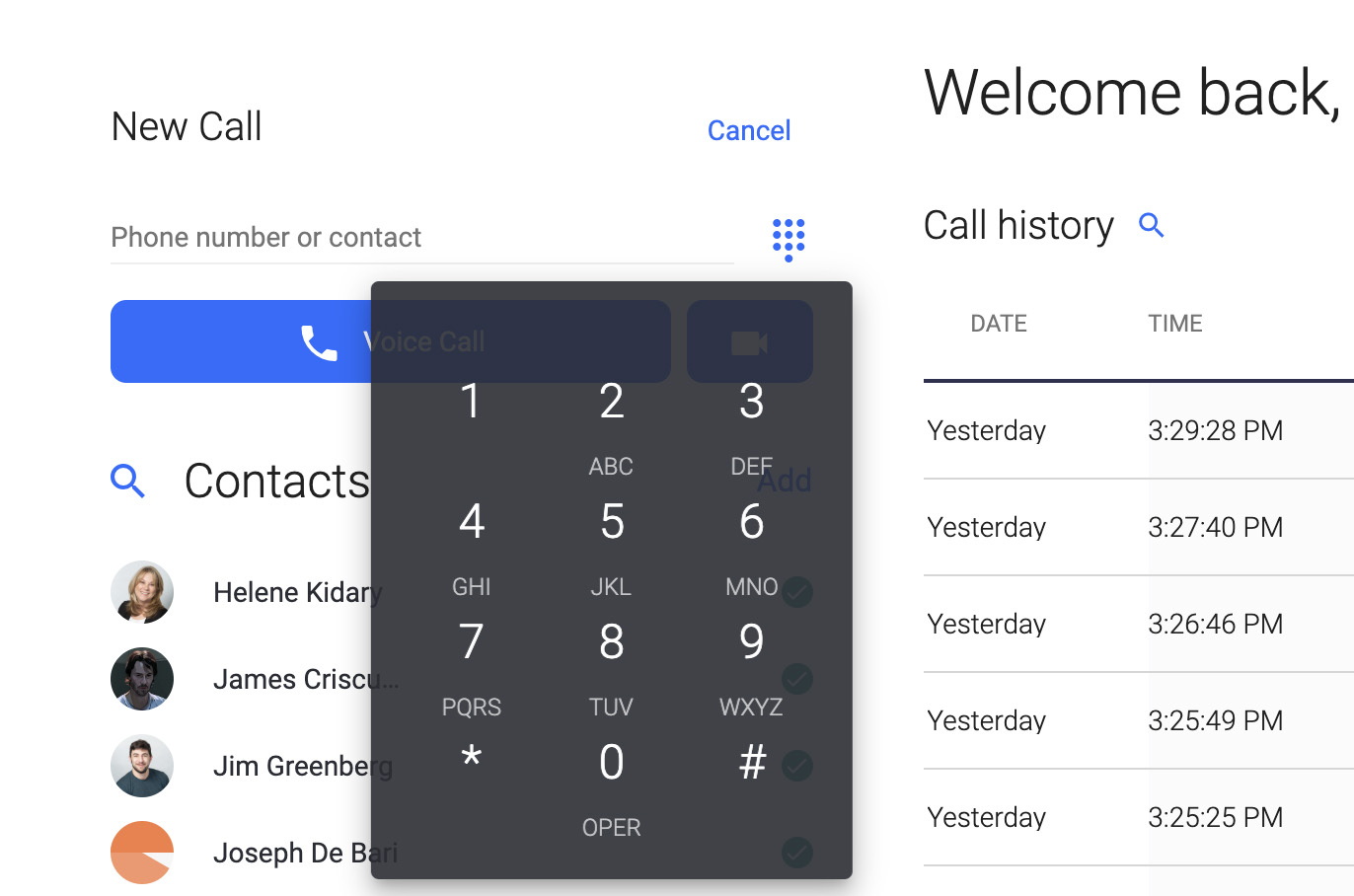 Should you receive another call while you're on the phone, you'll be notified of the incoming call in the app's interface. You can easily answer the new call while the current call is placed on hold.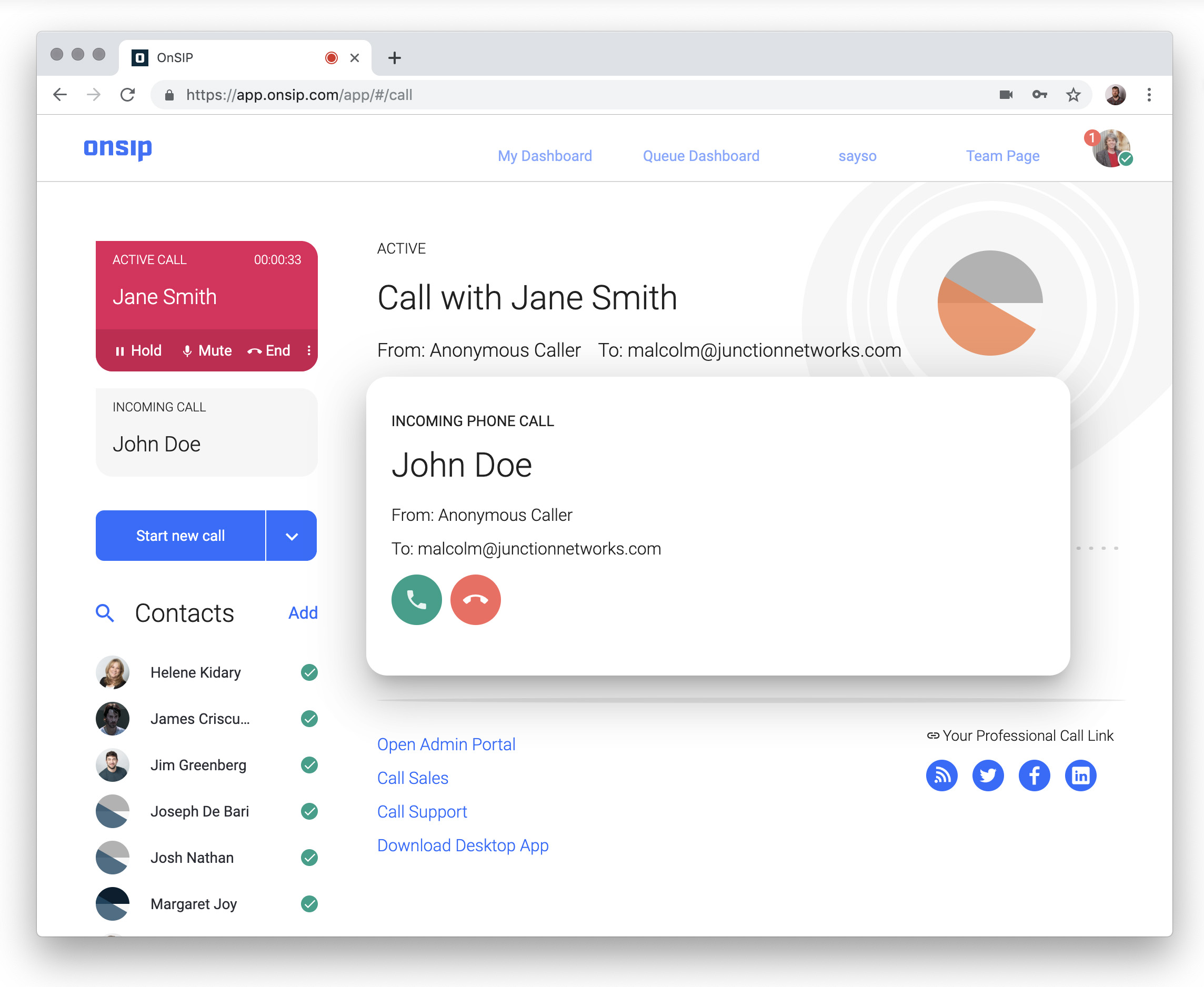 If you're on the phone with a caller but need to make a new call to a different phone number, you can put your current call on hold and click on the Start new call button on the left sidebar to start a second, separate call to another number.
Active calls are displayed in cards on the left sidebar so you can easily access and navigate between them. The calls will display whether they are "active" or "on hold." Just select the call that you want to be in and use the call handling buttons to place the call on hold, take the call off hold so that you can start speaking with the caller again, transfer the call, or hang up the call.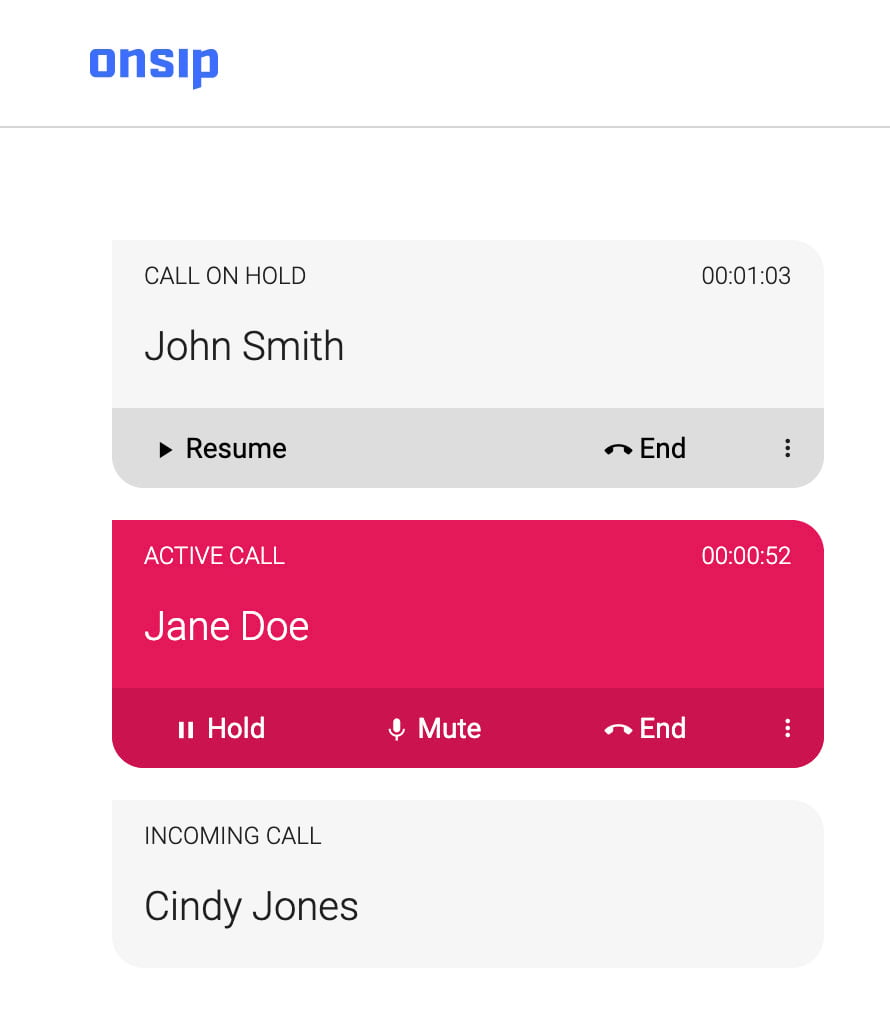 Use the OnSIP App for Your Different Sales and Support Roles
When you create a user in your OnSIP account, you can assign a direct extension to that user for coworkers to extension dial. You also have the option to create SIP aliases under that main user. These SIP aliases are unique versions of the main user that can be used for different roles. For instance, my main user is 'joe@jntest.onsip.com.' I can then create two SIP aliases for when I have to answer sales calls and support calls. My sales SIP alias can be 'sales_joe@jntest.onsip.com,' while my support SIP alias can be 'support_joe@jntest.onsip.com.'
Once SIP aliases are created, you can use them to log into your sales and support call queues. How?
At the Start new call field, there is a dropdown menu where you can select from among your SIP aliases. If you want to log into your sales call queue, select your sales SIP alias in the dropdown and then dial the login code/PIN to log into the queue. If you have a separate support SIP alias, use that alias when logging into your support call queue.

Turn Your Computer or Laptop into Your Business Phone
The multi-call management capabilities found in the OnSIP app will enable you to efficiently and effectively handle your work calls right from your browser window or computer desktop. With video calling and video conferencing abilities, click-to-call options, and voicemail management in the app, rely on the OnSIP app as your go-to business phone!