One of the most important communication features offered by OnSIP is the OnSIP app, our business softphone and complete desk phone replacement. With this app, your business's staff members can keep in touch with customers and colleagues no matter where they are working on any given day. They'll also be able to make video calls and host video conferences without needing a costly videophone or an expensive video conferencing platform.
Read on for more information on how you and your staff can get the most out of the OnSIP app.
What Is the OnSIP App?
The OnSIP app is our software-based phone that is available for free to all OnSIP users. Each user has access to his/her own personal OnSIP app, available in the browser, via a downloadable desktop application, or via a mobile application for iOS or Android. Using this app, your business's staff members can make and receive calls, listen to and delete voicemail messages, see coworkers' presence statuses, set up conference calls, and more.
You'll also be able to take advantage of these 5 efficiency-boosting features:
1. Don't Know a Coworker's Extension? Just Search by Name
Adding coworkers to your Contacts List in the OnSIP app is easy: you add them by clicking on Add button next to Contacts. Once added, you won't have to worry about remembering extensions or phone numbers anymore. In the browser or desktop app, just click on the Start New Call button on the left sidebar and start typing a coworker's name into the Phone Number or Contact field. Select a name from the dropdown below and you can then voice or video call right from the app.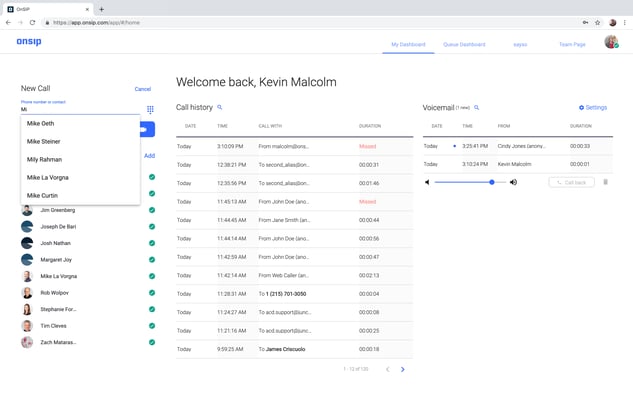 2. Perform Drag and Drop Call Transfers
When you want to transfer a call to a colleague in the browser or desktop app, just click on the active call on the left sidebar and drag and drop it onto his/her name in the Contacts List. This action performs an unattended ("blind") transfer of the call to your colleague—no dialing or PINs needed. If you wish to send a call via an attended transfer, click on the opposite facing arrows button on the active call screen and you are presented with the option to make an attended call transfer.
3. Host Group Video Conference Calls
Use the OnSIP app in the browser or desktop app to host a group video conference call with up to 5 participants. Click on the arrow to the right of the Start New Call, type in the name of your conference call, and click on the blue Start Conference button to start the call. Then have other participants join by sending them the Conference Sharing Link, found by hovering your cursor over the link icon at the bottom of the call screen. Your call participants can video call in using only their browser windows and computer or laptops' cameras!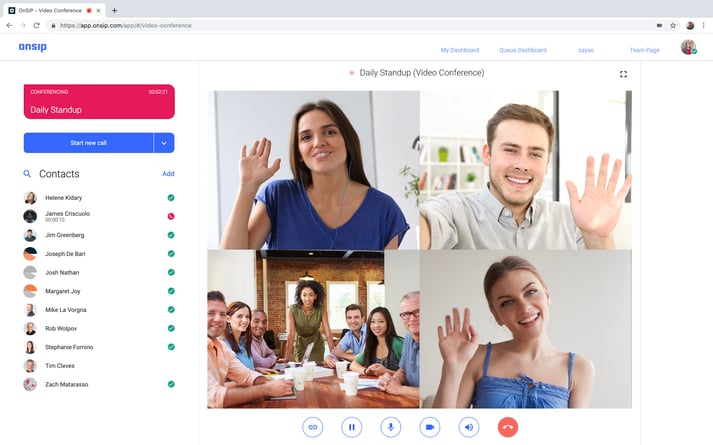 4. Let Others Click-to-Call You With Your Personal Call Page
As an OnSIP browser or desktop app user, you have your own Personal Call Page: a unique webpage that others can navigate to and voice or video call you using only their browser windows. It's available at the bottom right corner of the app's main dashboard screen under Your Personal Call Page; just hover over it, and you'll see your link. Each OnSIP app user has his/her own unique link. Send the link to others as a quick and hassle-free way to call you, or add it to your email signature or social media pages for click-to-call abilities.
Let OnSIP's Mobile App Help You Communicate On the Go
Need to work away from your desk? Try OnSIP's mobile app, which will help you make and take calls from anywhere.
Simply install the OnSIP mobile app from your app store, log in with your user address and password, and you can:
Make and receive HD voice and video calls
Set your favorite contacts and view if they're available, busy, and video-enabled
Add custom contacts into your directory for family members and other business associates
Listen to and manage voicemails with just a tap of your finger
Make the OnSIP App Your Everyday Business Phone
The OnSIP app offers an array of capabilities to help make business calling easier and more user-friendly. Rely on the app every day to communicate with your customers, coworkers, and sales prospects—you may find that you won't need your desk phone anymore!