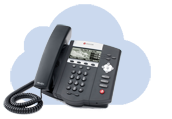 Beginning in 2004, OnSIP has been on the forefront of the growing demand for hosted PBX. Over 20,000 businesses are leveraging OnSIP for easy phone system administration, bypassing the responsibility that comes with setting up and maintaining an on-premise solution. There is still demand, however, (particularly from IT professionals and our agents) to support on-premise software PBXs, such as Freeswitch, Asterisk, and Trixbox.
Provided feedback from our channel partners and customers, we've listened to a range of phone system setup needs—from pure hosted to a hybrid solution to pure on-premise. (An example of a hybrid solution is an on-premise PBX in the office and remote employees with OnSIP hosted PBX extensions). Whatever the set up is, OnSIP is happy to offer these companies reliable OnSIP trunking service, included in our paid plans.
A SIP trunking service is essentially a gateway between an on-premise PBX system and the Public Switched Telephone Network (PSTN). OnSIP trunking enables an on-premise PBX system to receive calls from and make calls to standard phone lines. OnSIP trunking leverages the geographic redundancy and quality measures built into our real-time communications platform. Our real-time platform is built using a substantially different paradigm than competing services, resulting in industry-leading reliability, geographic scalability, and low cost.
Unlike most SIP trunking providers, OnSIP does not charge per channel or trunk. All you need to do is open an OnSIP account, pay an account minimum of $49.95 per month, and then pay as you go for phone numbers and usage (calling). You can purchase or port phone numbers, which are $2 monthly to maintain; each phone number can handle unlimited inbound calls and unlimited outbound calls. Standard calling to 20+ countries is 3.2 cents per minute; toll-free inbound calling is 3.9 cents per minute; and our extended calling rates can be found here. The OnSIP account fee gets you PSTN access and OnSIP Hosted PBX features (5 voicemail, 3 ring groups, 3 attendant menus, 1 dial by name directory, 1 announcement, and 5 music on hold channels) should you want to leverage them.
Price Comparison
Here's a price comparison of the most popular SIP account trunking plans (for a business that needs 25 concurrent inbound/outbound calls).
Company
Per month cost
Per minutes cost
Additional Charges
OnSIP
$49.95
3.2 cents
$2/mo phone number
Nextiva
$623.75
($24.95 x 25)
Unmetered
$49.75 E911 fee, $50 regulatory recovery fee, $61.13 USF fee
8x8
$500
50,000 minutes for inbound/outbound. Unlimited concurrent calling.
none
Megapath
$248.75
($9.95 x 25)
2.9 cents
$0.5/mo phone number
Simple Signal
$483
($27 x 21, 4 free trunks)
20,000 minutes
$1/mo phone number, $1.95 enable 911 group
Enabling OnSIP Trunking
To use OnSIP hosted trunking, a user in your account must be configured to route calls to/from your PBX. While configured in this way, the user will not be able to make use of any of OnSIP's other Hosted PBX features, including e911.
You will need to have an OnSIP hosted PBX account and be familiar with configuring the PBX you wish to use.
Enabling trunking service within a hosted PBX account is as simple as following the outlined steps: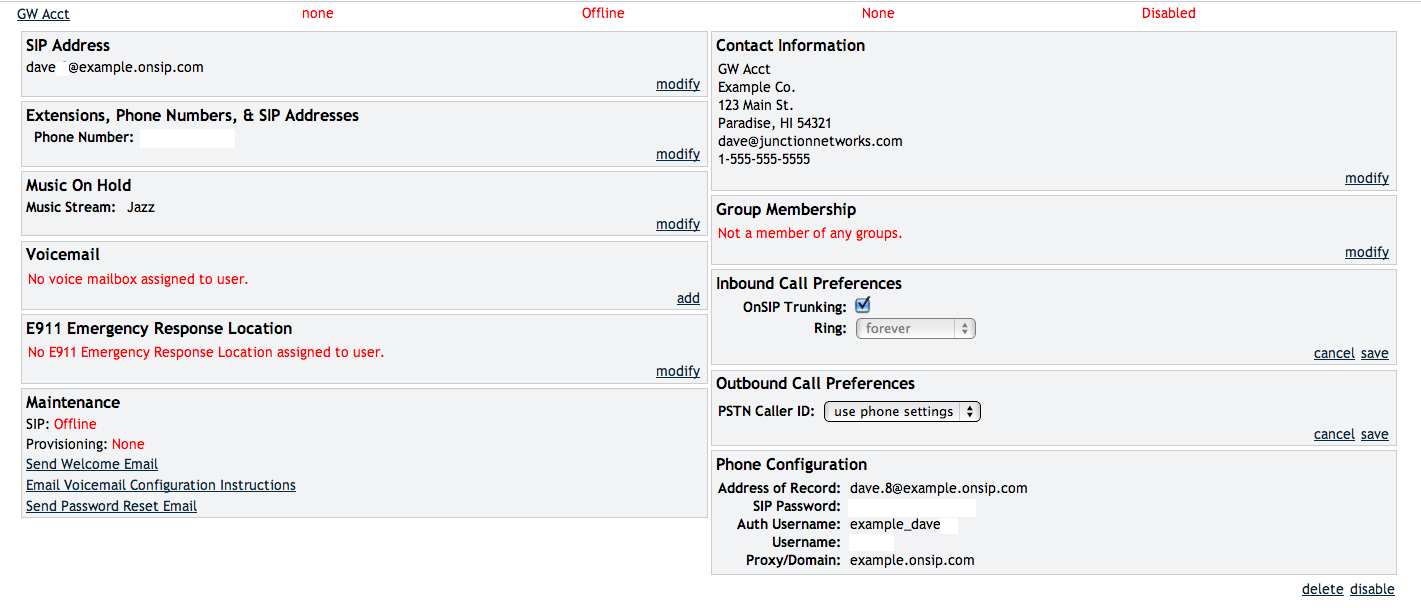 Log in to the Junction Networks/OnSIP admin portal
On right hand side of your screen, from drop down menu select your newly created OnSIP Hosted PBX
Click on the "Users" tab at the top of the OnSIP admin portal
Click on the user to expand the view
Click on "modify" under the "Inbound Call Preferences"
Check the "OnSIP Trunking" box, a pop-up window will appear
Click on "OK" to accept the additional trunking costs and responsibilities (note: you will be canceling your existing trunking pbx in a future step)
Click on "save" to complete this action
Click on modify under "Outbound Call Preferences"
From the "PSTN Caller ID" drop down menu select "use phone settings"
Click on "save"
More on setting up OnSIP trunking: