OnSIP's web calling solution, sayso, revolutionizes the way you connect with your customers. Whether you're in sales, support, or another customer-facing role, sayso is a feature you want in your arsenal. Designed to break down every barrier between a client looking at your website and actually connecting with your organization, sayso helps grow your inbound calls by half. Check out the top eight features listed below to see why sayso is a must-have business tool.
1.) Free Voice Chat & Video Chat
The core functionality of sayso is completely free and doesn't require any plug-ins or downloads. If you are currently an OnSIP user and you'd like to set up sayso, click the little phone icon in the bottom right corner of this screen. One of our representatives will gladly guide you through setting up sayso on your company's website. If you're not an OnSIP customer, click here to try our service free!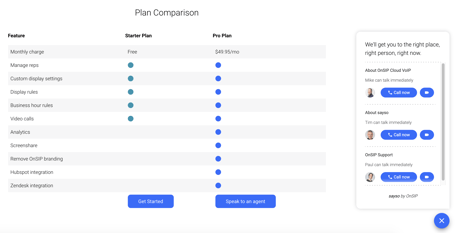 Sometimes it's just easier to talk face to face. Depending on your industry, it might even be prudent to speak over video, like if you're a real estate agent showing properties to someone about to move from far away or a doctor sharing important news. Maybe you just like adding a personal touch. Whichever role you inhabit, free video chat is a tool you want at your fingertips—or, rather, at a potential customer's fingertips.
2.) Simply sayso: Easy Setup
Besides the price tag, one of sayso's more fantastic features is its simplicity. From installation to use, sayso is designed to be a hassle-free solution that allows you and your team to spend less time troubleshooting and more time answering calls from curious leads.
More importantly, it's simple for the end user. We wouldn't have built a very good product if web visitors couldn't figure out how to use sayso! The main sayso button floats in the bottom corner so that it's always visible to website visitors. In case they forget, there's even a little bubble that pops up next to it, inviting the visitor to chat directly with the company. When the customer clicks the phone icon, a small window pops up showing which representatives are available for which topics. Simple, clear options appear for immediate voice or video calls, and the customer can see the name of the person they'll be speaking to.
On the rep side, incoming sayso calls function exactly like any other call in the OnSIP app, just with specific page and topic information added.
3.) sayso Team Pages & Personal Pages
The sayso Team Pages feature is extremely convenient for returning customers or someone already introduced to the company: If the caller recognizes the rep with whom they've spoken before, they can choose to speak to that rep again. That way, they skip that awkward moment of wondering if they should just stay with the person who picked up or ask to transfer to the rep they already know.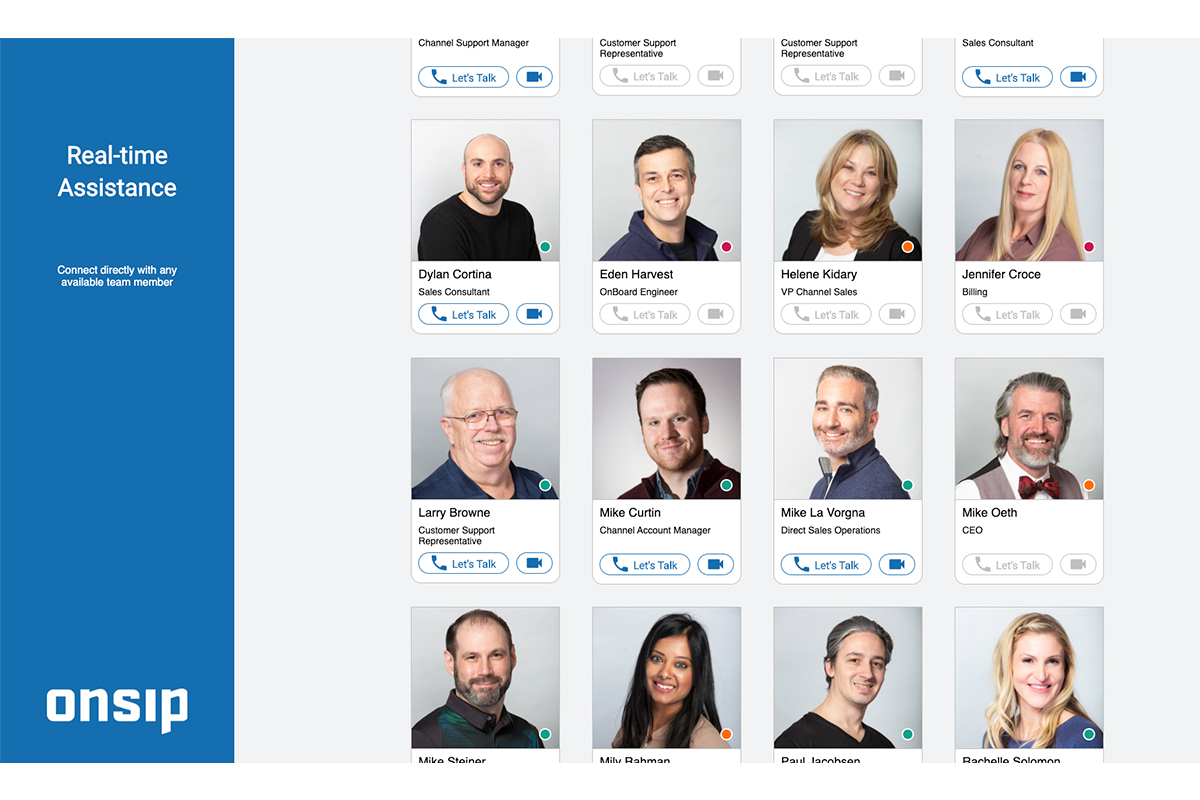 Think of Team Pages like an interactive visual directory of your company, complete with an availability indicator and the option to call any specific person directly from that web page. Team Pages are automatically added to OnSIP customer accounts at the same domain used to sign up.
This feature isn't just for sales teams either—you can add anyone and everyone from your organization so that customers can directly reach whichever department they need, be it billing, support, marketing, or something else. Alternatively, you can make sure that only customer-facing employees are visible. Your system admin can add employees and format the page to match your branding, too.
In addition to the main Team Page, each employee has his or her own Personal Page. Employees can share their personal link with clients or partners, or visitors can click on their picture from the main Team Page.
Neither Team Pages nor Personal Pages appear in search engine results, so the only people contacting you this way are those with whom you choose to share the link—either directly with leads and customers or if it's linked on your main website.
4.) Click to Call, not to Frustrate
How often have you felt frustrated because of a shoddy auto attendant menu? More to the point, how many of your callers have hung up before reaching an actual person? That right there was the original catalyst behind sayso. We wanted to develop a solution that cut through all the barriers between a customer wanting to call an organization and actually speaking with a representative.
We're proud to say that with sayso, you can just click to connect with a person: no dialing, no automated menu, no hanging up exasperation. All you have to do is sayso.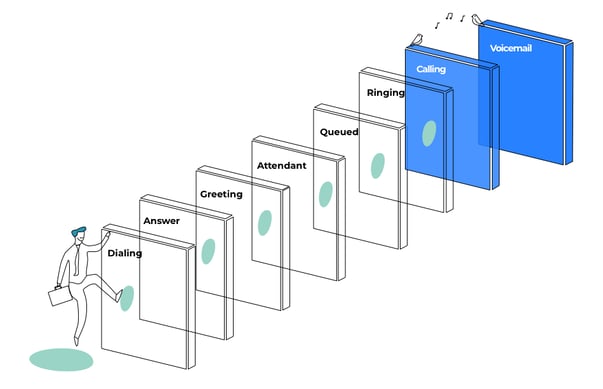 5.) Customize sayso!
You decide which web pages have sayso available.
You decide which topics are available on each web page.
You decide which representatives are assigned to which topics on which pages.
In short, sayso is customizable to your sales or support strategy. These options aren't set in stone—you can change who is assigned where and when based on availability. No need to worry about late night calls, either. You can set the sayso button to disappear with business hour rules (BHRs) or on holidays you know your office is closed. As for who can call in, you can even set which countries have access to your sayso buttons and disable video chat.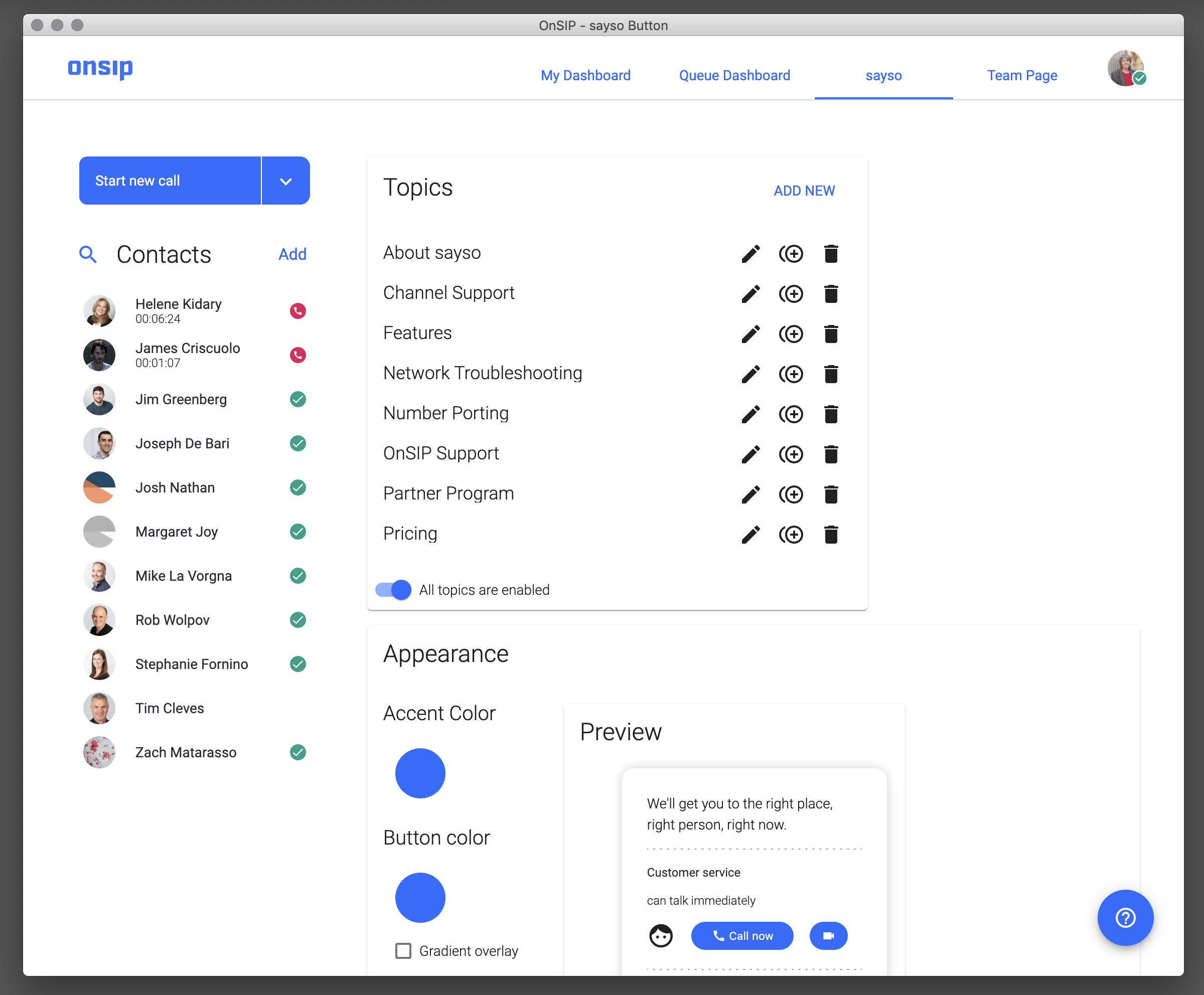 On an aesthetic note, sayso colors are customizable too! You can change the button and accent colors to match your website and brand.
6.) Browser Notifications: Never Miss Calls Again
If you're anything like us, you have several browser tabs and apps running at once. But no matter what you're working on when a sayso call comes in, browser notifications will let you know that someone is trying to reach you. If you can't answer for some reason, sayso automatically fails over to another available representative not once, but twice.
For site visitors, if all reps are busy for a given topic, they're presented with a notification option of their own. They can request a browser notification when a representative is available for that web page.
7.) HubSpot CRM Integration
If HubSpot is your CRM of choice, you're in luck. We built a HubSpot integration into sayso so that representatives who pick up inbound calls will be as informed as possible. For callers recognized as contacts—those who have visited a webpage previously and filled out a form—their activity history appears in your window.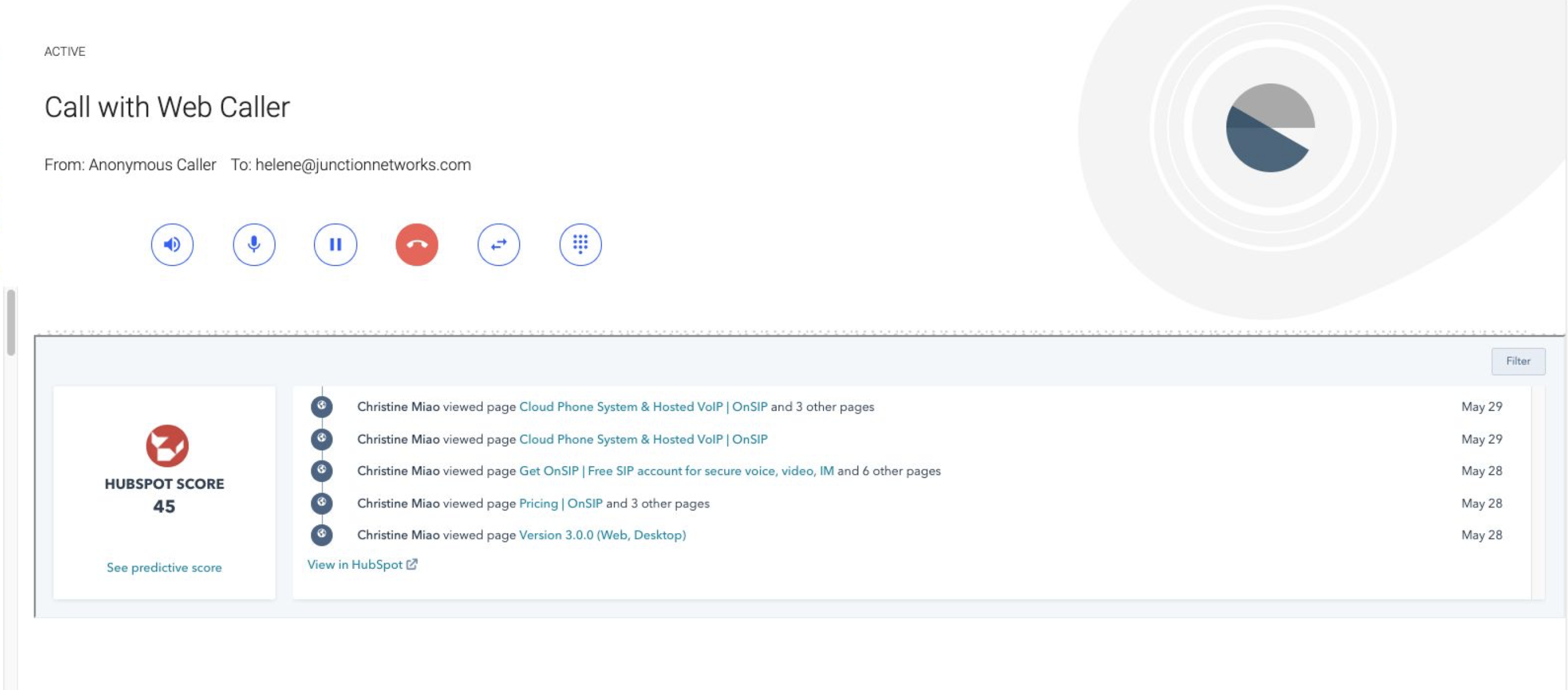 You'll be able to see which pages on your website a customer visited, CTA clicks, form submissions, previous sayso calls, and more. You'll go into the call with a well-rounded idea of what the caller is looking for. This knowledge allows you to cut to the productive, helpful part of the conversation. Callers will feel better, too, because they won't have to waste time explaining what they've already looked up.
8.) Make It Personal
This one should be a no-brainer. Connecting directly with customers—be they current or potential—makes a difference. Pre-recorded automatic messages scream "impersonal," and nothing is as frustrating for customers as having to jump through seemingly endless form fills and bot chats just to reach a live person.
There's nothing in the sayso call process to hinder web visitors in their calling endeavor, and the added touch of reaching a rep directly, whether through voice or video too, goes a long way toward establishing trust and building stronger client–company relationships.
Learn more about OnSIP's sayso pricing plans.