With the prevalence of online review sites, social media posting, and forums, a poor service interaction with a customer can be quickly made public.
Fortunately, businesses can lessen the chances of that happening by employing knowledgeable and empathetic staff members and by deploying phone system tools like ACD queues and skill-based routing.
Don't know what skill-based routing is? We'll spell out here how it can help improve your customer service conversations and show you how it's a central feature of sayso, OnSIP's voice and video web calling solution.
What Is Skill-Based Routing?
Automatic call distribution (ACD) queues are a well-established phone system feature that efficiently funnels callers to your business's call agents. An issue that can arise, however, is that the queue becomes a "catchall" bucket, holding callers in line without regard to their questions or requests. This can leave a caller open to being passed around from agent to agent until he reaches an agent who can handle his issue—not a good customer service experience by any measure.
Skill-based routing is a feature that can stop this situation from happening. This call routing strategy matches a caller with an agent who is best suited or most equipped to address his queries. By pairing the two right off the bat, you can give your caller a hassle-free support experience in which his issue is resolved by the first person who answers his call.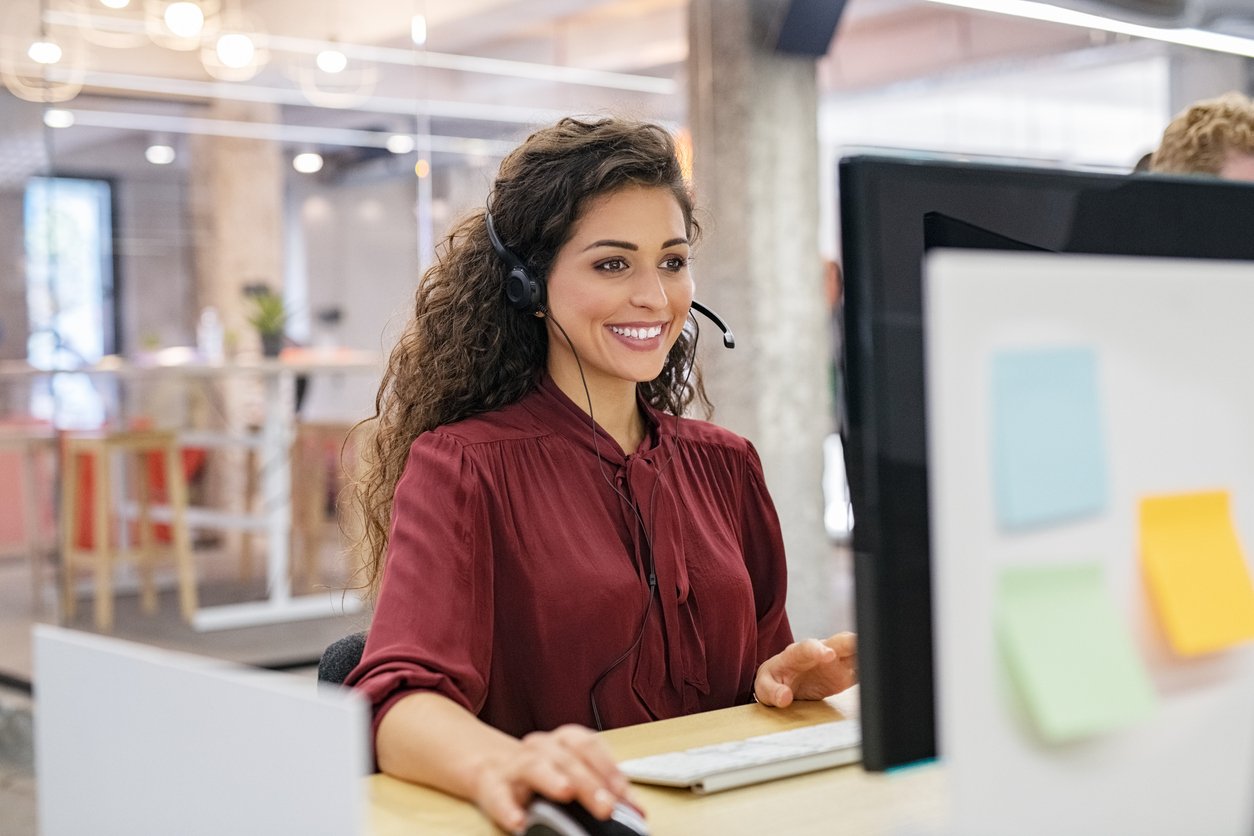 Certain phone system or call center platforms allow you to create and assign "skills" to your call agents to accomplish skill-based routing; the ACD queue then takes an agent's "skill set" into consideration when selecting which callers to send to her.
Another, more basic way to set up skill-based routing is to use auto attendant or IVR (interactive voice response) menus. Callers can then self-sort by answering a few preliminary questions: "Press 1 for our Sales Department, Press 2 for our Support Department, Press 3 for our Billing Department, Press 9 for Spanish…" etc. By the time the caller has finished going through the prompts, you have a good idea of the reason for his call. Use that info to send him to the specific queue (Sales Queue, Support Queue, etc.) or ring group that has call agents with the appropriate skill sets to address his issue.
How OnSIP
sayso

Provides Skill-Based Routing

Skill-based routing has typically been connected with queues, ring groups, or other contact center/call center calling solutions. But due to its demonstrated usefulness, it has found its way into other customer service-based communication features like website chat bots and voice chat buttons. OnSIP sayso relies on this routing strategy to connect website visitors to your business's call agents—here's how.
sayso

: Voice and Video Calls on Your Business Website

sayso is OnSIP's own voice and video chat solution that replaces chat bot functionality with an actual human being who's ready to have real-time conversations with your site surfers.

When a visitor views your business's website, she sees sayso as a floating button at the bottom corner of the page. One click on sayso presents her with a couple of your business's call agents, along with buttons to voice call or video call each agent—her choice. Another click on one of those call buttons starts a phone call with that rep within her web browser window. She doesn't have to pick up a phone, dial a number, or wait on hold for lengthy periods of time.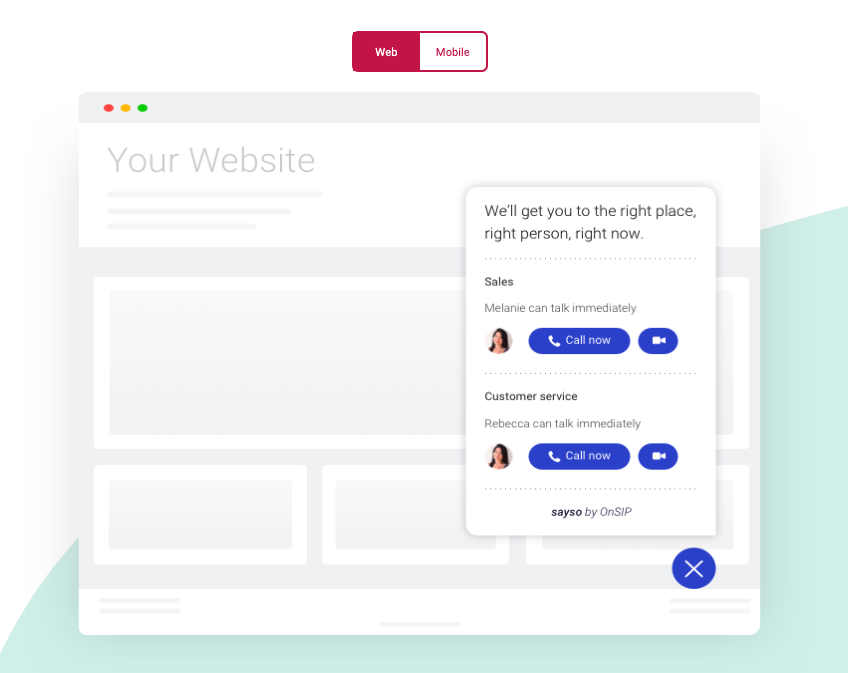 sayso can be customized to fit seamlessly onto your website: You choose the colors of the button, the hours that it should be displayed or hidden, the web pages that the button should live on, and even the elements to meet website accessibility standards. Configure all of these settings in the OnSIP app, OnSIP's web and desktop softphone; once done, you simply copy and paste a small snippet of code onto your website.
sayso and Skill-Based Routing: Presenting Your Customer With the Right Rep at the Right Time
sayso implements skill-based routing through the use of "Topics" that either you or your OnSIP Account Administrator create.
1. Set Up Topics
In the OnSIP app, you set up Topics that are relevant to your business. Topics can be general ("Product Support," "Billing Questions," etc.), or they can be particular to your industry (for instance, a law firm might create a Topic called "Consultation with a Lawyer")—you choose the Topic names that you want to create.
2. Assign Call Agents to Topics
As you create these Topics, you assign call agents to each of them. So if you have a "Product Support" Topic, you'd assign your support department agents to it since they are the most relevant and qualified staff to answer questions on that subject matter. Add your billing staff to "Billing Questions," sales department reps to "Sales Questions," and so on.
3. Assign Topics to Website Pages
Finally, you assign the Topics to the website pages on which you want them to appear. You might put "Sales Questions" on your Pricing Page as well as your homepage. And you could put "Product Support" on your Contact Us page. It's up to you which Topic appears on which site page; just make sure that the Topic matches the content of the page.
4. Connect With Site Visitors Instantly
Once the configuration process is completed, sayso will use a type of skill-based routing to connect your site visitors with the most appropriate representative who can address their needs. When a visitor clicks on sayso on your Pricing Page, she is presented with your "Sales Questions" Topic. At the same time, sayso instantly selects an available rep (one who is not currently on a phone call or marked as "Away" in the OnSIP app) in that Topic and displays voice and video call buttons to contact that rep. A quick click by the visitor on one of those call buttons and she's on a call getting the help she needs.
By displaying Topics that are relevant to the webpage that they're on, you can ensure that site visitors who click on sayso are connected to knowledgeable call agents who can successfully look into their questions. Instead of being passed from one agent to the next, your caller is promptly helped by an agent who has the talents to address her questions or concerns—a positive customer support experience, indeed!