ACD queues. Queue performance reports. Auto attendant menus. Call monitor, whisper, and barge.
You've come to rely on these vital phone system features for the successful operation of your inbound call center. And you'll find all of them—and many others—available to you in an OnSIP hosted VoIP account. Equip your call agents and supervisors with these inbound call center solutions and you'll increase agent productivity (by auto completing certain tasks for them), boost your caller satisfaction rates, and uncover key calling patterns and trends.
1. Enhanced Queue Dashboard: Get a Detailed Overview of Your Queues
By using an Enhanced Queue at your call center, you can combine essential ACD queue functionality with important call monitoring and call reporting tools. As calls come into your Enhanced Queue, they are distributed to call agents via the ring strategy that you choose. And when all agents are busy helping other callers, new calls are held in the queue until an agent is free to take a waiting call. The queue distributes waiting callers to your agents in a "first in, first out" method.
The queue supervisor also has access to the Enhanced Queue Dashboard, available in OnSIP's web app and desktop app. This dashboard displays a real-time overview of everything that's going on in your queues. You'll see key info such as:
How many callers are waiting in the queue
The max wait time of the caller who has been waiting the longest
Which agents are logged into the queue or offline
Which agents are currently on calls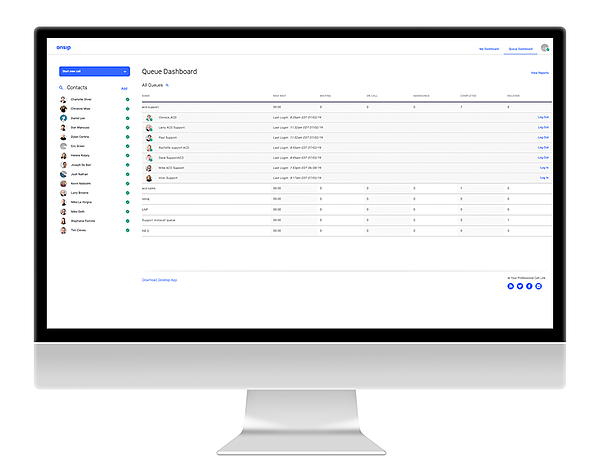 The supervisor, having this information available on his computer or laptop, will gain a complete picture of what's happening in the queue at any time of the workday.
2. Call Monitoring, Call Barging, and Call Whisper Abilities: Provide Assistance to Agents and Callers
Within the Enhanced Queue Dashboard, the queue supervisor has a few call monitoring options to jump into live queue calls:
Listen In: The supervisor can listen in on a call without the agent or caller knowing that he is there.
Whisper: The supervisor can listen in on a call and speak with the agent without the caller hearing.
Barge: The supervisor can enter—"barge" into—a call so that he can speak with both the agent and the caller, effectively creating a three-way call.

Armed with these abilities, the supervisor can ensure that call agents are implementing your company's best support practices. He can also provide an extra level of assistance to agents and callers whenever needed.
3. Performance Reports: Obtain Valuable Insights Into Your Queues
The queue dashboard has a reports section that provides customized reports on your queue's performance history. The supervisor simply selects the queue and time period that he wants to review, and lk;;[';;;lhe is then presented with topline stats and calling trends—the total number of calls received during that time period, the average caller wait time, the busiest time of day, etc. There's also a separate agent report that provides statistics on each call agent.
When you run these reports in the dashboard, you can download them as .csv files for further examination of the data. You can also have these reports automatically emailed to specific people at your company on a daily, weekly, monthly, or quarterly basis. In the OnSIP Admin Portal, enter in the email addresses of where to send these reports as well as how frequently each person should receive them.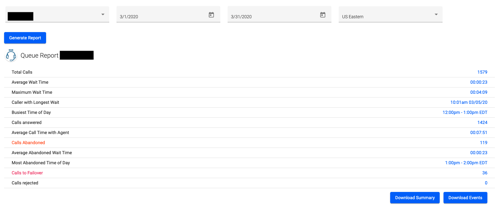 Company executives can use this data to make fact-based decisions on setting agents' schedules, hiring new staff, and improving the overall customer experience.
4. Queue Alerts: Inform Yourself of Situations That Require Attention With Queue Alerts
The dashboard assists supervisors in keeping tabs on their queues in the form of queue notifications. These rules trigger emailed notices whenever: 1.) there are too few agents logged into the queue; 2.) too many callers waiting in the queue; or 3.) a caller has been waiting for over a specified amount of time. The supervisor can configure these rules and specify the email addresses of where to send the alerts to so that he can spring into action whenever these situations occur.
He can even enable browser popup notifications for these queue alerts; whenever a rule is triggered, a popup in his browser window will also notify him of the event.
5. Context-Aware Inbound Calls: Deploy CRM Integrations to Provide Better Customer Support
OnSIP integrates with a variety of popular business CRM applications so that you can connect your phone system with your other software. These free integrations assist agents in many ways, automatically creating tickets for them and allowing them to provide better support to their callers.
OnSIP's HubSpot integration pulls up a caller's HubSpot record (assuming she already has one) when an agent answers the call in our web or desktop app. The agent will see the caller's recent HubSpot activity right in the app window. He'll also have a link that opens the full record in a new browser tab. Presented with this info, your agent can greet the caller by first name, and he won't have to ask her for her account number or tell her to wait while he searches for her record. He can immediately focus his attention on the caller's issue.
OnSIP's Zendesk integration instantly creates a new Zendesk ticket in the agent's interface whenever he answers a call. The ticket is automatically given a unique Zendesk ticket ID number, time-stamped with the date/time of the call, and assigned to the agent. With these actions out of the way, the agent doesn't have to tell the caller to wait as he creates a new ticket and enters relevant data; it is swiftly presented front and center on the agent's computer screen.
6. Auto Attendants: Answer Calls With a Professional and Efficient Greeting
An auto attendant menu is a pre-recorded greeting that answers your business's inbound calls and provides callers with a list of actionable menu prompts. These prompts typically direct callers to a company's sales team, support department, and billing representatives. You can even configure a prompt to send callers to a recording that provides your business's hours of operation, physical location, or driving directions. Depending on the number that a caller presses on the phone's keypad, she will be sent to the destination of that menu prompt.
Setting up an OnSIP auto attendant is an excellent inbound call center solution because it efficiently answers inbound calls with a professional and organized greeting. And whenever a bunch of calls arrive at roughly the same time, each call is answered by the same auto attendant. Your callers won't be told that they need to wait on hold for the next available representative—they'll be able to funnel themselves to the appropriate department to get their questions answered.
7.
sayso

: Get Web Calls From Your Site Visitors!

Unique to OnSIP, sayso is our inbound chat solution that offers your website visitors the ability to voice or video call your agents right from your business website. When a visitor clicks on sayso on your website (it appears as a floating button on the bottom corner of your site), she can select an available representative from a list of topics that you create beforehand. Topics are general call subjects, such as product support, sales questions, billing inquiries, etc.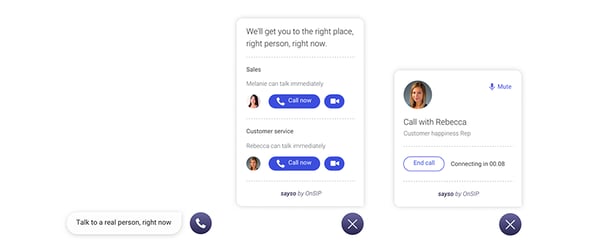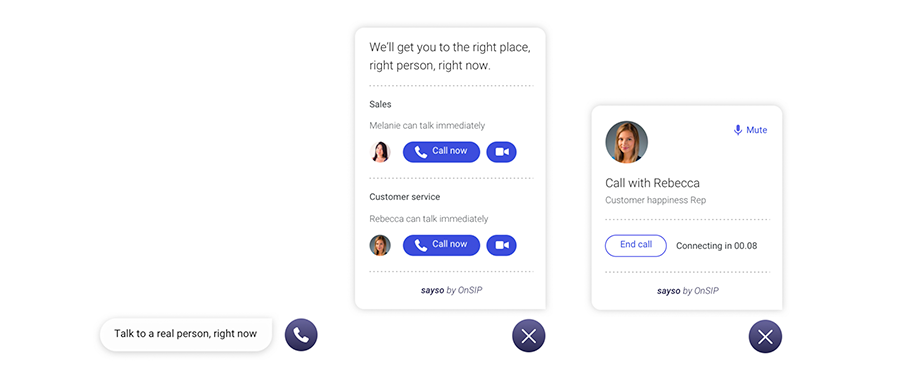 When the site visitor chooses a representative, she can voice or video call him straight from the browser window; she won't need to pick up a phone or dial a number. The call occurs entirely on your website!
And when your representative answers the call in our web or desktop app, he'll have the ability to share his computer screen, browser window, or open application window with the caller.
For More Information...
As you can see, OnSIP is a great hosted VoIP solution for inbound call centers. For related suggestions on call center topics, see our blog post on 10 Sample Call Center Greeting Scripts.