From auto attendants to E911 to a variety of integrations with popular business applications, OnSIP has your company communications covered.
But those are just some examples of traditional calling features that you can expect to find on our platform. OnSIP also provides many innovative options that transform how you communicate with coworkers and expand the ways in which you support your customers.
Here are the top ten OnSIP VoIP features—many of them free with an OnSIP account!—that your business should be using.
#10: On Net Conference Suites
An On Net Conference Suite provides a central destination where multiple people (up to 15) can call into for a group conversation. You can assign the suite a phone number so that callers can access it by dialing the number directly, or you can assign it an extension so that it can be reached by extension dialing. You can also secure the conference suite with a PIN number. Callers are then required to dial the PIN before they are let into the conference call.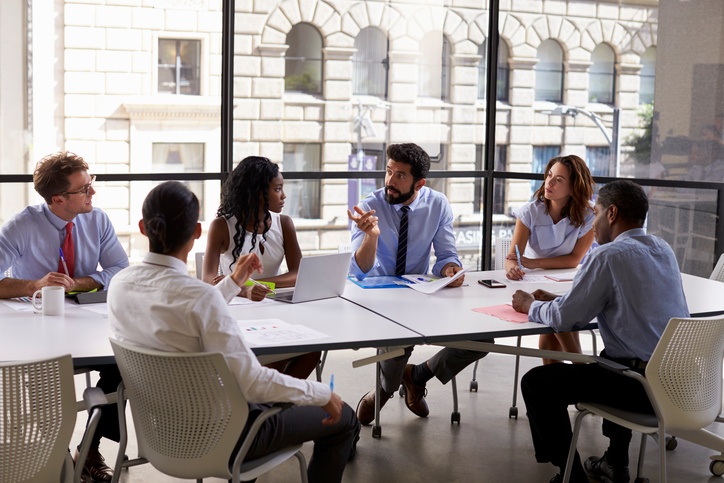 An important business VoIP feature to have on hand, an on net conference suite allows your staff members to have department meetings when they are all working remotely or from home. A separate suite(s) can be specifically used for secured conference calls with external vendors or sales leads.
#9: Voicemail to Email
Voicemail to email is an extremely helpful feature that takes the hassle out of reviewing your work voicemail. With this feature enabled, all new voicemail messages are automatically sent to your email address. The recordings are attached to the email, so you can play the message straight from your email inbox and even save it to your computer if you wish.
Set up all of your staff members with voicemail to email and they'll be able to quickly respond to messages without having to dial into the voicemail manager and navigate endless menu prompts.
#8: Team Pages/Personal Pages
Unique to OnSIP, a Team Page is a web page that displays a visual directory of your business's staff along with their communication availability. Visitors to your Team Page know which staff members are available, away, or busy on calls by viewing simple color icons next to their pictures. Visitors can also click-to-call (voice or video) a specific employee by clicking on the corresponding button underneath that person's picture. And what's more, the calls occur entirely within visitors' web browser windows.
A Team Page can be customized by uploading your company logo and choosing a color scheme that matches your brand. You can add all of your staff members to this page, or just select employees (like your sales and support reps) to provide a one-stop shop for customer service.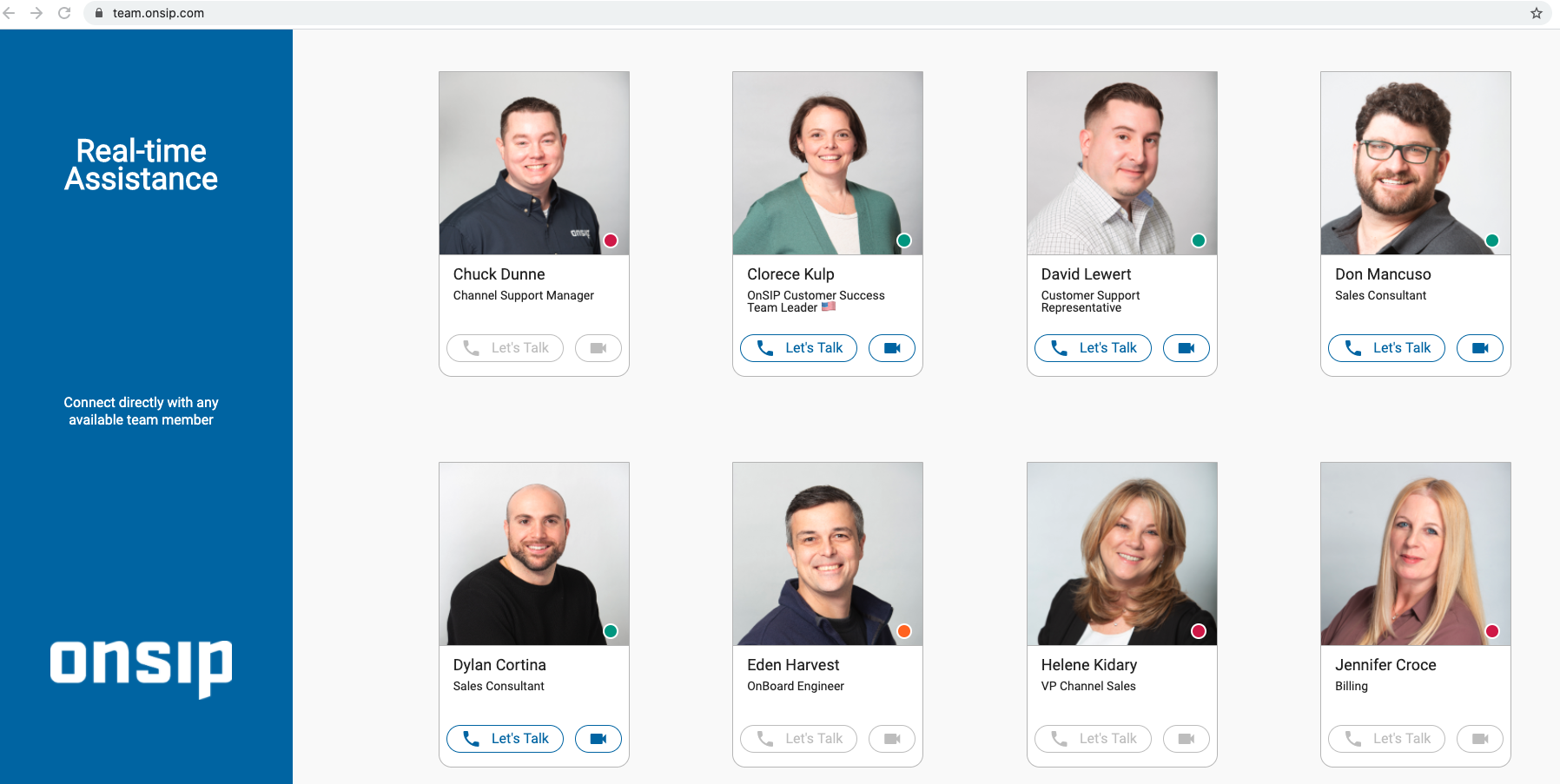 Related to Team Pages, each employee gets his own Personal Page, a unique web page that displays the communication availability and call buttons for that specific person. A staff member can add his Personal Page link to his email signature or LinkedIn profile as another contact option. He can also email this link when an on-demand video call is necessary—a useful ability for professionals such as lawyers, teachers, and doctors.
#7: Screen Sharing
Share your screen with video callers by answering those calls in your OnSIP web or desktop app.
When a visitor to your Team or Personal Page video calls you, you have the ability to share your screen with the caller. By clicking on a button in the OnSIP app, you can share your entire screen or just a specific open browser tab or application window. Screen share is also available when you answer a video call from a sayso button on your webpage (sayso Pro Plan only; more on sayso below).
Screen share is very effective when in conversation with your customers or sales leads. If you're trying to help a caller perform an action in your admin portal or complete the checkout process on your site, walk them through the steps via a screen share.
#6: Enhanced Queue Dashboard
OnSIP's Enhanced Queues skillfully handle inbound calls to your business. As calls arrive in the queue, they are held in line and distributed to the next available agent.
But more importantly, Enhanced Queues provide a data-rich dashboard, found in the OnSIP web or desktop app, for queue supervisors. The dashboard is an interactive panel that displays real-time information on queue agents as well as calls that are waiting in the queue. Supervisors instantly know which call agents are available, which are on calls, how many calls are waiting in the queue, how long each of those calls have been waiting, and much more.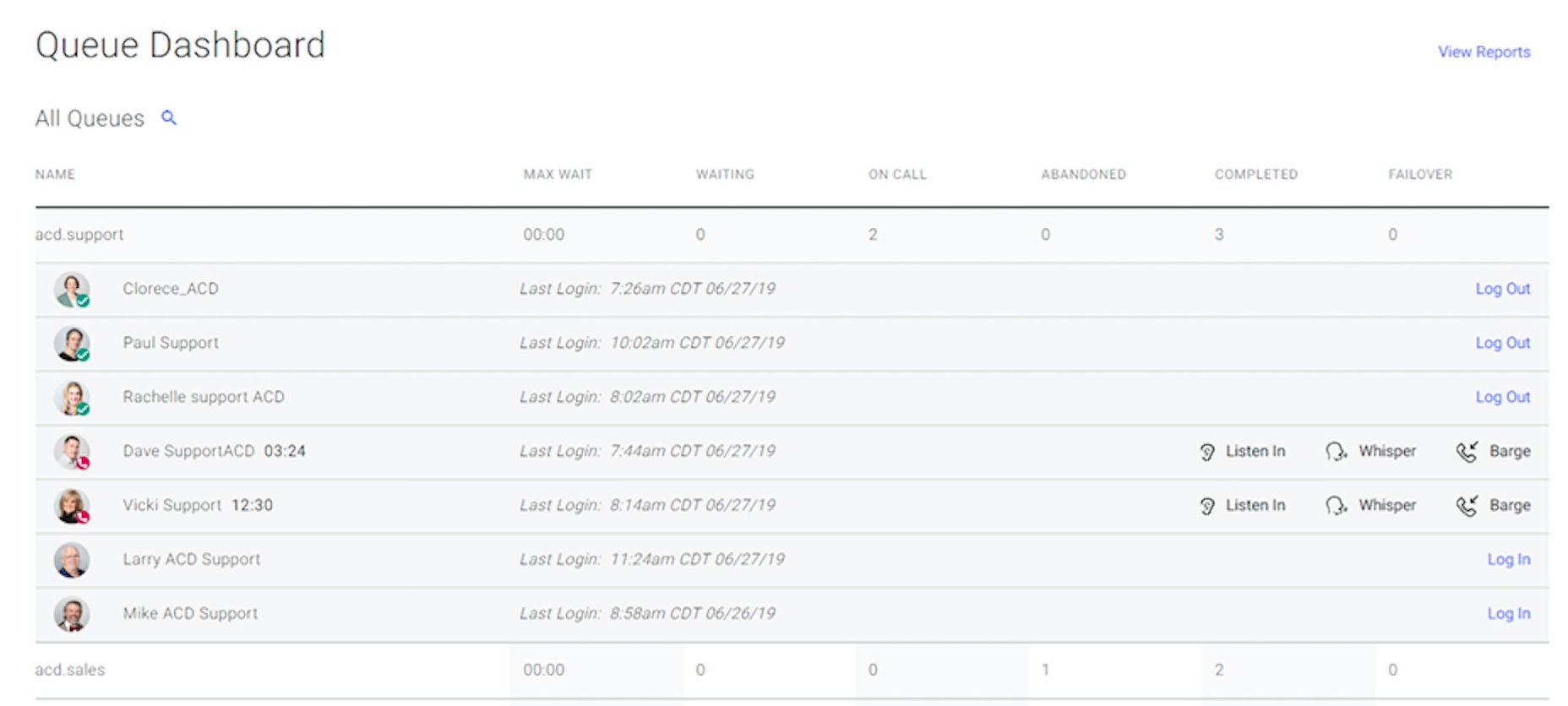 The Enhanced Queue Dashboard also enables supervisors to generate automated queue performance reports. These reports compile comprehensive queue stats and call agent data for a user-selected time period.
#5: Call Monitor/Call Whisper/Call Barge
Helpful call monitoring abilities are also available in the Enhanced Queue Dashboard:
Listen In: Supervisors can listen in on a live queue call without the call agent or caller knowing that she is there.
Whisper: While listening in on a call, this option lets supervisors speak to the agent without the caller knowing.
Barge: Supervisors can enter a call to speak with both the agent and the caller.
These monitoring and barging capabilities are essential to ensuring that call agents follow your business's customer service best practices. They're also invaluable for coaching your agents or providing a more personalized level of support to the caller.
#4: The OnSIP Mobile App
The OnSIP mobile app is our mobile softphone for customers. Available for iOS and Android devices, the mobile app enables you to make and receive business calls on your smartphone.
You can also listen to and delete work voicemail messages, video call coworkers, and add in custom contacts for one-click calling from the mobile app. Redialing a call from your recent call history list is as easy as tapping on the number with your finger, while app settings let you turn on Do Not Disturb for times when you need the app to remain silent.
The mobile app puts your business phone right onto your smartphone so that you can respond to callers whether you're in the office, at home, or on business travel.
#3:
sayso

Voice and Video Chat

The importance of having CTAs throughout your website for lead generation is well known. But wouldn't it be great to get your site visitors on the phone without making them leave your site, pick up a phone, dial your phone number, and wait on hold?

Enter sayso, OnSIP's voice and video chat solution. sayso presents itself as a floating button on a bottom corner of your website. When a site visitor clicks on that button, she's presented with your available representatives. The visitor then simply clicks on the voice or video call icon for a particular rep. Once done, she's instantly on a call with him in her web browser window.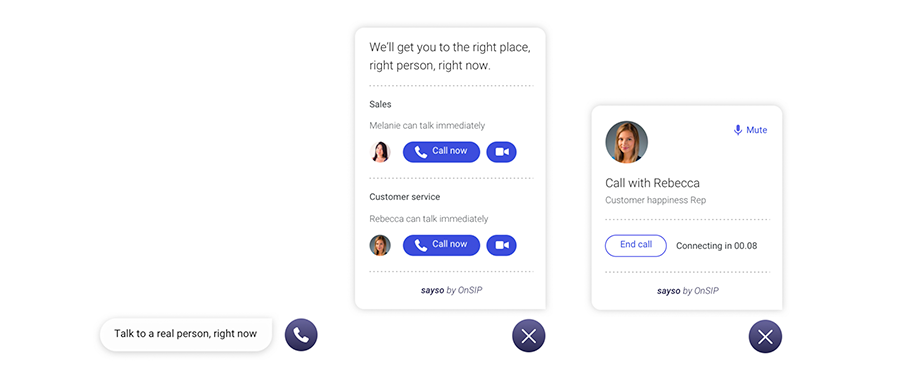 sayso is completely customizable: You choose the colors of the button, the web pages that you want it to appear, and the hours that it should appear or be hidden on your site. You can also group your reps into Topics to help guide your site visitors to the best rep to answer their questions.
#2: Video Conference Calls
Your staff members need the flexibility to hold on-demand video conference calls when they find themselves working remotely. They'll have that ability within the OnSIP web and desktop app.
Starting a video conference there is simple: Click on the video conference link, type in a name for your call, and tap the Start button. Coworkers who use the OnSIP web or desktop apps can quickly join your video call from within their own apps. If external callers need to video call in, send them the conference call's unique weblink—they'll be able to video call into your conference from within their web browser windows.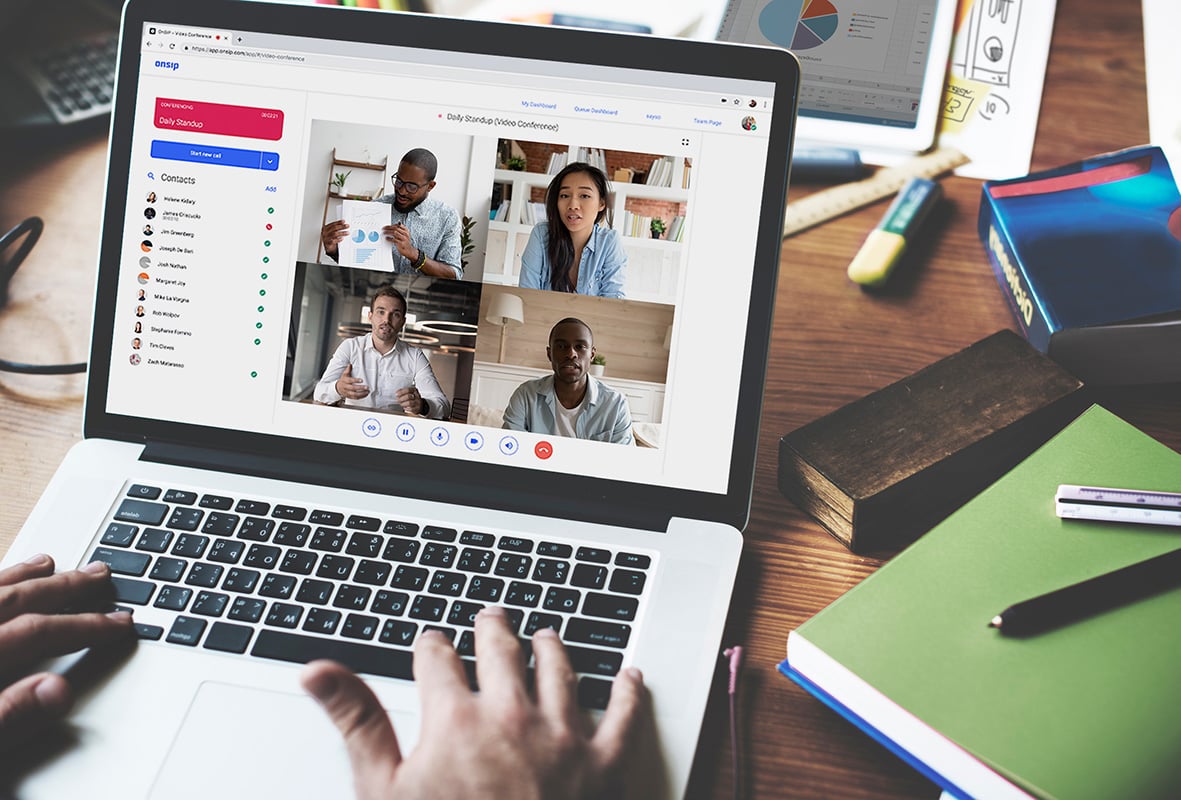 OnSIP video conferencing is critical for your staff to continue holding team standups or department meetings when everyone is away from the office.
#1: The OnSIP Desktop App
Equip your staff members with their own personalized, portable, and full-featured communication softphone: the OnSIP desktop app.
Available for Windows, Mac, and Linux machines, OnSIP's desktop app enables your employees to collaborate with coworkers and respond to clients. While a few of the app's features were mentioned above (like screen share and video conferencing), it also lets you:
Make and receive calls
Video call coworkers
Review and delete voicemail messages
Type in-app chat messages with coworkers
Transfer calls to colleagues via drag-and-drop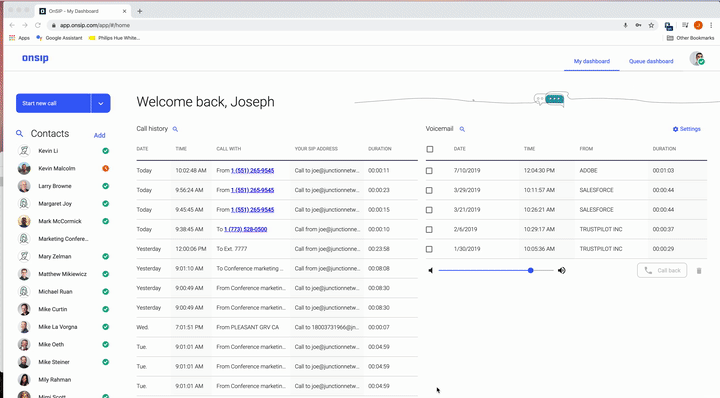 Once the desktop app is on your computer or laptop, you may even find that you don't need a desk phone anymore!
Stay Connected With Business VoIP Features
The VoIP features listed here are just a small fraction of what your staff members will get with OnSIP. By deploying our platform at your organization, you'll have a professional and unified phone system full of business calling features, collaboration options, and integrations with productivity and CRM applications. Download our Features Guide to see the complete list.