"Our goal is to see people at their worst, and then when we leave, they're at their best. When their house is on fire, or their grandfather is having a heart attack, that's the worst situation they could ever be in. And our job is to get there and solve that problem as quickly as possible and get them back to the best situation they could be in." (Source)
When things take a turn for the worse, emergency services personnel like firefighters, police, and EMTs spring into action to aid and assist the victims. Thankfully, organizations like the MAAC Foundation are there to provide support and training opportunities for these brave men and women who dedicate their lives to serving others.
We reached out to Stewart G. McMillan, Chief of the MAAC Foundation, to learn more about his organization's important mission, as well as why he selected OnSIP for their communications platform.
Providing Resources for First Responder Training in Indiana
An Indiana-based non-profit, the MAAC (Multi Agency Academic Cooperative) Foundation dedicates itself to assisting firefighters, police officers, and EMTs in refining and developing their skill set. Stewart notes in the introduction video below that it's their hope to "bring together all the constituencies of emergency response: police, fire, and EMS, into a common training ground where they can all perfect their skills."
From a 4-acre campus in Valparaiso, MAAC creates, implements, and hosts a variety of teaching events and training exercises for these first responders. For example, firefighters can take a two-story building on the property and set it ablaze so that they can train their personnel in a live fire situation, while police can use the structures there for search and rescue, warrant serving, and other law enforcement drills. The Foundation also offers classroom learning opportunities provided by Indiana Department of Homeland Security District 1 instructors, along with CPAT testing for firefighters.
"One of the goals here is for people to meet each other and know that the Police have their job, EMS has their job, Fire has their job, and how those three fit together when an emergency occurs," observes Stewart. The Foundation commits itself to giving these groups access to necessary resources so that they can crosstrain and be prepared for any real-life crisis that they encounter.
If you wish to support this worthy non-profit, visit MAACs website to discover how to make a donation.
Equipping the Foundation With a Flexible and Affordable VoIP Phone System
Prior to founding MAAC in 2016, Stewart was CEO of another company, and he had extensive experience using a VoIP solution there. He knew he wanted to go with a hosted VoIP service for his foundation; he just didn't know which one.
Turning to the Internet, he discovered OnSIP through Google searches and online reviews, such as the ones posted on our Trustpilot page. "I compared many different providers but was attracted [to OnSIP] by the flexibility of the billing options to fit our small organization," says Stewart. "Many of the reviews that I saw also alluded to the support at OnSIP being special."
He then purchased some VoIP phones over eBay and trialed three different services, including OnSIP. "The only system that I got working to any significant level was the OnSIP solution," he mentions. "To do this, I had to work with tech support. They treated me like I was the biggest customer on Earth, and that if they lost my revenue, it would be a disaster in spite of the fact that at that point there was NO revenue, and even when it was working it was going to be small." Due to these unforgettable interactions with our Customer Success team, Stewart chose OnSIP for the MAAC Foundation.
OnSIP's Customer Success Team: "EXCELLENT, 5 stars!"
Since deploying our service in 2019, Stewart states that "the system has worked flawlessly." He has continued to engage with Customer Success when needed, especially in the beginning when he was configuring VoIP phones, adding extensions, and setting up phone features. "Each time, the help has been the best tech support experience that I have had, and I have had MANY!"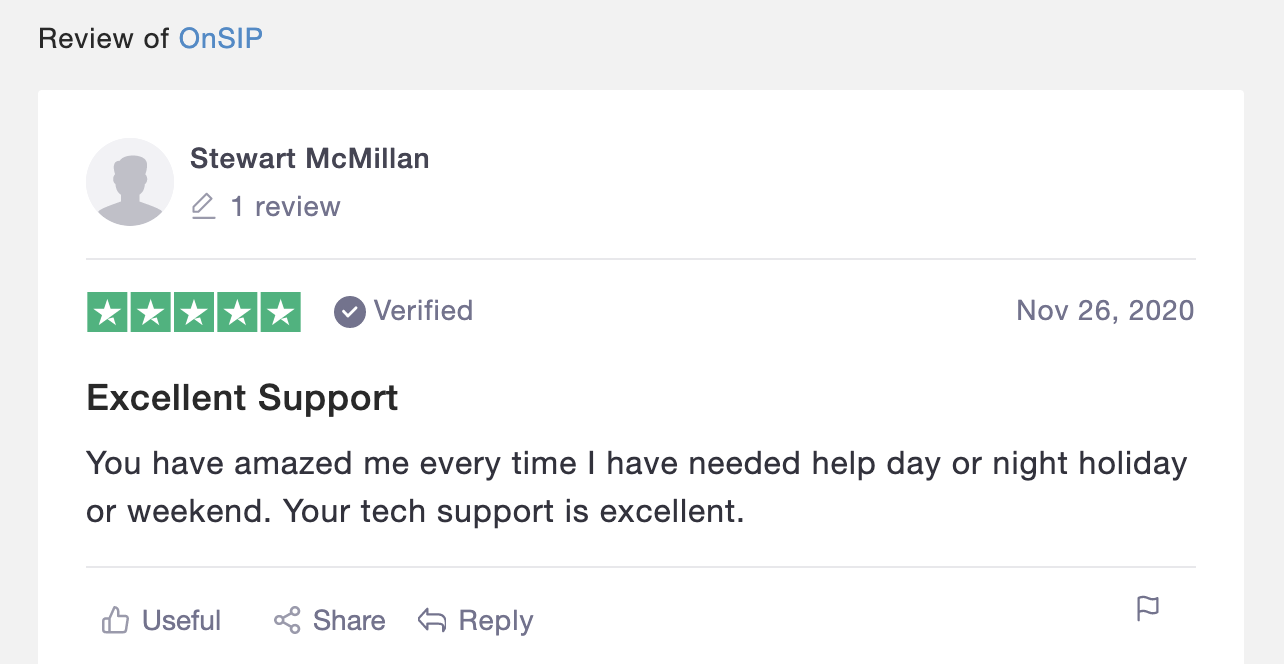 Hosted VoIP Features That Meet the Foundation's Communication Needs
In addition to equipping their staff members with voicemail boxes, Stewart has implemented hunt groups and an on net conference suite. These features have helped him and his staff answer incoming calls to the Foundation and hold on-demand conference calls with multiple participants. He can make changes to these features himself, in real-time, just by logging into OnSIP's web admin portal. There, he can also set up new phone system features whenever his staff needs them and delete them when they don't—all while knowing that OnSIP's Customer Success team is just a phone call, support ticket, or even sayso call away!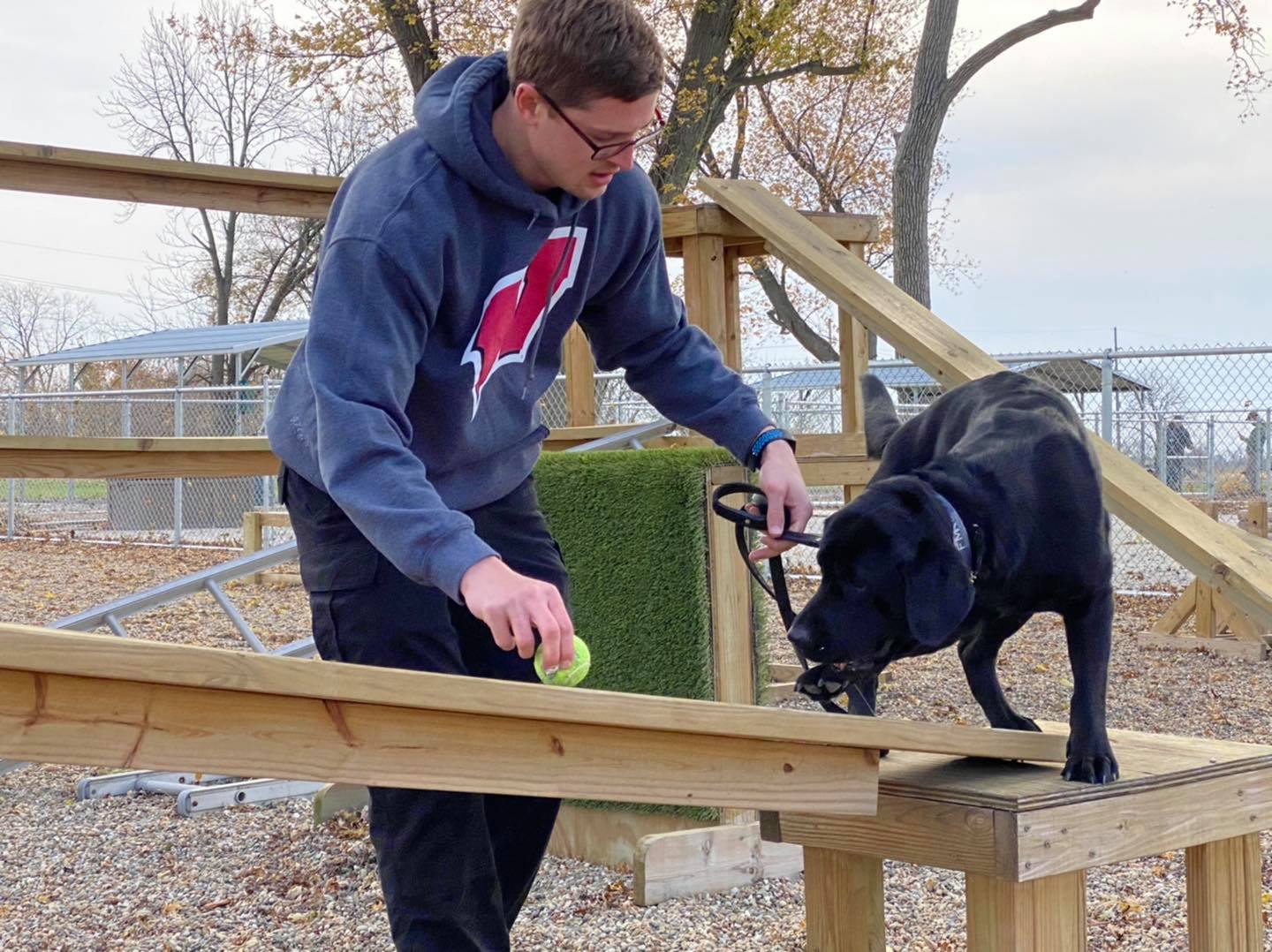 The crucial work of essential services has been brought to the forefront this year, and we're thankful for organizations like the MAAC Foundation whose central mission is to serve our fire, police, and emergency workers each and every year. OnSIP is proud to assist you in your efforts by providing a communication platform to interact with the public and coordinate training opportunities for first responders!