Beginning its 102nd season, the Des Moines Community Playhouse has been a long-time fixture in central Iowa. In addition to presenting high-quality theatrical productions for its patrons, the Playhouse also runs internship programs as well as summer classes and camps in theater arts for kids.
We caught up with David Kilpatrick, Executive Director of the Playhouse. Having deployed OnSIP back in 2018, we were interested to learn how he and his staff are using OnSIP's cloud VoIP platform at the theater.
Dramatic Arts in Des Moines, Iowa
Founded in 1919, the Des Moines Community Playhouse is one of the six oldest continuously operating community theaters in the United States. It's also the second largest one in the country. Undergoing a few name changes throughout its history—from its founding as The Little Theatre, to being renamed as The Belle Kendall Playhouse, to finally settling on its current name—the Playhouse has been a launching point for many actors. Among its most famous alumni is Cloris Leachman, the Academy and multiple Emmy Award-winning actress of The Mary Tyler Moore Show and Phyllis fame.
Each season, the Playhouse produces a full slate of shows for both adults, in the John Viars Theatre, and kids, in the Kate Goldman Children's Theatre. There are volunteer opportunities for both onstage and offstage positions. And they even plan a "Best of Broadway Tour," which covers flights and a hotel stay in New York City, as well as tickets to three Broadway shows, for all group participants.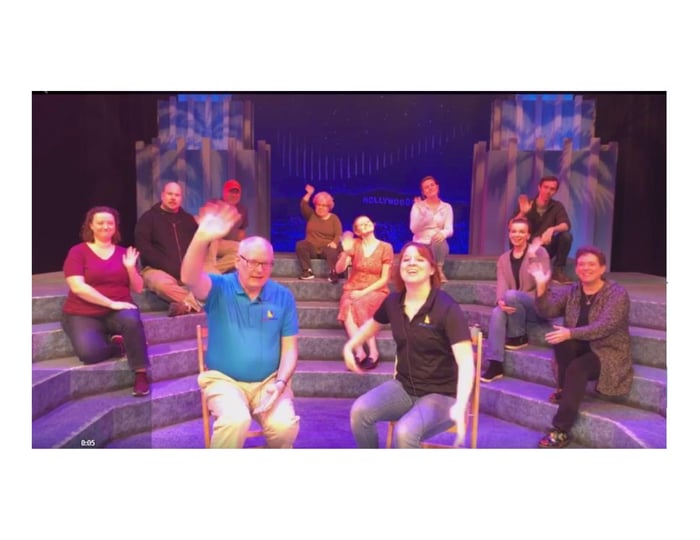 Wanted: A Flexible Phone System to Make Moves, Adds, and Changes in Real-Time
Before using OnSIP, the Playhouse had a basic analog phone system with 20 extensions running throughout the building. Each staff member had their own phone number and phone line. But this setup proved to be an expensive, and consistent, drain on their funds.
David explained how each time a new employee was hired, they would reuse a previous employee's desk phone. Unfortunately, that phone would still have that former employee's name and caller ID. Getting a support tech from the phone company to come onsite was very costly, and so they would wait to pay for one until they had accumulated enough needed changes to justify the cost. That meant that until they got the tech to come by, employees would just have to use phones with past staff member info on them.
When the Playhouse was about to begin a construction project, David decided to search online for phone systems that were flexible and transportable. He reached out to two local providers as well as OnSIP but found that their initial costs were much higher compared to OnSIP's.
"I really liked the very low startup costs of OnSIP, as well as the speed at which we could get OnSIP set up at the Playhouse," notes David.
OnSIP's Flexibility Enables Staff to Control the Phone System With Ease
David configured OnSIP to handle the theater's day-to-day calling operations. He relies on our Enhanced Queues to efficiently direct inbound calls to the box office and sort them among box office reps. He also set up business hour rules on the phone system to match the theater's open/closed schedule.
Most importantly, by implementing OnSIP at the Des Moines Community Playhouse's building, David has the flexibility that he required. "The flexibility provided by OnSIP is so valuable," says David. "When a new staff member is hired, it only takes just a few minutes to reconfigure a phone in the OnSIP Admin Portal. Once that's done, I reboot the phone so it has the new employee's information on it, and all is running as I need it to."
A particularly beloved feature of the theater staff is voicemail to email, especially for one employee who works off-site in the State of Washington. She receives her voicemail messages right in her email inbox, with the complete voicemail attached to the email as a .wav file. Listening to the message while reviewing her new emails—without having to first dial codes and PINs to access her voicemail box—she can then promptly respond to the person who called.
Finding a Reliable Partner in OnSIP's Customer Success Team
When needed, David has contacted our Customer Success Team to help him administer his OnSIP phone system. "Always a pleasure talking with the Customer Success Team. They are efficient, answer in a timely manner, and work with us to solve our issues. Because our phone system setup uses rather basic features, I rarely need to talk to someone unless I'm doing something that I perceive as unique. But, for them, they always have an answer demonstrating that 'unique' to me is not really unique."
Perhaps the highest compliment that David gives to OnSIP and our entire staff is the fact that he considers us a part of the Playhouse's family. As he says: "I appreciate having OnSIP on my team."