A major focus of our product development over the last year has been on sayso, our website voice and video chat solution that enables your site visitors to instantly call your business through their web browser windows.
We've been continuously adding new sayso features, and we're very excited to share that the latest feature now available is screen share!
Share Your Computer Screen Through the OnSIP App
This initial version of the feature is for video calls made through sayso, and only a representative who answers the call in the OnSIP web app or desktop app can share his screen with the site visitor.
How a
sayso

Call From Your Website Works

As a brief recap: With sayso on your website, a call button is visible on the bottom left or right corner of your site. When a site visitor clicks on this button, she will be able to select an available representative from a list of Topics and start a call (voice or video, visitor's choice) with that rep right in her browser window. Again, you create the Topics that are available to your site visitors and choose which of your reps are connected to each topic.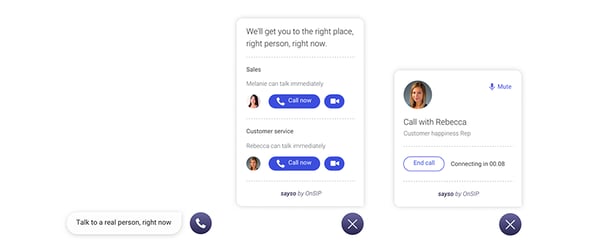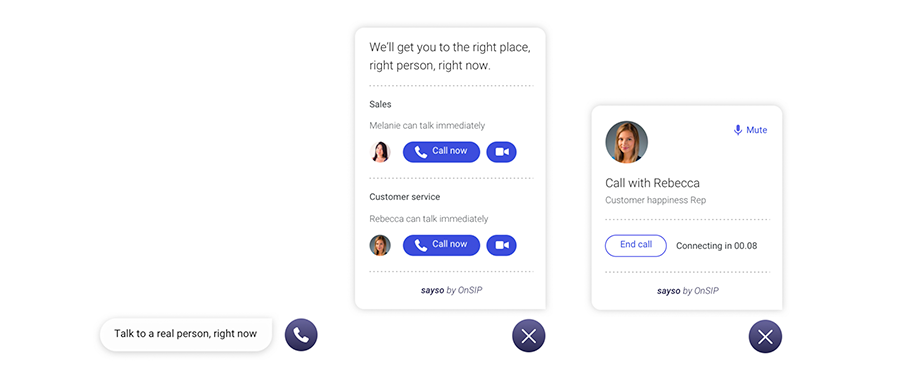 How to Start a Screen Share
When a site visitor starts a video call through the button on your website, the rep who answers that call in the OnSIP web or desktop app has the option to share his screen with the site visitor at any time during the video call.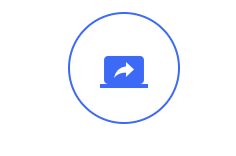 In the call handling buttons underneath the video feed, the rep can click on the left-most one—the button with the laptop image + white arrow overlaid on it—to start the screen share. He'll be able to choose if he wants to share his entire screen with the visitor or just a specific open browser tab or open application window.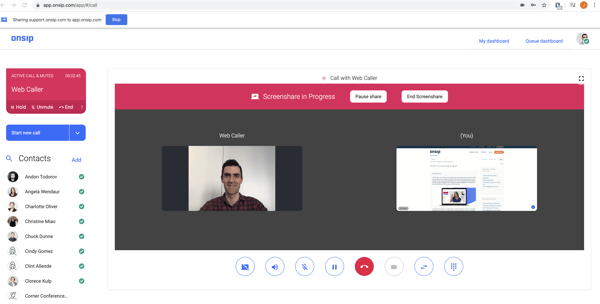 While in progress, the rep can pause the screen share, as well as end it, by clicking on one of the two respective buttons that appear above the video feed and screen share view.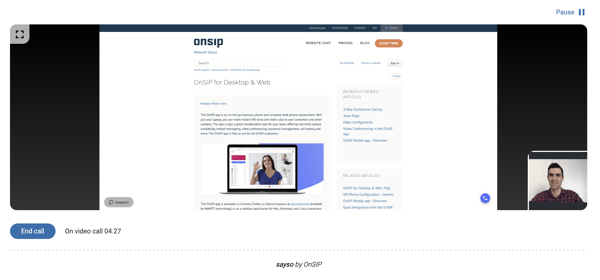 Currently, the visitor cannot share her screen with the rep. And if the visitor makes a voice call through sayso, screen sharing is not available during the call.
Share Your Screen From Your Team Page and Personal Page
You can also use this screensharing ability with video calls that you receive from your company's Team Page and your Personal Page. When a visitor starts a video call with you from one of these pages, the screensharing option will be available to you when you answer the call in the web or desktop app.
Sharing Your Screen With Callers: A Useful Customer Service Ability
Use the new screen sharing ability in sayso in a variety of ways:
If your service provides a web admin portal to your clients or customers, your call rep can walk the site visitor through the exact steps that she needs to take to complete an action in the portal.
If your site visitor needs to fill out a form on your website to place an order or initiate a return or exchange, your call rep can assist the visitor by showing her where she needs to go on your site to access the form. He can also guide her while she is completing the form.
If you provide a professional service—say, tax preparation—you can assist your site visitor with questions that she may have by guiding her to areas of helpful websites that will give her detailed information related to her questions.
Along with the recently added dashboards in the OnSIP app—the sayso analytics dashboard, which provides detailed call metrics on your sayso calls, and the sayso manager dashboard, which provides real-time stats on your sayso calls and call reps—we trust that screen sharing will be another tool that you can use to continue offering exceptional support to your sales leads, clients, and customers.