If you and your staff are already using the OnSIP desktop app, you're making your workdays run smoother with group video conferencing, real-time queue monitoring, one-click coworker calling, and much more.
You can now also take advantage of a new, free feature that we're excited to introduce: OnSIP's Team Pages! Team Pages give your customers and leads an effortless way to voice or video call your business's staff members, and they won't even need a phone to do so. Discover how you can set up this new feature for your business in our blog post below.
What Are Team Pages?
Your Team Page is a unique webpage that displays a directory of your business's staff members, along with their communication availability. Think of it as a visual dial-by-name directory: Customers can navigate to this webpage, scroll to the person they wish to call, and call him or her straight from a browser window.
For existing OnSIP customers, your Team Page is ready for use at the domain you chose when you signed up for an account. For example, if you chose the domain of example.onsip.com, your Team Page is https://example.onsip.com. Don't worry if you forgot what it is—find your domain name in the Account tab of the OnSIP Admin Portal or in the OnSIP desktop app.
And if you're creating a new OnSIP account, you will automatically receive a Team Page with the domain you use to sign up.
In addition, each staff member that is added to your OnSIP account will have her own unique personal page. These personal pages are linked from your main Team Page but can also be navigated to on their own.
Customize Your Business's Team Page to Match Your Brand Identity
You'll want to customize your Team Page so that it fits your business's brand and overall look. Have your Account Administrator log into the OnSIP desktop app or browser app. In the Team page tab of the app's top Navigation Bar, you'll find all of the tools that you need to make your Team Page your own:
Upload your business's logo so that it prominently displays on your Team Page
Add a short greeting and informative company bio that briefly explains your history, mission, and values
Change the accent color of your page to sync with your business's website or other approved colors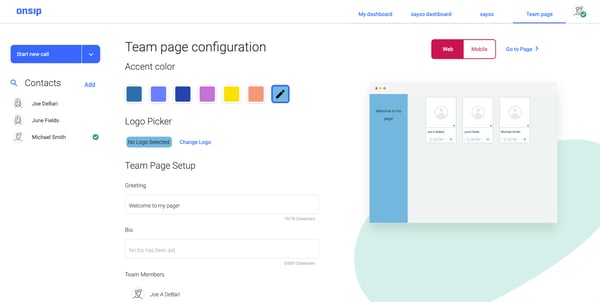 From here, you'll also be able to add and remove your company's employees from your Team Page—just make sure that the employees you wish to display on your page have already been added as users in your OnSIP account.
Your staff members will be able to manage their personal pages independently when they log into the OnSIP desktop or browser app. By clicking on his profile picture in the top right corner of the app and selecting General Settings from the menu, a staff member can upload a profile picture, add a bio, display work email, and even add links to his LinkedIn, Facebook, and Twitter pages. Note that here is where the URL of the personal page can be found, too.

How Your Business Can Use Its Team Page
Once your Team Page is set up, ensure that your staff members who are displayed on it log into the desktop or browser app during their workdays. Doing so will make them appear as "available" (via the green dot icons) and will allow page visitors to voice or video call them just by clicking on the Let's Talk buttons under their names. When employees are on calls, their icons will turn orange, and when they aren't logged into the app, the icons and buttons will turn gray.
Team and personal pages are kept hidden from search engines, so be aware that these pages will only be found if you choose to link them from your website or share them with your leads and customers.
Try using the page in these ways:
Make your Team Page a one-stop-shop for customer service by only adding your sales, support, and billing representatives to it. You can then direct leads and customers to this page, who can scroll through the list and call their specific account representative with whom they have worked in the past. This is how we at OnSIP have set up our own Team Page.
Place your Team Page link right on your website's Contact Us page. Customers will be pleased to have another option of how they can contact your business.
Add all of your employees to your Team Page to have a user-friendly dial-by-name directory. Instead of making callers navigate a confusing auto attendant menu and tedious dial-by-name directory over the phone, let them seamlessly scroll through your Team Page, locate the person they wish to call, and call them straight from the browser window with just the click of a button.
Use your Team Page for internal support only. If your company has an internal support team, or tiered levels of support, you can just add those specific employees to your Team Page. Then, don't share the page with your customers; let other employees use it to call available team members when they need to escalate a customer's support request.
Have your employees add their personal page links in their work email signatures or on their LinkedIn pages. When another person clicks on the link, she'll be sent to the employee's personal page and can then call him without having to pick up a phone and dial a phone number.
So try setting up your business's Team Page, and be sure to let us know what you think!
For more information on how to administer your Team Page, see our Knowledgebase article on the feature. And if your employees are going to be answering video calls, make sure that they follow the best practices that we outline in our blog post, Offer Your Website Visitors the Choice of sayso Live Video Chat.