OnSIP's inbound web calling solution, sayso, was designed, tested, and tweaked down to the tiniest detail to make sure it encompasses all the features any customer-facing rep could want—and then some. The real-time voice and video chat button sits prettily on your website in the bottom corner, inviting site visitors to talk directly to reps specifically assigned to different pages.
We developed sayso because while physical phones have evolved beyond Alexander Graham Bell's wildest dreams, the actual process of calling businesses has remained firmly in the mid-20th century. People avoid calling these days because it's a hassle. No one wants to wait on hold or wonder when they might reach a real person simply because traditional phone systems inherently involve "flying blind." They just want answers as fast as their Internet connection can provide them. Thanks to sayso, phone calls have finally caught up with modern technology!
Benefits of sayso HubSpot Integration for Marketing, Sales, and Support Teams
Marketing
HubSpot is a fantastic tool for marketing teams. It tracks site visits, page views, form fills, content downloads, and emails. But there are a few things it doesn't track, and unfortunately, inbound phone calls fall into the latter category. Luckily, sayso fills that gap.
Marketing teams want to know not just the ROI numbers but how they got there. You can collect data until your computer spontaneously combusts, but that information is useless without understanding the customer's journey. If you know at which point the customer decided to call in, you can figure out the catalyst, discover trends, and more effectively distribute your resources moving forward.
Together, HubSpot and sayso provide a complete feedback loop for marketing teams.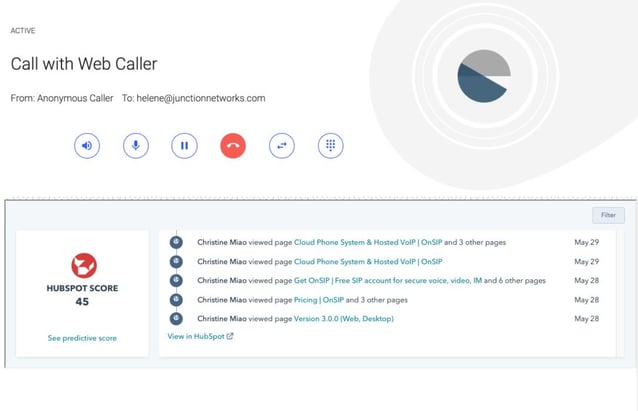 Sales & Support
Sales and support teams should spend their time on the phone speaking with current and potential clients. But too often they're stuck looking up phone numbers, sharing call content with the rest of the team, inputting call records into the CRM database, and any number of necessary yet time-consuming tasks that take away from call time.
With the HubSpot and sayso integration, these tasks take significantly less time. The caller ID lookup has an exact match and the full HubSpot contact record is visible, the call event is logged, all calls can be reported on as a single data set, and so on.
How the sayso HubSpot Integration Works
OnSIP has a HubSpot integration, so if your organization also uses HubSpot CRM, the OnSIP app compares an inbound or outbond call with existing telephone numbers in the HubSpot database. If a match is found, the integration displays the customer record on your screen.
So how do you make a match for web calling with sayso when there's no phone number involved? Enter cookies, the Internet's favorite data-storing tool. If the customer making the sayso call has filled out a form on your website before, then he has a HubSpot cookie. HubSpot then matches the cookie, much as it does for phone numbers, and embeds the record for you to view during the call.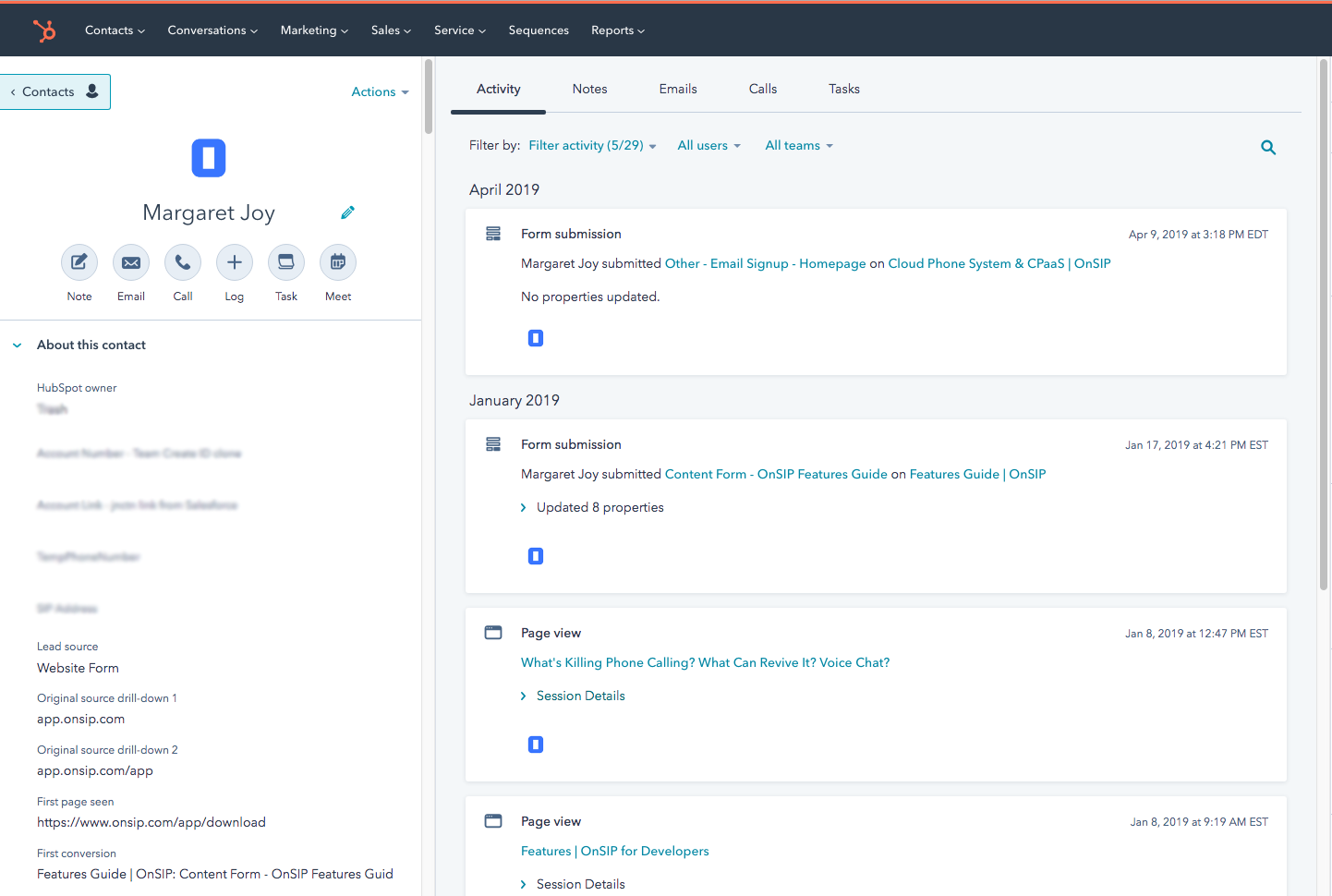 Workflow Assist With sayso Information
The OnSIP HubSpot integration is a two-way street. HubSpot information appears on your OnSIP app screen during calls, and OnSIP call information is sent to HubSpot! Just like form submissions or page views, sayso calls also appear in the contact's activity history. Because sayso data is sent from OnSIP to HubSpot, you now have inbound call information to automate various marketing workflows as well as outbound.
This is the sayso data available when creating HubSpot contact lists:
Representative who was called
Call Outcome
Duration
Occurred
Page of Origin (title)
Page of Origin (URL)
Topic of Discussion
These can be combined with non-sayso data, like specific reps or contact locations, to further filter your list. An example may look like this: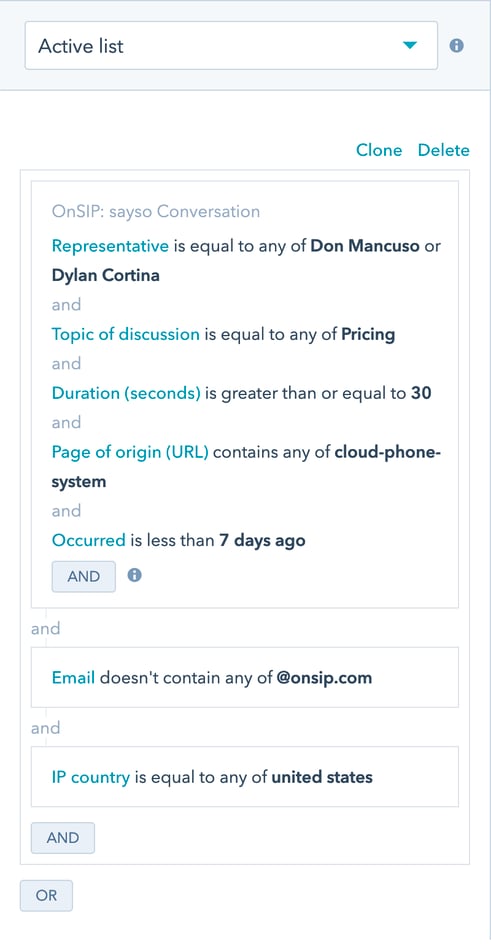 For example, you can set up a workflow that notifies a contact's sales rep about possible issues if that contact makes a sayso call to support. That way, the rep knows there's a potential problem, and can reach out to the contact himself.
Or, since HubSpot workflows can edit contact properties, you might set it up so that any contact who visits a web page on your latest product and then makes a sayso call is marked as "interested" in said product, and added to specific marketing campaigns.
The exact workflows are up to you, your needs, and your imagination. We simply provide the data that helps you create more informed marketing tools.

OnSIP's HubSpot Integration: Everyone Gets a Cookie!
While our HubSpot integration is an OnSIP-wide tool—not just specific to sayso calls—it is even more accurate when used with sayso. For PSTN calls, the phone number search may not work if the number wasn't properly formatted in the database or doesn't actually belong to the person whose name is on the record. Cookies, on the other hand, are a guaranteed match.
When combined, sayso and the HubSpot integration generate streamlined, context-aware inbound calls. Whether you're answering the sales and support lines or running marketing campaigns, neatly packaged data from inbound calls help everyone work smarter and more efficiently.
Learn more about OnSIP's sayso pricing plans.