Slack is a team communications tool popular among small and medium-sized businesses and organizations. It's the place "where work happens - whatever work means for you." We integrated Slack into our cloud phone system, because its speed, ease, and efficiency works well with our goal of helping modern organizations collaborate with each other and connect with customers while saving time and money.
With OnSIP, you can combine your collaboration hub with your everyday business calling. Our integration with Slack includes several key features. A quick signup and onboarding process gets you set up in a few clicks. The Slack integration for the OnSIP app provides your team with voice, video, and chat capabilities in a single place. And the OnSIP Slack app allows you to invite third parties to a private call directly within the Slack interface.
Sign Up With Your Slack Account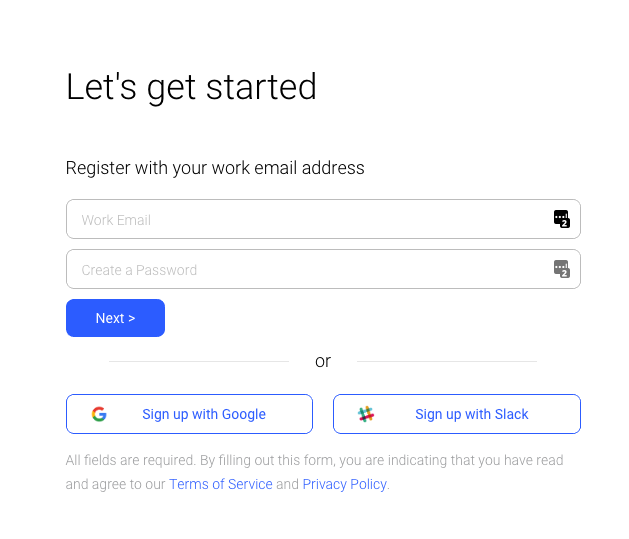 The OnSIP signup process includes an OAuth option to sign in using your existing Slack account. This skips the manual process of having to enter your personal and company information, and going through the step of having to verify your email address. By doing this, you can also automatically import all your Slack contacts to your OnSIP account.
This streamlined signup and onboarding process allows you to create an OnSIP account and add users in a matter of minutes. Plus, it's free - no payment information is required at this stage, so you can easily give OnSIP a quick test run.

Once you select the "Sign up with Slack" option, you'll need to confirm a few pieces of information before adding users to your account. Most of this should be auto-filled by your Slack account, so you'll just need to verify that everything is correct. This includes the name of your organization, preferred domain name, full name, phone number, and SIP address.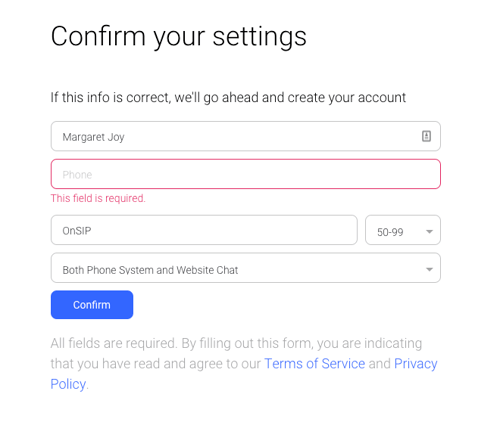 Next, you'll be presented with a list of all the contacts on your Slack account, along with their emails and auto-assigned internal phone extensions. You can edit any of this information by clicking "Back".
If you wish to only add a subset of all your co-workers on Slack, you can select the ones you wish to exclude on the list and remove them. If no changes are necessary, you can confirm the list to complete the onboarding process. Each user added to your OnSIP account will receive a personalized welcome email with instructions on how to log in to the OnSIP app.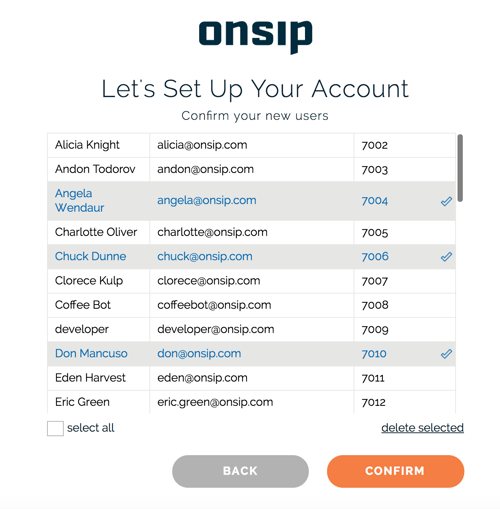 The OnSIP App: Your Go-To Communications Hub
Every user on your OnSIP account gets access to the OnSIP app, a free softphone available for Mac, Windows, Chrome, and Firefox. It's a business grade phone with many exciting collaboration features. You can treat it as your day-to-day office phone and make inbound and outbound calls to any active phone number. The app also offers 1-on-1 video chats, 5-way video conferencing, three-way voice conferencing, drag-and-drop transfers, presence, and a professional call link that you can send to anyone outside of the organization.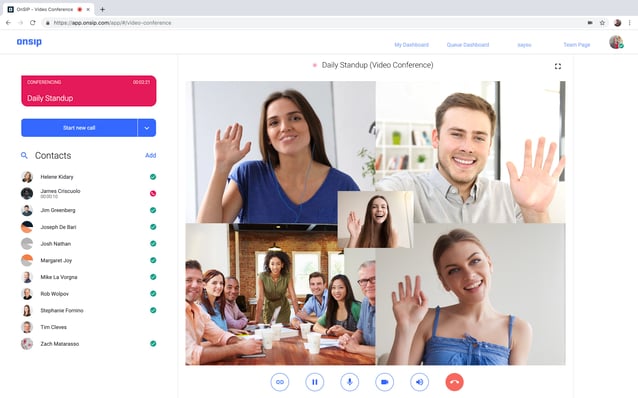 Seamless Messaging in the OnSIP App
Our Slack integration allows you to message Slack users and channels directly from the OnSIP app. When you enable this integration, you'll receive Slack messages in both the Slack interface and the OnSIP app. If you're on a call on the OnSIP app, you're free to chat with others on Slack without leaving your browser window. This saves you time and increases efficiency by keeping all your communication channels in one place.
Enabling the Slack Integration in the OnSIP App
In the OnSIP app, click on your profile image and select App Settings. Under Third Party Chat, click Add to Slack. To enable the integration, you will be asked to authorize OnSIP to access your Slack account. Once this is done, your two accounts will be synced.
Note: Each OnSIP user will have to enable the integration from his/her own OnSIP app him/herself. The OnSIP Account Administrator cannot enable the integration for all users on his/her account.
Chatting with Slack Contacts from the OnSIP App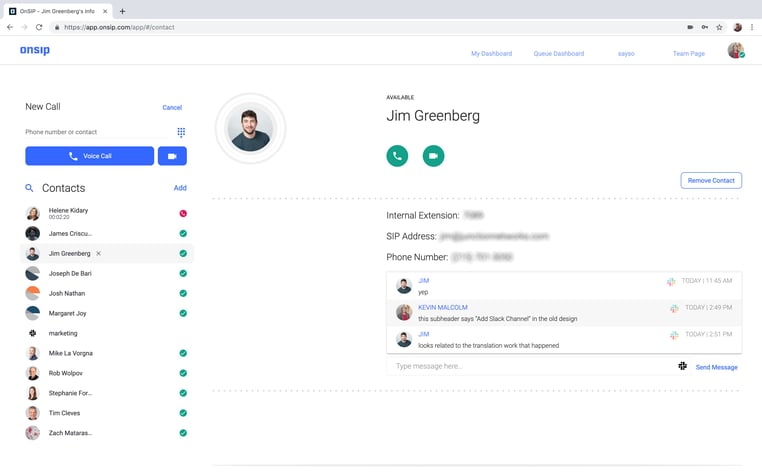 Once you have enabled the Slack integration, you can chat with any Contact who has also enabled the Slack integration inside the OnSIP app. Simply select their name from the Contacts sidebar, and type your message into the message box beneath their profile information. The messages will show up in both the native Slack client and the OnSIP app for both users. You can also see your past chat history (up to the last 50 messages) by scrolling up inside the message box.
Posting to Slack Channels from the OnSIP App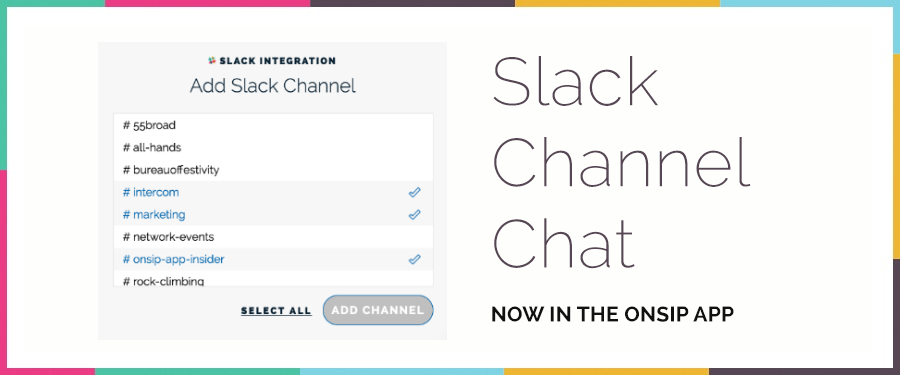 You also have the ability to send and receive messages from Slack channels in the OnSIP app. To do this, go to the Contacts page by clicking Add to the right of Contacts in the left sidebar. You should see a Slack Integration box listing all the channels that you are a member of on your Slack account. Select the ones you wish to add to your Contacts sidebar, and you'll have an easy shortcut for staying in the loop with your various teams.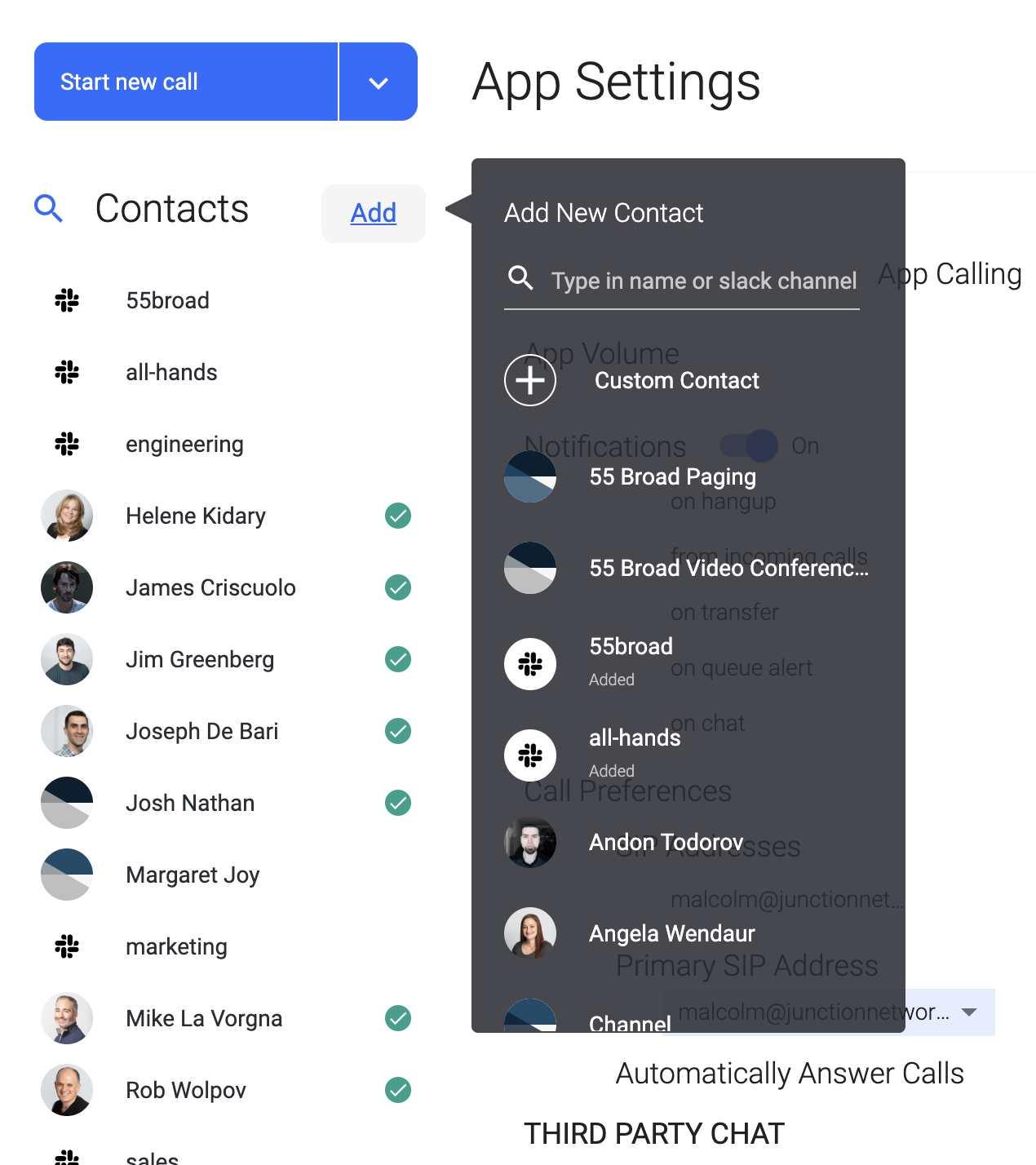 Generate Custom Call Links in Slack
OnSIP also offers an app within the Slack interface that makes it easier to set up a voice or video call with third parties. By using a simple slash command, you can generate a clickable custom call link. When someone opens the link, they can immediately initiate an HD voice or video call without signing up for an account or downloading any plugins or software.
Installing the OnSIP Slack App
To add the OnSIP Slack App to your Slack account, search for "OnSIP" in the Slack App Directory or visit our installation page here. Once you install the OnSIP Slack app, you can use the following commands:
/onsip call [user@domain] "display name" - Generates a custom voice/video call link by entering your SIP address, or desired call destination, and the name you wish to display on the call page.
/onsip - Learn more about OnSIP and how to connect your OnSIP and Slack accounts.
/onsip status - Check the current status of the OnSIP network.
/onsip help - See a list of all commands and how to contact the OnSIP Customer Success team.
OnSIP: A Phone System for Slack Fans
With OnSIP, you can add the functionality of a business grade phone system to your workflow without skipping a beat in your daily team conversations. OnSIP's Slack integration allows you to combine all your team's communications, including voice calls, video calls, and IM, into a single app.
Our simple onboarding process imports your contacts directly from Slack, without requiring a lengthy sign up process. OnSIP also has a free trial that allows you to test our service before you decide if you like it or not. So go ahead - open your account today!