A SIP account, while remaining mostly unknown to the public at large, actually enables some very useful abilities. If you're asking yourself, "How can I open a SIP account?," you've come to the right spot! Learn about the characteristics of a SIP account, how to get a free one, and how you can use it in this blog post.
What Is a SIP Account and SIP Address?
Session Initiation Protocol (SIP) is a widely used signaling protocol within VoIP phone systems. In plain English, it's a system of rules that controls the communication channels within which VoIP calls can occur. Its rules define how to locate the person that is being called as well as how to set up and end the communication session between the people on the call.
SIP can be used in a variety of communication sessions, like data transfers and instant messaging. For the purposes of this blog, though, we're just focusing on audio and video VoIP calls.
Two important parts of SIP are the SIP account and SIP address.
A SIP account is a series of credentials that empowers you to make and receive calls over the Internet. You receive a SIP account from the SIP service provider that you sign up with, and you enter your SIP account credentials into a softphone or IP phone to make and receive calls through your SIP provider. It's your SIP account that links your communication device back to your SIP provider.
A SIP address is one of the credentials that makes up your SIP account. A SIP address is made up of a username and a domain name—for example, "joe@yourcompany.onsip.com." While it looks similar to an email address, it facilitates audio and video communication instead of text-based documents. And just like an email address or telephone number, it's a unique identifier that sends SIP traffic (i.e., calls) to you and you alone.
Use a SIP Account to Connect and Collaborate Over the Internet
You can use a SIP account in a handful of ways to communicate with other people and even other SIP-enabled devices. Here are some ideas on how to get the most out of a free SIP account:
Make free calls over the Internet to remote working colleagues or colleagues who are on business travel in foreign countries—as long as they also have a SIP account and SIP address set up. (In essence, it's free long-distance calling.)
In addition to audio calls, use a SIP account to connect and collaborate with your coworkers over video.
Configure certain devices such as door bells, intercoms, and pagers to run on SIP. By doing so, you can do things like: open doors remotely, see who's ringing your doorbell, and make announcements over a loudspeaker.
Note that with a SIP account, you can make free voice and video calls to other people who have SIP accounts of their own. If you'd like to call landlines or cell phone numbers, you'll likely have to upgrade to a paid calling plan. Check with your SIP provider for details.
Steps to Create a Free SIP Account
It's rather easy to create a free SIP account as there are a few SIP service providers out there to choose from—including OnSIP! But, other providers are available, such as Linphone and SIP2SIP.
From the provider's sign-up page, simply enter a few pieces of information about yourself, like your name and email address. You'll also be able to choose your own username with the SIP service, and some providers let you customize the domain name of your SIP address.
Once you've signed up with a service, you need to get your SIP account credentials and enter those into the softphone or IP phone that you are using.
How Can I Open a SIP Account With OnSIP?
OnSIP's sign-up page to create a free SIP account can be found at the linked webpage here. After inputting your information in the Get Started button, you'll have your own SIP account and SIP address.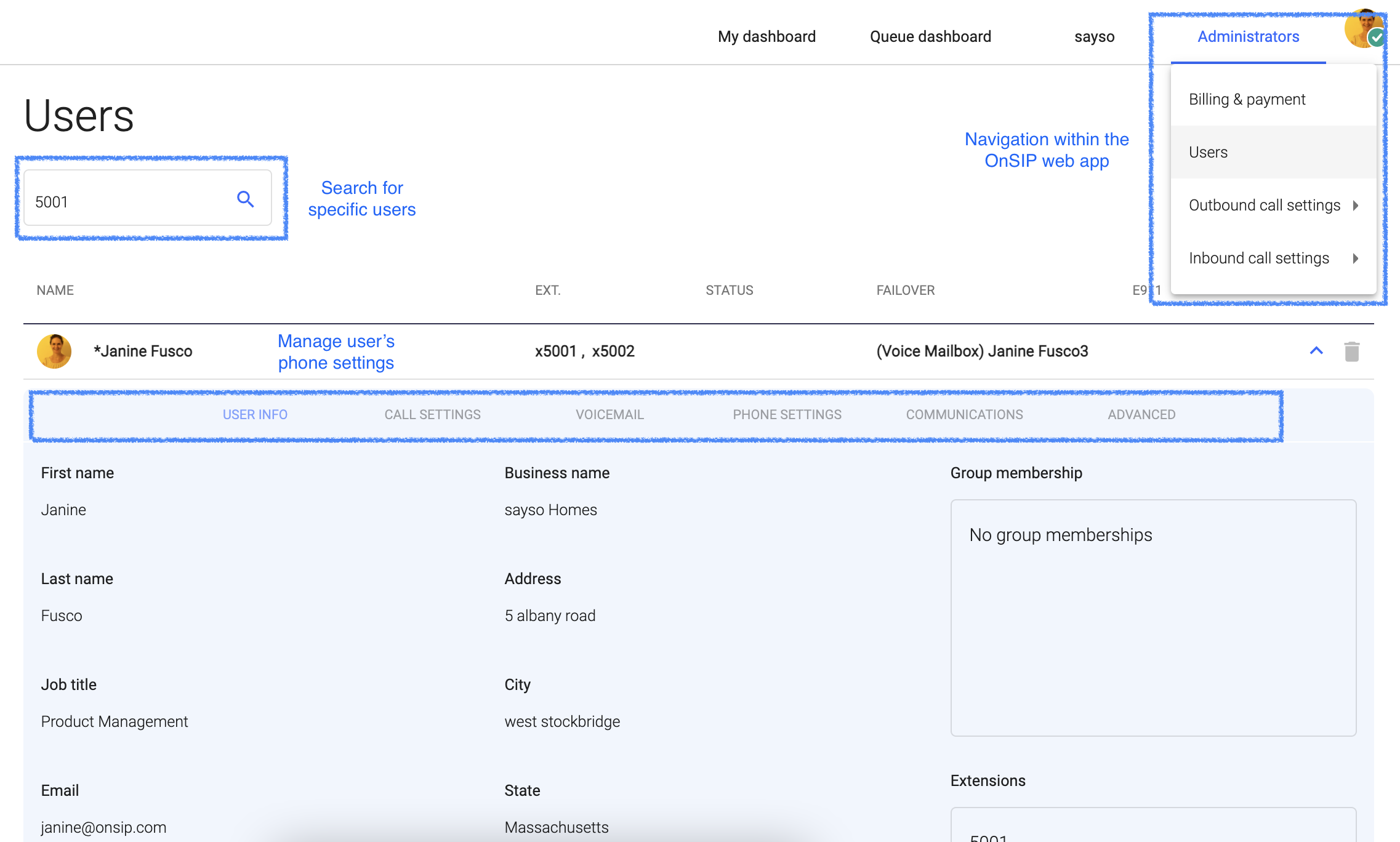 To get your SIP account credentials, simply log into the OnSIP web app with your new SIP address and password. Then, navigate to the Users section of the app to view your SIP account info.
Using that info, you can register your SIP account to a variety of IP phones or softphone apps. To simplify things, though, you can use any of OnSIP's free softphones: our web app (which you've already been introduced to), desktop app, and mobile app. You won't have to input your OnSIP SIP account info into these apps—just log in using your SIP address and password, and start making free calls to other SIP addresses!