You're browsing a website on your smartphone, and you decide to call the business to speak with one of their reps. You get to the site's Contact Us page, tap on the phone number, and voila! You're instantly on a call listening to the ringback tone and waiting for a rep at the business to answer. You didn't even have to open your smartphone's keypad to dial the number.
Wouldn't it be fantastic to have that ability while you're using the Chrome web browser window on your computer or laptop?
With the OnSIP Call Assistant for Google Chrome, you can! Once this extension is added to your Chrome browser, you'll be increasing your workday efficiency with click-to-call ability.
The OnSIP Call Assistant for Google Chrome: What Does It Do?
As you navigate to different websites, the OnSIP Call Assistant turns phone numbers that are displayed within your Chrome browser window into clickable links. Instead of having to pick up your phone's handset and dial the number, just click on a link and a call to that phone number will be made. It's click-to-call in your Chrome browser!
After you click on the phone number, your OnSIP-registered phone(s) will ring. Simply pick up your phone and an outgoing call to that number will automatically start—all you need to do is wait for the person on the other end of the line to answer.

The OnSIP Call Assistant is a free feature for all OnSIP customers.
Top 5 Call Assistant Benefits
With the extension enabled in your Chrome browser, you'll be equipped with these productivity and efficiency-boosting abilities:
#1: Get on the Phone With Your Leads, Clients, and Customers Faster
Save yourself valuable time by using the OnSIP Call Assistant for Google Chrome to get your leads, clients, and customers on the phone faster. You can replace the act of picking up a phone handset and dialing a long string of numbers with a quick click in your browser window. Just wait for your phone to ring, answer the call, and you'll be instantly connected to your desired contact.
The Call Assistant works with popular business applications like Salesforce and HubSpot. Just log into those apps in your Chrome browser window and you'll have seamless click-to-call access to your leads, opportunities, and contacts.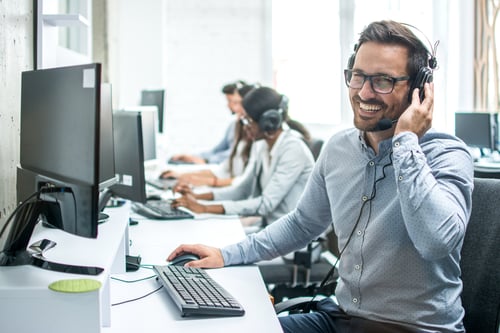 #2: Eliminate Misdials From Your Workday
With the Call Assistant integrated with your browser, you won't have to worry about misdialing a phone number while you're keying it in on your desk phone's keypad. The number that you click on in your browser will be the number that is called. Period.
#3: Answer Calls on any OnSIP-Registered Phone
OnSIP allows each user on an account to register up to 10 phone devices, so you can have a desk phone, a home office phone, a second desk phone at a second office branch, the OnSIP desktop app, the OnSIP mobile app, etc., all simultaneously registered. When you click on a phone number using the Call Assistant, all of your registered phones will ring, so you can answer the call on your preferred device or the device that you happen to be closest to at the time. It's your choice.
#4: Turn Your Chrome Browser Into a Business Phone
OnSIP's softphone app is available as a desktop application, a mobile app, and a web browser app. In the OnSIP app, you can make and receive voice and video calls, manage your voicemail messages, host group video conference calls, and view the availability statuses of your coworkers.
By logging into the OnSIP web app in Chrome and using it jointly with the Call Assistant, you'll be able to make phone calls to your contacts without having to leave your browser window. Just click on a listed phone number on a website, answer the call in your OnSIP web app, and speak with the person directly through your Chrome browser window.
#5: Reinforce Mobility and Flexibility at Your Business
The OnSIP Call Assistant will help you and your staff become a flexible workforce. You won't have to be stuck in the office dialing away on your desk phone. Add the Call Assistant to the Chrome browser on your laptop and you'll be able to quickly keep in touch with your contacts and leads while you're working remotely or on business travel. In fact, you may find that you won't even need a desk phone anymore!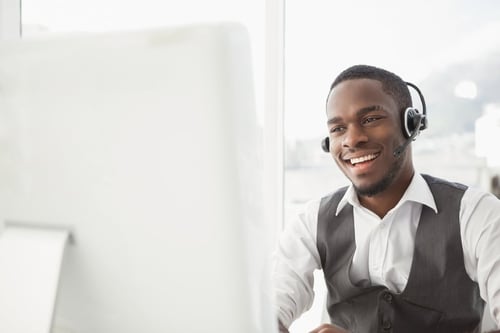 How to Install the OnSIP Call Assistant on Your Chrome Browser
Follow these short steps to install the extension on your Chrome browser:
Navigate to the OnSIP Call Assistant in the Chrome Web Store
Click on the "Add to Chrome" button in the upper right corner
A popup notification appears asking you to confirm the add-on. Read the info there and then click on "Add extension."
You'll see the blue OnSIP "O" icon added next to the address bar. Click on it and a new browser tab will open.
In the Settings box, enter your SIP address and password. (These are the same credentials that you use to log into the OnSIP app.)
When finished, click on the "Save" button. Once your settings are saved, you will see a confirmation note.
Finally, go back to the "O" icon by the address bar. You should see "Off" in front of it. Simply click on the icon to turn it "On."
And the Chrome click-to-call extension is ready.
If you wish to disable the extension, just click on the "O" icon by the address bar again; you'll see the word "Off" in front of it when it's disabled. To access more detailed settings for the Call Assistant, navigate to the Chrome menu bar, click on Window, then Extensions, and then Details (found in the OnSIP Call Assistant box).