We're excited to announce that you can now find OnSIP in the Slack App Directory. With this app, Slack users can generate free custom call links with a quick slash command, then embed them in email signatures, share them over social media, or send them directly to contacts for quick and easy phone calls.
Upgrade Web Calling with OnSIP
The Slack App Directory is a great resource for adding functionality to your real-time messaging and collaboration app, from coffee bots to file management services to real-time analytics, and more. With OnSIP, you can integrate your business calling seamlessly using our web-based interface.
Consolidate your internal and external communications with the OnSIP app, a free business-grade softphone that works on Mac, Windows, Firefox, and Chrome. With standard calling features, video chat, voicemail management, queue reports, and real-time presence, it's a complete replacement for the office desk phone.
Together, OnSIP and Slack make it easier to be productive while on the phone.
How the OnSIP Slack App Works
To install the OnSIP Slack App, search for "OnSIP" in the Slack App Directory or visit our installation page here.
Once you install the OnSIP Slack app, you can use the following commands in your direct messages and Slack channels.
/onsip call [user@domain] "display name" - Generate a custom voice and video call link by entering your SIP address, or desired call destination, and the name you wish to display on the call page. If you do not specify a name, the entered SIP address will be displayed.
These web call links can be customized for any situation. Need to verify an order with a vendor over the phone? Send them a call link over email. Need input on your product prototype from a remote coworker? Send them a video call link over Slack. Then, sign in to the OnSIP app to answer calls directly from your browser.
/onsip - Learn more about OnSIP and how to connect your OnSIP and Slack accounts.
/onsip status - Check the current status of the OnSIP network. If there is a network alert, you will be directed to our Network Status page for more details.
/onsip help - See a list of all commands and how to contact the OnSIP Customer Success team.
Other Slack Integrations with OnSIP
Along with our Slack app, we also have an integration between Slack and the OnSIP app. OnSIP and Slack customers can now connect their accounts to send messages and make business calls within a single browser window. No more navigating between browser tabs or flipping between desktop applications while on a call. With this integration, you can exchange messages with your team with just a few clicks.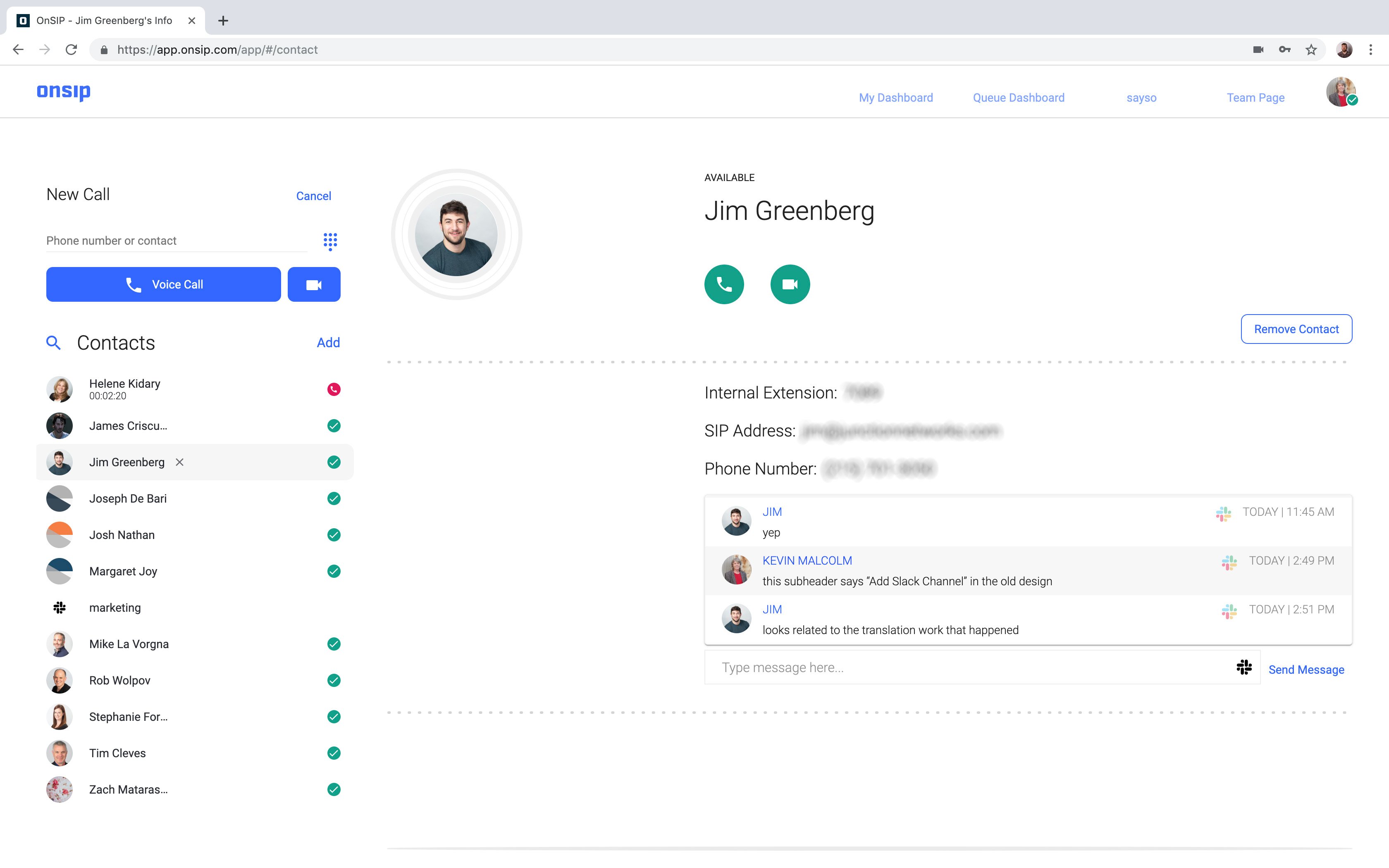 Is a coworker late for a scheduled conference call? Send them a Slack message from your OnSIP app window to see if they'll be joining you. Need to transfer a call to a colleague? Shoot them a quick note before you initiate the drag-and-drop transfer. Need an extra hand on the Support line? Ask a remote agent to hop on the queue and take calls using the OnSIP app.
To enable the Slack integration, login to the OnSIP app, click on your profile icon, select App Settings, and click the Add to Slack button under Third Party Chat.
Seamless Business Communications
Together, Slack and OnSIP makes business communications a more seamless experience. Whether you're trying to collaborate with your team or reach external stakeholders, you can now leverage real-time voice, video, and messaging all in one place.
To download our Slack app, visit https://info.onsip.com/slack-app.
The OnSIP Slack app and integration are not created by, affiliated with, or supported by Slack Technologies, Inc.