"We think business software should cover complex needs without being complicated. Our mission is to provide software that is intuitive, full-featured, tightly integrated, effortless to upgrade, all while running smoothly for every business, every user."
That's the mission of Odoo, developers and providers of an open-source suite of business applications in the cloud, including a CRM platform, accounting software, sales tracking tools, and inventory management, just to name a few.
Businesses that use Odoo apps also have the ability to connect the softphone in their Odoo interface with OnSIP. Powering this softphone with OnSIP's hosted voice platform will let Odoo users click to call contacts, make and receive calls right from their Odoo interface, and more.
How to Connect Your Odoo Account With OnSIP Hosted VoIP
The first step to using the Odoo integration with OnSIP is to open an OnSIP account. After you have set up and funded your account, follow these step-by-step instructions provided by Odoo on how to install the "VoIP OnSIP" module in your Odoo subscription. You'll need to take your OnSIP account and user(s) information and plug it into Odoo to sync the two services.
Making and Receiving Phone Calls Within Your Odoo Interface
Once the integration is configured, you'll have a business softphone, seamlessly sitting right within your Odoo interface, that lets you:
Make phone calls: Make calls directly from an opportunity's record. Then, talk with the caller through the browser on your computer or laptop. Remember to dial the full 11-digit phone number—"1," plus the area code, plus the rest of the number.
Receive phone calls: You'll receive a pop-up notification on your screen, and if the caller already has a contact record, it will be automatically displayed.
Click to call your contacts: Get on a call with any contact just by clicking on the phone number in their record.

Equip Your Business With OnSIP's Other Calling Features, Too
When businesses set up OnSIP to power VoIP calling in their Odoo interface, you won't have to worry about purchasing, configuring, or maintaining any PBX boxes or bulky hardware in your office.
After signing up for an account with OnSIP, you'll be able to administer the whole phone system straight from the OnSIP Admin Portal. In this web-based portal, administrators can purchase phone numbers, set up voicemail boxes (with voicemail to email), create ACD call queues, and configure incoming call routing rules.
With an OnSIP account, you'll also be able to equip your staff members with the OnSIP app, our softphone that is available in the browser, as a desktop app, and as a mobile app. Staff members who use this app can video call their colleagues, host group video conference calls, listen to their voicemail messages, and see which coworkers are busy on a call, available, or away from their computers.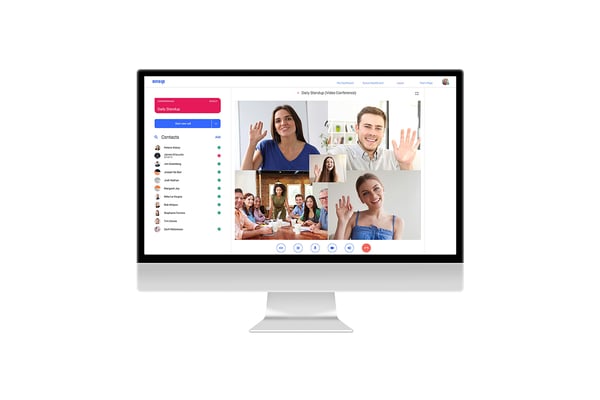 For more information on this integration, check out our Knowledgebase article on the topic. Happy calling!