A phone tree maps out how incoming calls are handled by your phone system. It's a key component of your hosted PBX setup, and involves more than just deciding where dialing the number 3 will route callers. Designing an effective phone tree can tie up loose ends, eliminate inefficient call routing, and simply improve the calling experience.
Download our free Business Phone Tree Template to get started:
Creating a phone tree may seem like a simple administration task, but it should be closely tied to your business strategy. Phone calls are one of the most important communication channels for your prospects and customers to contact your business, so creating a user-friendly calling experience should be a high priority.
Many people assume that a phone tree only consists of an auto attendant (press 1 for sales, 2 for store hours, ...). But nestled within, there are key business phone system features such as queues, dial by name directories, and other call handling mechanisms that are specifically designed to streamline communications.
Hosted PBX Setup: What Do I Need for a Phone Tree?
Business phone trees have a few critical components. These include phone numbers, employee extensions, business hour rules, auto attendants, ring groups, queues, dial by name directories, and voicemail boxes. With these basic building blocks, you can construct a simple call flow diagram to implement with your hosted VoIP service.
Step #1: Phone Numbers and Extensions
If you don't already have one, you'll want to register at least one phone number as your main line. If you have several large departments, you may also want to consider registering additional direct lines so customers can bypass the main menu. For instance, you can register a second number that leads customers directly to your Support team.
Next, you should assign each employee a unique extension on your main phone number. These personal extensions will not only allow employees to dial each other more quickly, but will also give inbound callers a simple way to reach a specific person immediately.
Step #2: Business Hour Rules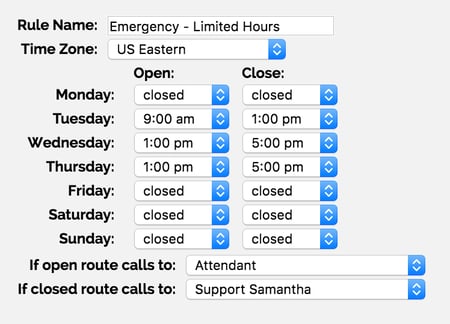 One of the most frustrating experiences as a caller is having to wait for the phone to ring endlessly before finding out the business is closed and reaching a voicemail box. Implementing business hour rules can eliminate this hassle by informing after-hours callers of your regular operating times and immediately directing them to a preset location, such as a voicemail box or external number.
A business hour rule directs incoming calls to different destinations based on the time and day of the week, according to the times you set. You can apply a business hour rule for a single phone number, or for multiple phone numbers.
Step #3: Auto Attendant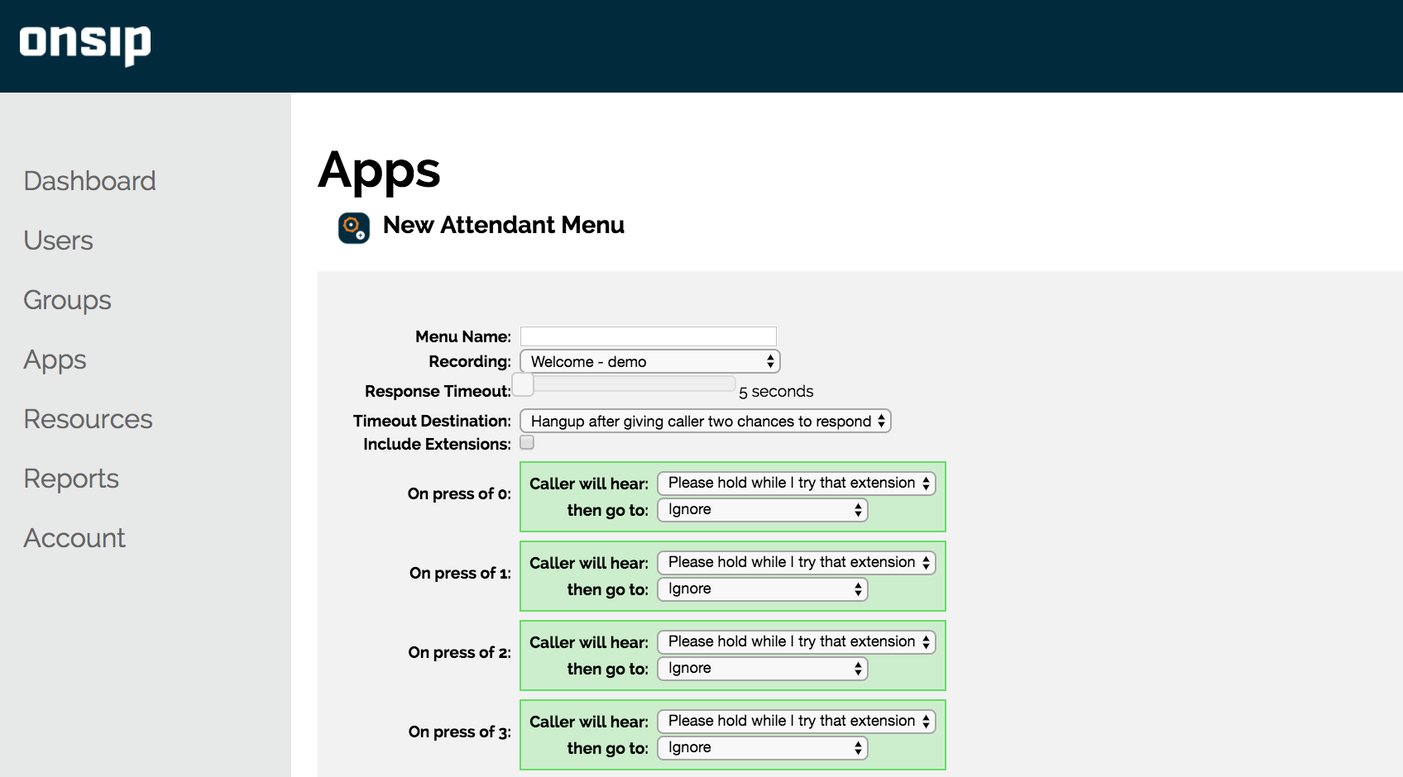 An auto attendant lists a series of numbered options that a caller can choose from by pressing a corresponding number on the dialpad. Unless a business hour rule shuffles callers somewhere else, an auto attendant is likely the first hosted PBX feature a caller interacts with on a phone tree.
An auto attendant takes all the disparate elements of your business - such as Support, Sales, or the front desk - and turns them into a set of ordered options that structure the rest of the phone tree. Ideally, the busiest departments are listed before those that receive low call volume. This saves the majority of your callers from having to wait and listen to a long recording before hearing the desired option.
Auto attendants can lead callers to ring groups, queues, dial by name directories, personal extensions, voicemail boxes, or any other part of your business VoIP phone system. You can also deploy additional auto attendants within any branch in the phone tree to shape more complex call flows.
Step #4: Ring Groups, Queues, Dial-by-Name Directory
When a caller is transferred from the auto attendant to a specific department, his or her call will have to be paired with one of your available employees. To deal with this "sorting" between callers and department members, you can use several cloud phone system features, including ring groups, ACD queues and dial by name directories.
Ring Group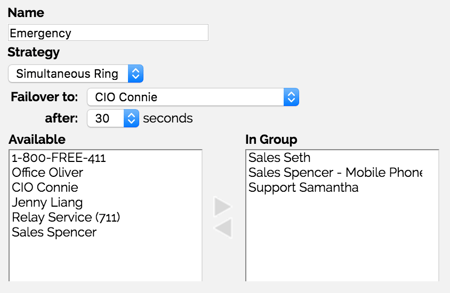 A ring group is one way to pair callers with employees. Simply create a group of users within your phone system and designate a ring strategy. Typically there are two options: simultaneous ring or hunt ring.
Simultaneous ring groups call everyone in the group at the same time. The first person to pick up answers the call. A hunt ring group calls each person in the group individually, according to a preset order, until someone picks up. If nobody picks up, the ring group fails over to a preset destination, such as a voicemail box.
Ring groups should be sufficient for smaller businesses with low call volume. If your company rarely has callers waiting on hold, a ring group can be a simple solution for assigning calls to employees.
ACD Queue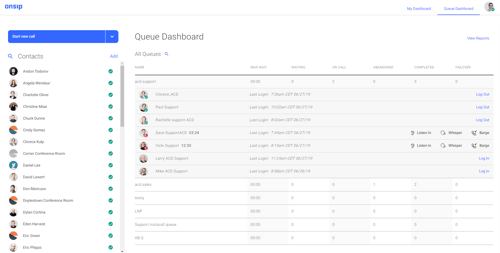 ACD queues, or Automated Call Distribution, are helpful for Support teams and other departments that receive a lot of inbound calls. Queues place callers on hold as they wait for available operators to assist them. Callers are placed in order, and are usually processed by how long they've been waiting.
Some providers like OnSIP also offer more advanced queue features, including real-time monitoring and CRM capabilities, along with supervisor controls such as call barge and call whisper.
Dial by Name Directory
Unlike queues and ring groups, a dial by name directory allows callers to choose who they want to speak to. When a caller selects a dial by name directory, he or she can key in the first few letters of an employee's name by using the phone's dialapd. The caller will then be connected to that employee via extension dialing.
A dial by name directory is useful in cases where callers know who they wish to speak to, but do not have that person's extension handy. However, smaller organizations might not need this feature if a receptionist is available to transfer calls manually.
Step #5: Failovers Rules and Voicemail Boxes
Each branch of your phone tree should have a failover destination. A failover rule is designed to give callers a way to engage or otherwise contact your business, even if you or your employees are unavailable. Your phone tree should never abruptly disconnect the caller. This comes across as rude and unprofessional.
Design your business phone tree so that callers can at least leave a voicemail message if nobody answers the phone. You can also choose to direct unanswered calls to an external line, a recording, an after-hours emergency ring group, or a professional answering service.
In most cases, you will want the caller to leave a message in a voicemail box. These can be created for both individuals and groups. You can also have a last resort, business-wide voicemail box for general inquiries about your company, if nothing else happens to satisfy the caller. For sample voicemail greetings, see Business Voicemail Greetings: 5 Sample Scripts.
Step #6: Recordings
Once you've laid out your entire phone tree, you're ready to record the greeting that callers hear when they dial your phone number. You can either do this yourself, or hire professional voice talent, and upload the audio files directly to your phone system web portal.
This is the final touch that can add real finesse and professionalism to your phone system. But before you take this step, you'll want to make sure that you have the phone tree just right. The last thing you want is time and money wasted on multiple recording sessions.
Most businesses have two standard recordings: one for business hours, and one for after hours. We recommend writing out the entire script after you've designed your phone tree to make sure it presents the options in the most efficient way. Here are some sample scripts and strategies for an effective phone greeting: