You don't need to have a massive call center operation in order to take full advantage of cloud call center software. Businesses that have sales, support, and billing departments will find many features that help develop proficient and flexible call agents and well-informed supervisors.
If you're thinking of moving your business's call center platform to the cloud, then give this blog a read. From CRM platform integrations, to advanced call routing options, to capabilities for remote working, call center software in the cloud can be the cornerstone of your customer service efforts.
Are You Looking for Call Center Software or Contact Center Software?
Because there's a difference!
Or rather, there should be a difference. Many educational blog posts on the topic use the two terms interchangeably, even though they are technically not the same thing.
Call center software focuses solely on inbound and outbound calls to your support departments. This software assists agents in answering incoming calls and making outgoing calls, with call routing features that prioritize speed, agent efficiency, and customer self-service.
Contact center software includes support for phone calls but also a variety of other digital communication options, including SMS, live chat on websites, email, and even social media. You'll see it termed as "omnichannel" support, covering today's multitude of voice and digital customer service channels. This software helps a business meet its customers where they live and work on the Internet, all while providing a unified and consistent experience for both customers and agents.
The two terms seem to be melding together thanks to our digitally connected world, with some platforms called "contact and call center software" and some blogs writing about call center services but providing details on contact center features within the post. Just do your due diligence and ask questions of the sales reps you're in contact with to make sure you're getting the platform that's the right fit for your business needs.
How to Choose Cloud Call Center Software: Focus on Features That Meet Your Business's Needs
So, knowing that call center solutions focus on features that route calls and even help callers resolve certain questions without speaking with an agent, consider the following features when choosing cloud call center software:
Auto Attendants and IVRs
Auto attendants and interactive voice response (IVRs) menus are pre-recorded greetings that provide callers with a menu of options that guide them to the right place for their inquiries. These features let customers dial numbers on their keypad to reach specific people or departments, and many can even recognize spoken commands by callers.
While auto attendants and IVRs help to funnel callers to the appropriate department ("Press 1 for Sales, Press 2 for Support…"), they can also be set up to provide answers to basic questions. You may have heard in an attendant menu: "Press 9 for our address and hours of operation." Instead of taking up an agent's time to get this simple info, a caller can press "9" and listen to a recording of those details.
Worth a mention here is software called Mosaic, which allows customers to interact with your brand over a variety of digital communication channels. The centerpiece of the software is an intelligent virtual assistant that your callers can speak direct, natural commands to in order to accomplish self-service tasks (like paying a bill).
Call Groups and ACD Queues
Call groups and ACD queues are features that distribute calls among a group of your call agents, say in your sales or support departments.
Call groups let you "group" your agents in the feature and then deliver calls to them via a selected ring strategy. A simultaneous call strategy rings all agents' phones—the first agent who answers takes the call. A hunt strategy rings each agent's phone one at a time, going down the list until an agent answers (these are also called hunt groups).
ACD queues are similar but provide much more functionality and control for agents and queue supervisors. Callers are held in line and distributed to agents on a first-in, first-out basis. And agents can join and leave the queue by dialing a PIN or star code on their phones.
Queue Dashboards
ACD queues also have web or app-based dashboards that give the queue supervisor an in-depth and real-time overview of what's happening in the queue. These dashboards show the supervisor how many callers are waiting as well as how long each has been waiting. They also provide views into which agents are on the phone and which are available.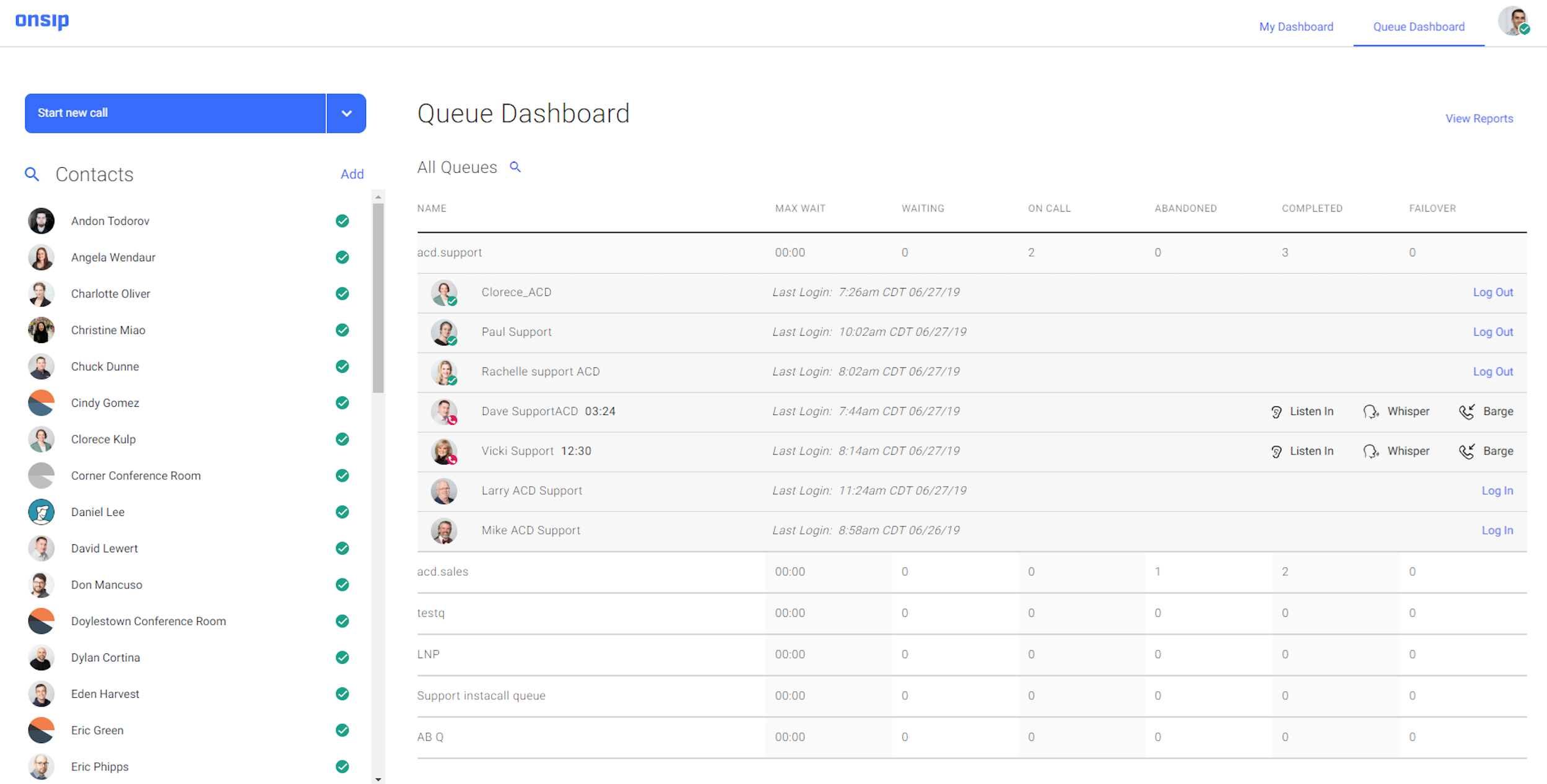 Supervisors can use the queue dashboard to listen in on live calls and barge into them when necessary to speak with all parties on the phone. They can remotely log agents in when there's a rapid increase of calls to the queue, and they can remotely log agents out if an agent forgot to log out before going on a vacation.
Skill-Based Call Routing
Many cloud call center services promote skill-based routing as a way to connect callers with agents. Instead of sending a caller to the next available agent, this routing strategy attempts to match a caller with an agent who is most equipped to assist her.
For example, an IVR menu could have as its first prompt, "Press 1 for English, Press 2 for Spanish." If a caller presses "2," she gets sent to a group of agents who speak Spanish. Rather than matching a Spanish-speaking caller with an agent who doesn't speak Spanish (and the poor customer service experience that results from it), the skill-based routing strategy connects the two on the first call.
Integrations With CRM Platforms
Integrations with business CRM platforms allow your agents to deliver better and more personalized customer service over the phone. For example, a HubSpot integration can automatically match a caller with his HubSpot contact record and display a condensed version of it on the agent's screen. Instead of taking time to ask, "What's your account number?" and then searching for the caller's record, the agent can greet the caller by name and brush up on any recent contact points that are logged in his record.
Reports and Analytics
Queue supervisors can generate detailed reports that provide key stats and figures on the queue's performance. From numbers such as maximum call wait time, average call wait time, and busiest time of day, supervisors can gain valuable insights into how callers are interacting with the queue.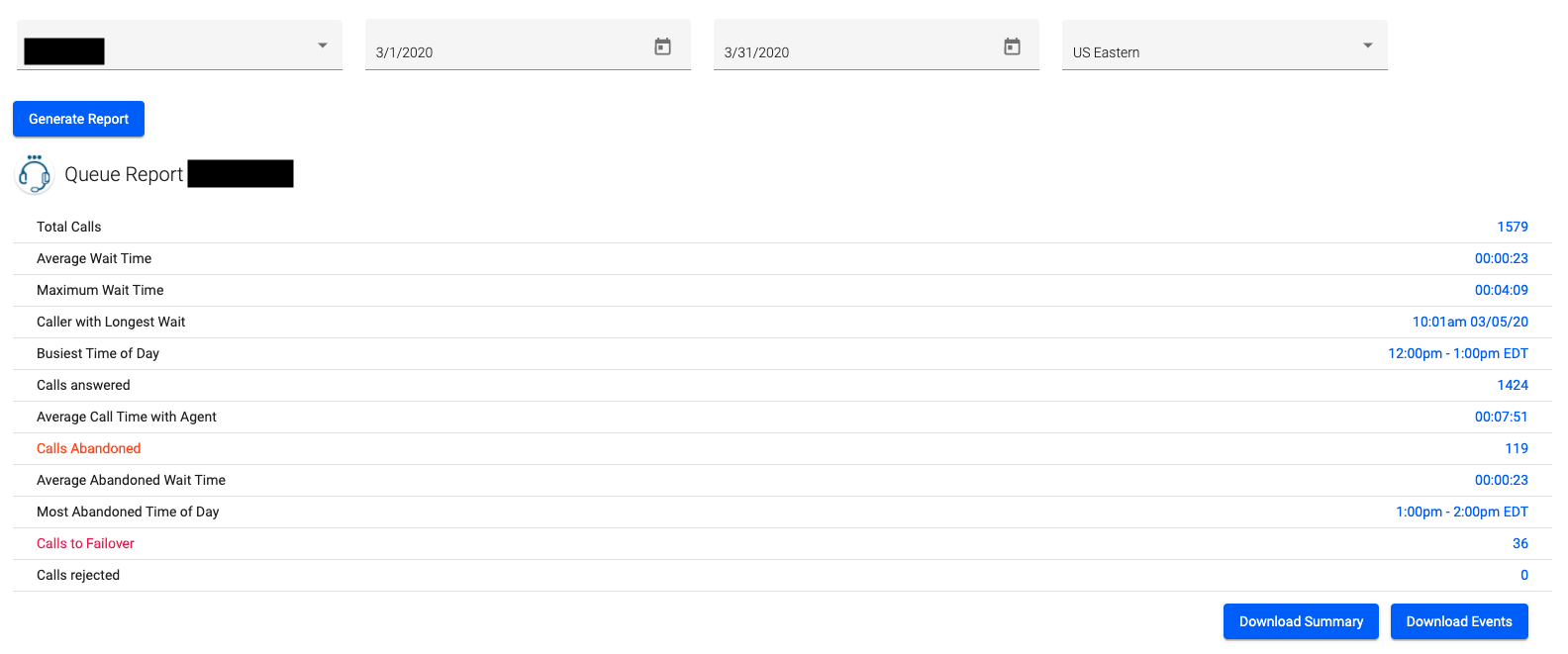 These reports also provide agent-related data, so supervisors can also discover how productive or efficient each agent is while on calls. With this information at hand, they can make impactful decisions aimed at improving the customer's calling experience with the company.
Cloud Call Center Software: Improved Customer Service With Added Flexibility
How to choose cloud call center software for your business? Write down the features that are a must-need for your operations, speak with a few providers, ask to see demos of the software—or better yet, a free trial so you can see it in action in real-time!—and choose the service that best fits your needs. You'll be using a powerful and flexible cloud-based call center solution in no time.