Need a hosted VoIP phone system feature that distributes incoming callers among a group of your business representatives? Look no further than a hunt group.
What Is a Hunt Group? "Hunting" for an Available Agent
A hunt group is a business calling feature that sends a call to multiple phone system users (for example, all of the call agents in your sales or support department).
The VoIP phone system administrator sets up a hunt group in the service's web-based admin portal. When configuring the group, she places these call agents into a specific order. Then, an incoming call to the group will ring the phone of the agent in the first spot. If he doesn't answer after one or two rings, the call will ring the phone of the agent in the second spot. If that agent doesn't answer, the call then moves to the third-spot agent. The call rings each agent in sequential order until one of the agents answers it.

The admin can set up the hunt group's failover location in case the call moves down the list and no one picks up. A failover location can be a destination like a voicemail box, a receptionist's phone, or an external call center.
The admin can also customize the rules for sending calls to the hunt group. For example, she can assign a phone number to the group so that callers who dial that number get sent directly to the group. Or she can add the hunt group to her company's main auto attendant. That way, when a caller hears "Press 2 for Sales" and presses 2, he is sent to the group.
Are Hunt Groups Related to Call Groups and Ring Groups?
You may have come across the related terms call groups and ring groups—they are both different names for the same business calling feature.
A call group is just the generic term for the feature.
A ring group performs the same functionality as a hunt group, with one difference. While a hunt group rings the phone of each agent one at a time and in sequential order, a ring group rings all phones of the agents in the group at the same time. The first agent who answers the call takes it.
Benefits of Hunt Groups for Contact Centers and Other Support Departments
Hunt groups are an invaluable call handling solution for call centers, contact centers, and sales or support departments in general, as they help these teams provide first-rate customer service:
Guarantee That Callers Are Helped by a Live Agent
Because hunt groups send a caller to each agent on the list, you'll ensure that the caller gets a hold of a live agent. Even if the first two agents are busy on calls, the third agent will be able to speak with the caller. You won't risk losing sales opportunities or support resolutions by sending callers to a voicemail box.
Orderly Call Management for High Call Volumes
If your organization has high call volumes, it can be difficult to manually field phone calls and route them to the right destinations. A hunt group can help you accomplish this by automatically sending calls through the list of your agents. Even if you get three calls in quick succession, the group will instantly connect each caller with the first three available agents—without the callers knowing they just went through a hunt group.
Group Agents With Similar Skill Sets so any of Them Can Address a Caller's Issue
Since each agent in your sales or support department has the same training and knowledge of your product, any agent who is in the hunt group is qualified to answer any call to the group. A caller will have a much greater chance of getting her questions resolved by the first agent that she speaks with—improving your business's customer satisfaction rates.
How to Set Up Hunt Groups With OnSIP Hosted VoIP
Hunt groups are a part of the OnSIP VoIP phone system platform and are available to all customers.
An OnSIP account administrator can configure groups in our web admin portal. However, we moved admin portal functionality into our web softphone app, so admins can also create groups in the web app!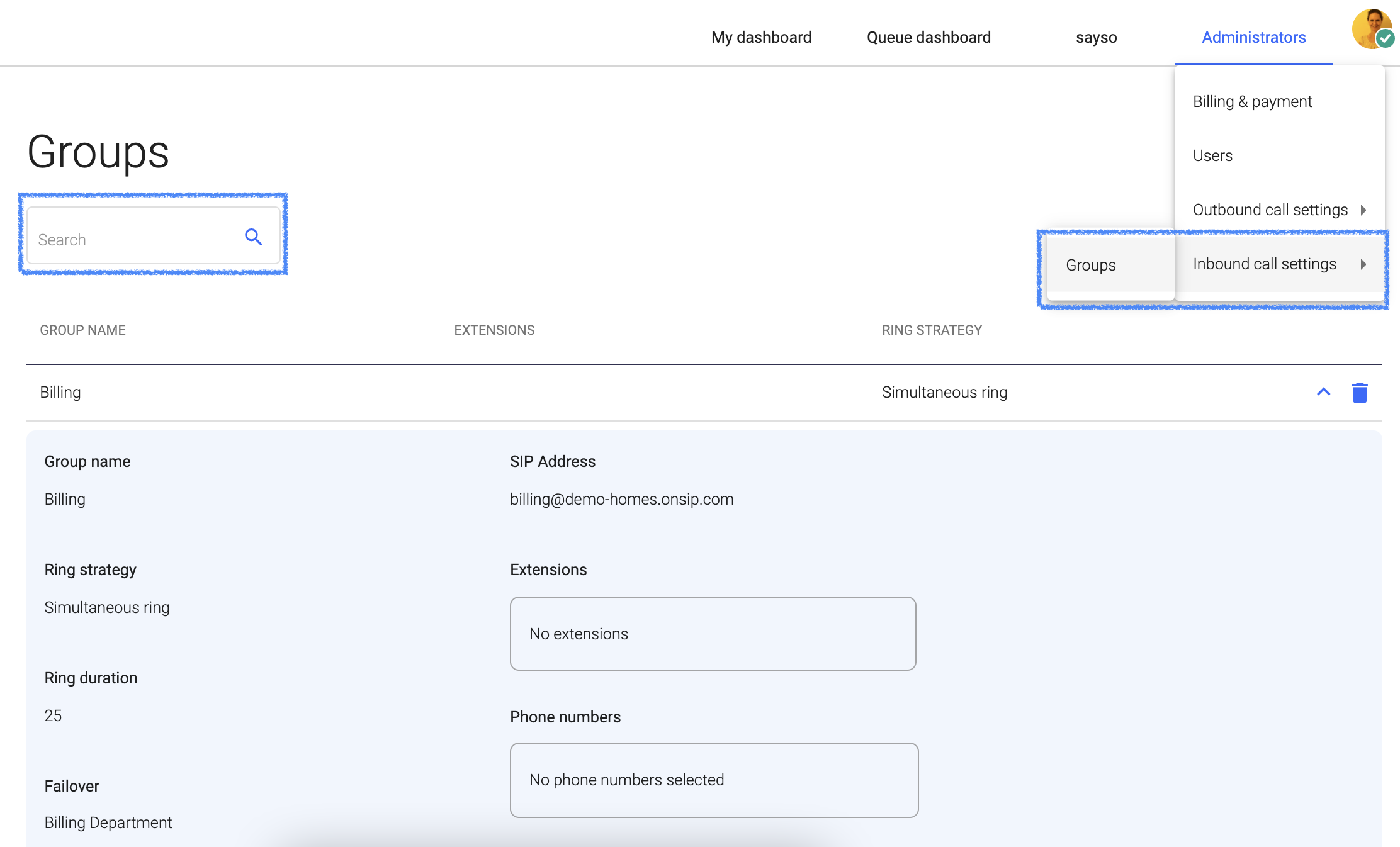 Admins can find groups in the Administrators tab of the app. There, they are able to create new groups, modify the details of existing groups, and delete groups that are no longer in use. Admins can set each group to be a hunt group or a simultaneous ring group (aka a ring group) and can even switch each group between the two ring strategies at will. They can also add and remove users from the groups, assign phone numbers and extensions, and set failover locations.
Hunt Groups for VoIP Phone Systems: Customer Service Benefits and More
Hunt groups for VoIP phone systems can be a key part of your company's call routing setup, helping callers seamlessly connect with your agents while also boosting your customer service efforts. If you want to learn how hunt groups can be used at your business, click on the button with the phone icon below to speak with an OnSIP rep!