Whether you use the OnSIP web app or desktop app, you have a full-featured business phone right at your fingertips on your computer or laptop. In addition to business calling, you can also use efficiency-boosting communication features throughout your workday: group video conferencing, drag and drop call transfer, visual voicemail management, screen sharing over sayso video calls, and more.
Another one of these features is simple text chat, and it is free for all OnSIP customers. When you need a question quickly answered or want to clarify something about the latest product release, just send your coworkers a chat message within the OnSIP app interface.
OnSIP Chat: How to Message Your Colleagues Within the App Interface
Upon your first log in to the OnSIP app, your Contacts list (on the left side of the interface) will be empty. To add coworkers to this list, simply click on Add and a gray box will appear that lists all of the people in your organization. Click on the name of the person whom you want to add to your Contacts list, and he will be instantly added; follow this process to add your coworkers there.
By clicking on a contact's name in your Contacts list, you'll pull up more information about that person. You'll be able to voice or video call her by using the phone icon or video camera icon underneath her name—one click will start the call in your browser window or desktop app. You'll also see other contact details for her, such as her work extension and any phone numbers that have been assigned to her.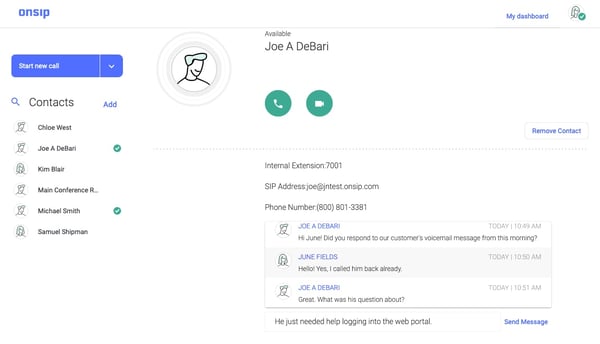 Below those details is a chat conversation box and a text field where you can send chat messages to the contact. Simply type your message in the text field and click on Send Message to send it to her. She'll receive the message in her OnSIP app.
If she is in a different part of the app, say, on the General Settings page or reviewing her voicemail messages, she will be notified of a new chat message by a blue dot next to your name in her Contacts list. All she has to do to send a reply is click on your name there, review your message, and type in a response in the text field.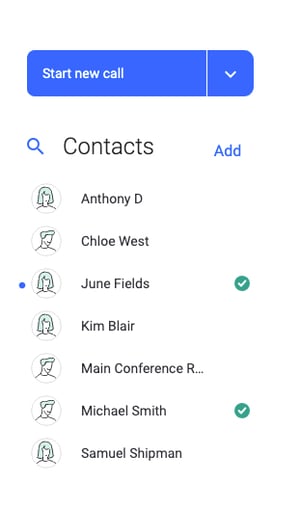 By clicking your mouse on the chat conversation box, you'll be able to scroll up and down to review the chat history with your coworker. Chat messages display day and time stamps of when they were sent.
If you've added Custom Contacts (people who are not a part of your company) to your Contacts list, you cannot send them chat messages within the OnSIP app.
What to Be Aware of When Using OnSIP Chat
This chat feature is meant to be a helpful, supplemental tool to your day-to-day communication and collaboration with coworkers. There are, however, a few limitations to be aware of:
If a coworker has never logged into the OnSIP web or desktop app before, you will not be able to send chat messages to him.
If a coworker has logged out of the OnSIP app, or if he has marked himself as Away, he will not receive any messages that you send to him. Your coworkers must be logged into the app and set as Available in order for them to receive your chat messages.
When you log out of the OnSIP app, or refresh it, your chat conversation history with contacts will be erased; it does not reappear upon your next log in to the app.
If your coworker is only logged into the OnSIP mobile app, he will not receive any chat messages that you send to him. You cannot send a chat message from the web or desktop app to the mobile app.
The OnSIP App's Slack Integration: Send Chat Messages Between the Two Platforms!
If you need a more robust chat feature and your company already uses Slack, you can enable a free OnSIP web and desktop app integration with Slack. Doing so will let your coworkers send and receive messages between the two interfaces. The integration also works with Slack channels, so you can send messages from the app to a Slack channel, and vice versa.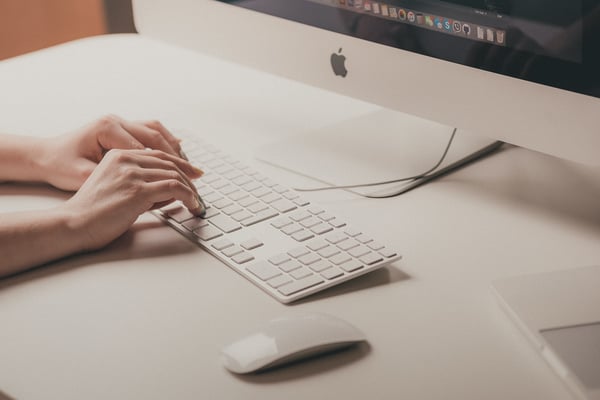 This is a convenient integration for when you're on a conference call or video call with a customer, sales lead, or vendor—you can send messages to coworkers who are on Slack without having to leave the OnSIP app interface.
You can enable the Slack integration in your OnSIP web or desktop app:
Click on your profile picture in the upper right corner
Click on General Settings
Scroll down to App Controls
Click on the Add to Slack button and follow the instructions to enable the integration
If you enable this integration in your app, please ensure that all staff members at your company do the same as well. You won't be able to "mix and match" the default OnSIP chat with our Slack integration. If a coworker who is using the OnSIP app chat tries to send you (who has the Slack integration enabled) a message, she will receive a response that she needs to enable the Slack integration in order to chat with you.
Happy chatting!