OnSIP was built for people who hate waiting. We offer a complete phone system that takes less than an hour to set up—and it's all DIY. There's no extra hardware required. Desk phones optional. All you need are your laptop and your vocal cords (not included).
It only takes six steps to set up an OnSIP phone system, all without having to call a bearded tech support guy who doesn't like you. To get started, simply answer a few questions and create a password to open your OnSIP account.
Step 1. Activate Your Account
Once you sign up, you'll receive an account activation email. Click on the "Activate" button to proceed to a series of pages that look like this: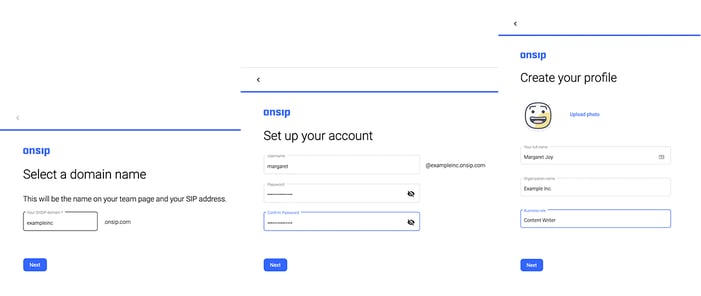 Step 2. Create Users
To finish setting up your OnSIP account, log in to the Admin Portal here with your username and password. To add or modify the users you added, click on the "Users" tab.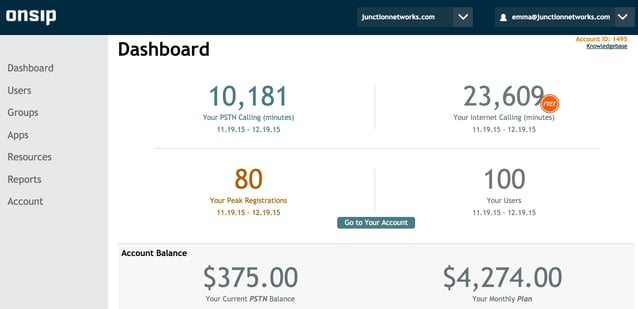 Here, you can enter the information for all the new users you wish to add to your OnSIP account. You can also assign each person an internal extension. By default, the admin user is assigned the extension 7001, so all additional users are auto-assigned extensions starting with 7002. You also have the option to create your own extensions if desired.
Once you have entered your team's names and email addresses, you will be asked to confirm the list of users. Each user will then receive a welcome email containing their account information and instructions on how to log in to the OnSIP app, our free business-grade webphone.
Step 3. Create Groups
The next step in setting up your business phone system is to create groups. A ring group is a simple way to organize your team. Typically, businesses group users by department, such as Sales, Marketing, and Support. Ring groups make it easy for callers to reach the right destination when listening to your phone menu ("Dial 1 for Sales, 2 for Support...). They are also great for organizing on-call team members for answering calls received after hours, or any other group that needs distributed calling.
With OnSIP, a group is limited to 10 users. You can dial a ring group directly if you give it a numbered extension. There are two group types to choose from:
Simultaneous Ring: All members of a group are called simultaneously. The first person to answer takes the call.
Hunt Group: Members of a group are called in a specific sequence. The first user listed is the first to be called, the second listed is the second to be called, and so on, until the end of the sequence is reached. If nobody answers, the call can fail over to voicemail.
Create a Group
On the left-hand side of the Admin Portal, select "Groups," and then click "New Group."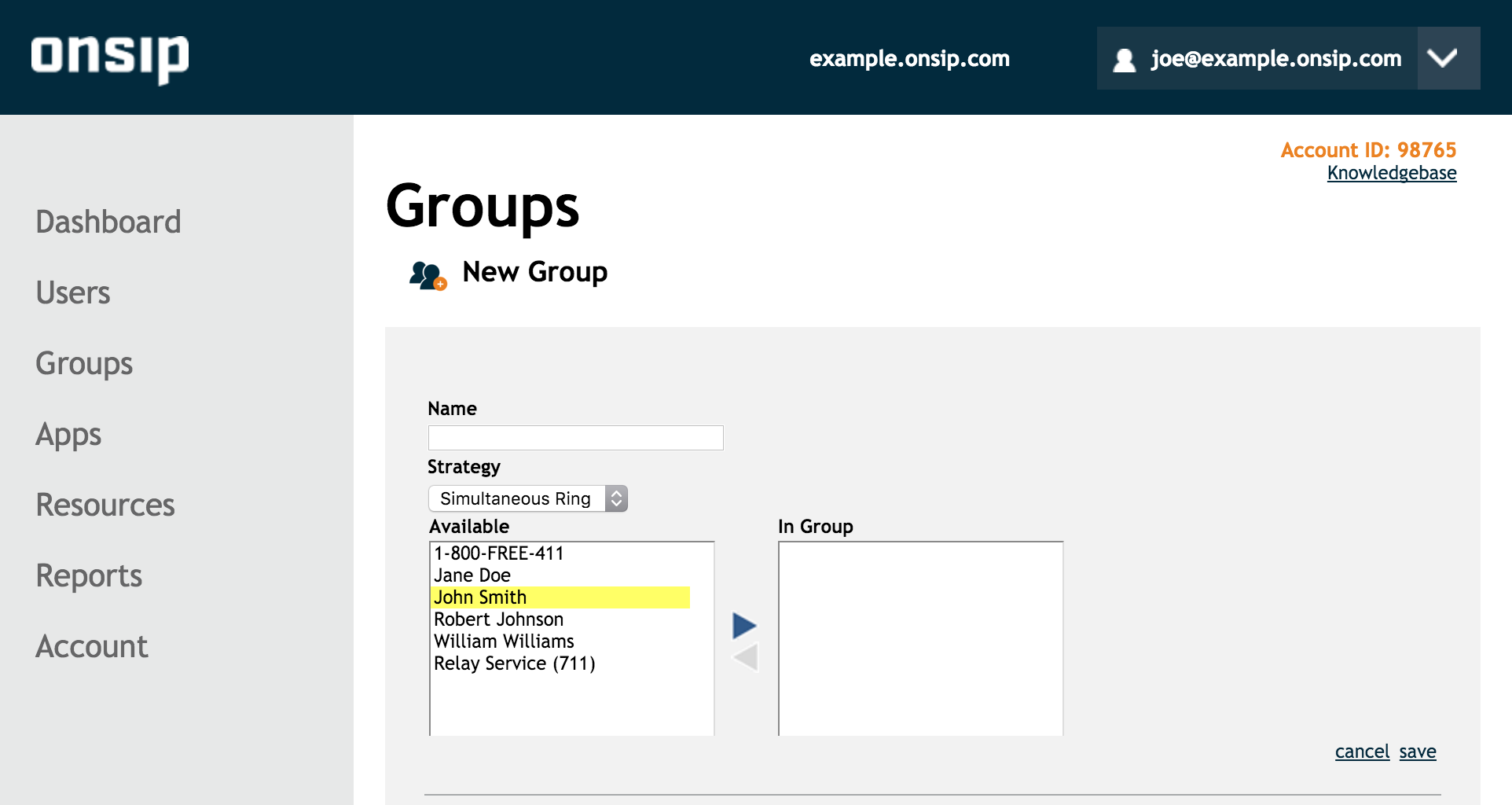 Enter the name of the group and select the desired ring strategy. Next, add users to the group by selecting them in the "Available" list and moving them over to the "In Group" list by clicking on the right arrow.
If you're creating a Hunt Group, the call sequence will start ringing with the user at the top of the group. Click "Save."
Add an Extension to a Group
You can directly dial saved groups via extensions, just like you would contact your coworkers. To do this, click on the name of the group that you wish to assign an extension.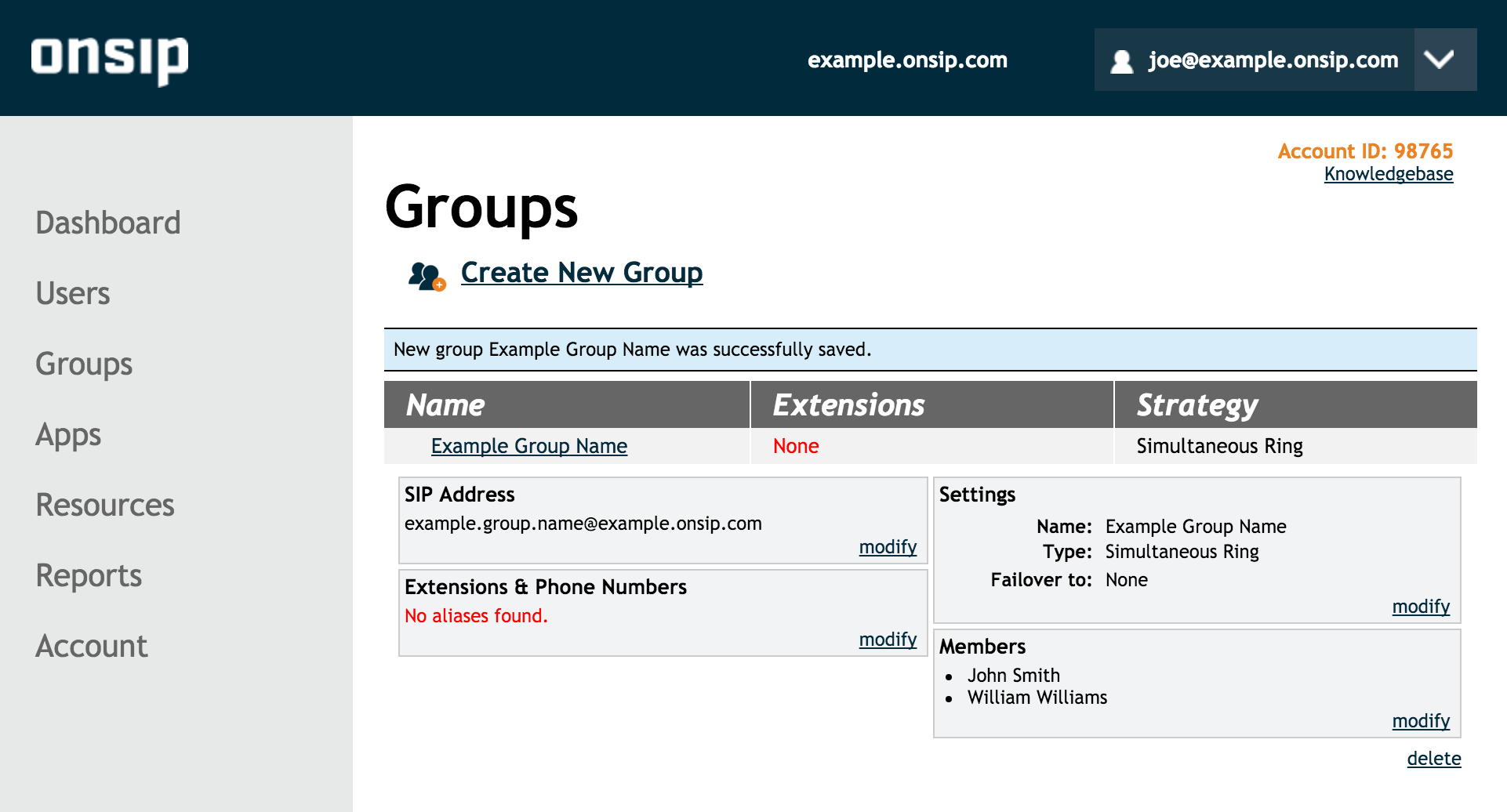 Click "modify" under the "Extensions & Phone Numbers" section. An empty box with a drop-down arrow will appear. Keep the drop-down set to "Extension" and enter the desired extension number in the box. Then press "Save."
You can now dial that extension and directly access the ring group associated with it.
Step 4. Create a Phone Menu
Now that you have created users and groups, you can set up an auto attendant, or phone menu. An auto attendant is a professional way to greet every caller and lets them select a destination from a list of options using the keypad on their phone. This saves your receptionist from transferring every call manually and can automate FAQs with recorded announcements.
In the Admin Portal, select "Apps" on the left. Click "Create New App," select "Attendant Menu," then click "Create a new Attendant Menu."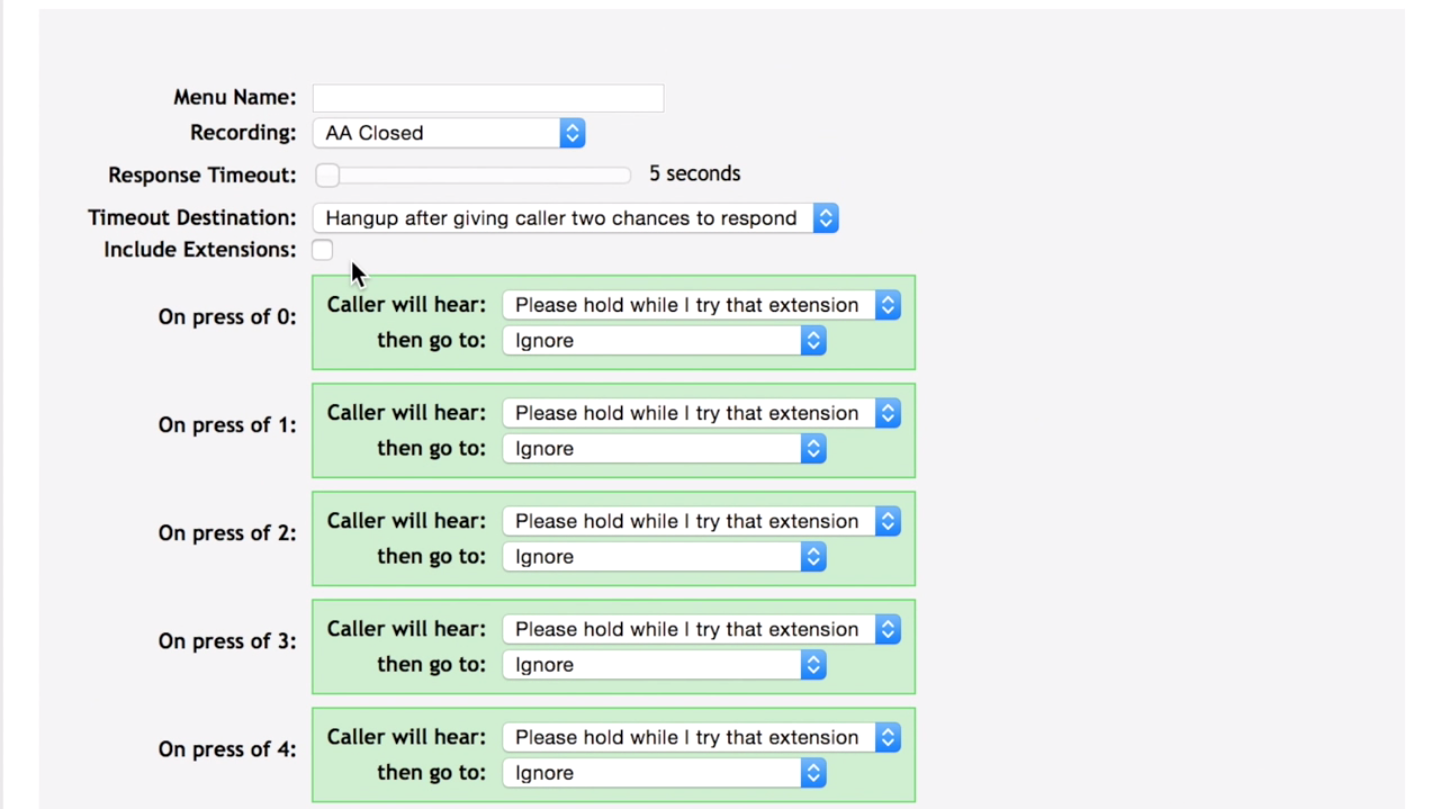 First, give your menu a name. Next, select a recording that will play when callers first dial your number. All new OnSIP accounts come with two demo recordings. Select the recording "Welcome - demo" for now and modify it later, once you have recorded and uploaded your custom greeting according to the menu you have created below.
Next, select a response timeout. This is how long the attendant menu will wait for a response before going to the timeout destination. If you would like extensions to be dialed directly from the attendant menu, check "Include Extensions."
Finally, select the desired routing destination for each of the keypad options. If you are including individual extensions in the menu, you can choose to play a recording that says "Please hold while I try that extension" while the call is being redirected. Once you are done, click "Save."
Step 5. Create Business Hour Rules
Business hour rules are a phone system feature that directs incoming calls to different destinations based on the time of day and day of the week. It allows you to route call traffic differently depending on whether your business is open. During operating hours, you can send calls to your phone menu. After hours, you can direct calls straight to a voicemail box, a ring group, or an external phone number.
To create a new Business Hour Rule, go to the "Apps" page. Click "Create New Apps," then select "Business Hour Rule" and click "Create a New Business Hour Rule."

Enter a name for the rule and select your time zone. Using the drop-down menus, set your business hour rules for each day of the week. Finally, select which destination to route calls to during "open" hours and where to send calls during "closed" hours. Click "Save."
Step 6. Add a Phone Number
Now that you've created your auto attendant and business hour rules, you will need a registered phone number for your phone system to be publicly accessible. (Calls made within your own phone system between coworkers are free.)
You can add a phone number by going to the "Resources" tab. Select "Add New Resource," then click "Phone Number" and "Add New Phone Number." Please note that you will need to add credit to your account before purchasing a new phone number.
You can choose the Area Code and Rate Center of your phone number by using the drop-down menus. For more information about these options, check out our business phone number availability blog. Lastly, choose your newly created Business Hour Rule as the destination for the number. This will ensure that calls made to this number will follow the rules you created in the previous step.
DIY Phone System: 5 Easy Steps
With OnSIP, you can set up your entire business phone system in less than an hour. Using our web-based Admin Portal, you can easily add users, create ring groups, add a phone menu, set business hour rules, and buy a phone number. Now all you need are some phones.

The OnSIP app is a browser-based phone with all the capabilities of a business desk phone. We recommend that you use the OnSIP app while you're waiting for your physical phones to arrive, if you ordered any at all. With today's technology, there's nothing wrong with using softphones or webphones exclusively.
You can access the OnSIP app here. Your team can log into the app with the SIP addresses they received in their welcome email. Once they're logged into the OnSIP app, they can make inbound/outbound voice and video calls, use presence, send instant messages, and access their voicemail manager, along with a variety of other business phone features.
In less than an hour, you can have a new business phone system up and running without having to talk to anybody. This is less time than the average American commute. In fact, doing your laundry takes about twice as long as setting up an OnSIP phone system. That's just one of the perks of the DIY attitude.