Remote working has been on the rise in recent years: a Gallup survey conducted in 2017 reported that "43 percent of employed Americans said they spent at least some time working remotely," a four percentage point increase since 2012.
What tools are available to support this new way of working? After all, a physical desk phone that sits in the office won't help an employee who is offsite for the day.
In place of desk phones, give your employees a softphone. These software apps bring all of the functionality of a telephone onto a computer or mobile device. They'll help your mobile employees stay connected to the office no matter where they are working.
Softphones: Phone Apps on Computers and Mobile Devices
Softphones are essentially software-based phones. They mimic desk phones by presenting a phone interface on the computer, complete with a dialpad and call handling features (such as Mute, Hold, and Transfer). But since they operate on a computer, they are much more powerful than desk phones. Softphones additionally offer video calling and conferencing, visual voicemail management, chat and SMS capabilities, and more.
Softphones are available for all different devices and platforms. There are desktop applications that run on Mac and Windows computers, laptops, and tablets, web-based versions that are accessible in the browser, and mobile apps for iOS and Android devices.
Today's Unified Communications as a Service (UCaaS) and cloud phone system providers also offer proprietary versions of softphones as part of their service platforms; for example, OnSIP provides our customers with free desktop and mobile apps. Furthermore, you can buy third-party softphone apps that will work with a variety of services.
To learn more about how to use them at your business, read about these 5 advantages that softphones have over desk phones.
1. Take Your Business Phone Wherever You Go
Employees who work from home or frequently travel to clients or vendors will be able to take their business phones with them. From a client's office, hotel room, or even a coffee shop, they can simply boot up their laptops and have their phones ready to go. Using the softphone, they can answer incoming calls as well as make outgoing calls, just as if they were sitting at their desks using a physical phone.
But softphones are also helpful for staff members who are working in the office. Perhaps a colleague is expecting an important call about a sales deal or contract negotiation, but has an afternoon full of meetings. Instead of missing the call when it comes in, s/he can take a laptop into those meetings and immediately answer the call when it arrives.
2. Keep Personal Cell Numbers Private
Since softphones connect to a cloud phone system over the Internet, they are simply offsite devices of that phone system. Employees who are on the road can use them to answer work calls on their smartphones while keeping their personal cell numbers private. And since the call occurs over the Internet (in other words, over a data connection), employees won't be using up their cell phone plan's calling minutes.
3. Work Efficiently with User-Friendly Enhancements
One of the best aspects of softphones is that they present an interactive user interface. This allows for many shortcuts and enhancements when using the phone, including:
Drag-and-Drop Call Transfers: Need to transfer a call to a colleague? Don't dial extensions and PIN numbers on your phone. Just click on the call in the softphone interface and drag it over to your colleague's name— it's that easy!
Visual Voicemail: Instead of taking time to navigate menu prompts, review your voicemail messages in a visual format. Softphones allow you to play your voicemails, delete them, configure voicemail to email, and set other settings right from the user interface.
Incoming Call Notifications: In addition to ringing tones, softphones will notify you of incoming calls through popup notifications with caller ID info or bouncing/flashing app icons on your computer's dock or taskbar.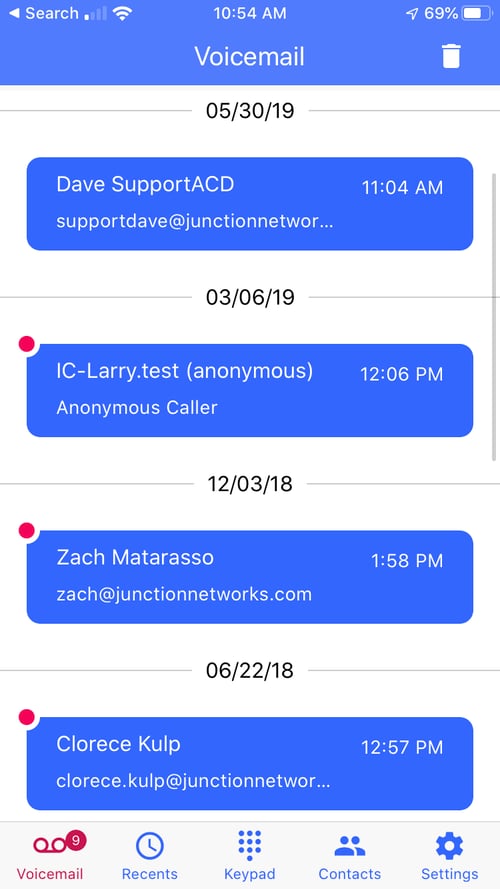 4. Host Video Calls and Video Conferences
Do your employees have recurring meetings with clients or outside contractors? Softphones will let your employees make video calls right from the app itself. And since many softphones are free or come included with your cloud phone service, you won't need to buy expensive, top-of-the-line videophones.
Some softphones will even allow you to host multi-party video conference calls. Instead of using a pricey third-party platform, use a softphone to hold team or department meetings. You can gather all staff members- including those away from the office- for collaborative and team-building meetings over video.
5. Present a Clean and Streamlined Office
Use softphones to declutter your office and present clean workspaces. Desk phones typically come with power adapters and ethernet connections (for IP phones). By having your employees use softphones, you can remove desk phones and jumbled cords from their desks and give them more space at their workstations. The softphone will draw its power from the laptop or mobile device's main power supply.
Case Study: iGlobal Stores
Daniel Johnson, the VP of Sales at iGlobal Stores, wanted to replace his staff's desk phones with softphones in order to remove restrictions on his business's growth and flexibility. With his previous on-premise phone system, remote workers had to use their own home phones to connect to the main office. He was also forced to give out his personal cell number to clients so he could be reached when he was away from the office.
Deploying OnSIP's own softphone, the OnSIP desktop app, he is able to give his colleagues an easy-to-access communications device that is accessible wherever they are working. Remote workers can log into the app from their homes and answer incoming sales or support calls, without the need for a physical phone device. And Daniel doesn't have to give out his cell number anymore because he can answer work calls on his laptop.
"OnSIP has enabled us to give everyone a work phone, which helps lighten the load on our team," notes Daniel. "For example, more Customer Success team members can now answer the phones without having to physically be in the office. The app gives us a lot more flexibility."
To learn more about how the OnSIP app has benefited his business and his colleagues, read our blog post on iGlobal Stores replacing their business phones with softphones.
A Computer Phone Is the Future of Business Phones
In this flexible, mobile, and open space work environment, it's critical that employers provide their employees with technology that helps them remain productive while away from their desks. A computer phone is an essential communications tool that can help set your employees up for success.