What are VoIP phones? The average one isn't that much different from the analog phone you currently have at your desk. VoIP phones look the same, and often have the same features, as the landline desk phones you're probably familiar with.
There are, however, some key differences that distinguish VoIP phones from other desk phones. This blog will give you a quick overview of how a VoIP phone works and how to use one.
(Note: Softphones and webphones like OnSIP's mobile app and desktop app are always VoIP phone options, but for the purposes of this article, we will focus on VoIP desk phones.)
What Are VoIP Phones?: Registration Rewired
VoIP phones make and receive calls via the Internet. This means that they can use your office's Internet connection to connect to the telephone network. In other words, if your office is already wired for Ethernet, you do not need to invest in additional copper wiring to use your business phones.
In order to make phone calls, you will first have to register your IP phone to your account. This is the process of connecting your phone to your service provider so that they can communicate with each other. Some VoIP providers support IP phone booting for certain devices, which speeds up the phone registration process using a boot server.
The whole process of registering a phone will take you, or your IT staff, less than 30 minutes. Plus, there's no need to call the local phone company. Phones are active as soon as they're registered. No red tape.
VoIP Phones Look Just Like Regular Phones
Outwardly, you might not even tell the difference between a VoIP phone and another business desk phone. VoIP phones tend to have handsets, receivers, speaker locations, and button placements that make them physically indistinguishable from the business phones you currently employ.
VoIP phones use the same keypad as landline phones. The keypad comes with nine numbers, zero, and corresponding letters that enable alphanumeric input. If you've ever used a phone before, you've seen this keypad.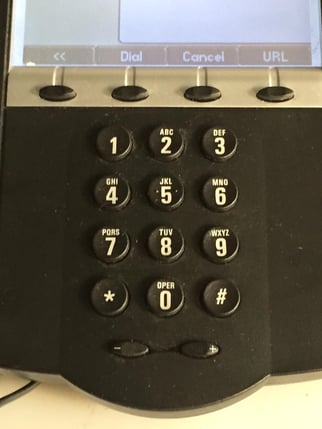 These calling devices generally have dedicated buttons for redial, transfer, conference, hold, mute, voicemail, and speaker phone. These buttons are set along the side of the number pad. All business phones use these features almost universally. That said, VoIP phones are capable of HD voice, while other business phones are not.
HD Voice offers at least twice the audio range of landline phone service. The spread for landline voice quality is 3.4 kHz (3400 Hz), but the spread for HD voice is 7 kHz (7000 Hz). In other words, the quality of your calls will be much higher using two VoIP phones than two traditional phones.
Many VoIP phones also support Power over Ethernet (PoE), which allows you to power the phone through a PoE switch instead of a power adapter. This reduces clutter on your desk and simplifies inventory management. It can also save you money, as power adapters are often sold separately from the phones.
One VoIP Phone Number, Multiple VoIP Phone "Lines"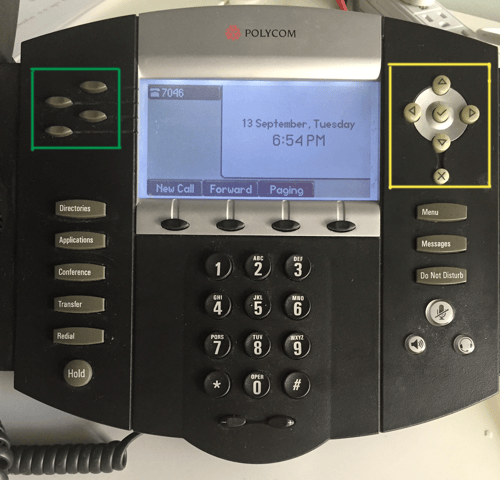 VoIP phones handle calls differently than other business phones. Above, the buttons in the yellow rectangle are the toggle buttons. They allow you to pick between current, incoming, and held calls using the toggle buttons. These buttons rarely appear on landline phones.
On landline phones, each "line" corresponds to a phone number. Landline phones can juggle multiple calls among corresponding copper lines, and you switch between these calls with the line buttons (in the green rectangle above) on the phone. If you have five lines for your business, that means your phone can take calls from five different phone numbers.
VoIP phones, on the other hand, do not have "lines" in the traditional sense. Instead of being tied to a phone number, each 'line on an IP phone is tied to a SIP address, or user account. Depending on your phone model, your phone may be able to handle multiple user accounts simultaneously. This means you can take calls from multiple accounts and different phone numbers on your VoIP phone.
IP Phone vs Regular Phone: Similarities and Differences
As you can see, VoIP phones and landline phones differ in how they are connected to the telephone network, how they operate, and how they handle calls. To recap, here are the main differences:
VoIP phones use the Internet to connect to the phone network, and need to be registered online to a service provider. Other business phones require dedicated copper wiring separate from an Ethernet connection.
VoIP phones are tied to user accounts, not phone numbers. VoIP phones have "toggle buttons" that allow you to switch between simultaneous calls on a given account.
VoIP phones are capable of HD voice, which has twice the audio range of traditional landline calls.
Power over Ethernet (PoE) allows some VoIP phones to receive power from a PoE switch instead of a traditional power adapter.
But there are also plenty of similarities that VoIP phones share with other desk phones:
VoIP phones use the same keypad as other desk phones.
Like other office phones, VoIP phones have dedicated buttons for features such as call hold, call transfer, and caller ID.
VoIP phones are physically similar in design to other business telephones.
The basic deployment of handsets, receivers, speakers, and other structural items are the same for VoIP and landline phones.
The short of it all is this: If you've ever used an office phone before, you won't have much trouble adjusting to a VoIP phone. Switching to VoIP phones won't require you to completely re-learn the way you take and make calls.