One of the big advantages of cloud phone systems is the wide variety of real-time call data they provide. Available in easy-to-use web portals, dashboards, and downloadable files, you'll find everything from individual user call detail records to call queue stats and historical reports.
But with all of this information available at your fingertips, how can you use it to improve your business operations?
In this post, we'll identify a few specific calling metrics that you may come across, describe what they mean, and explain how you can act upon that information to benefit your business.
Key Call Tracking Metrics, and How to Use Them to Your Advantage
Most (if not all) cloud phone service providers offer call queue dashboards that give supervisors a real-time view into their queues. OnSIP, for example, has an Enhanced Queue Dashboard that enables supervisors to monitor (listen in, whisper to agents, and barge) calls as well as run reports on queue performance stats. The dashboard is available for use during every new account's 30 Day Free Trial period.
For this blog, we're focusing on key pieces of information that are available within these dashboards. If you don't use call queues at your business, you'll still find that cloud phone systems will offer you many important call tracking metrics.
Average Call Duration (Per Call Agent)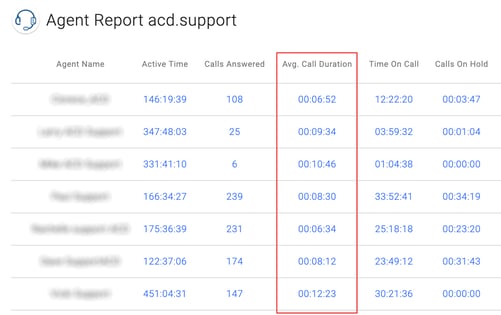 A call agent's Average Call Duration gives you the average amount of time that a particular agent spent on the phone with callers. While many factors influence the average call duration metric, it's important to keep that number as low as possible. You want to make sure you thoroughly address your callers' needs, but in the most efficient way possible.
If you notice an agent who has a longer average call duration (especially compared to the rest of the team), take action. While s/he might be handling more complicated issues, you should discover why the agent is spending more time on the phone with callers. Set up call recording on your phone system and listen to the agent's calls. You can also listen in on calls in real time using the Call Monitor ability. You'll be able to immediately tell if the agent is addressing complex questions, or if s/he needs more training on call scripts, FAQs, or your company's best sales/support practices.
Most Abandoned Time of Day
The Most Abandoned Time of Day metric identifies the time of day when most callers who were waiting in a call queue hung up before their calls were answered.
This metric tells you the time period during the day when you should consider adding more call agents to the phone lines. If you see that callers are abandoning their calls most during the 12 - 1 PM hour, have a few more staff members answer inbound calls during that time. You'll be supporting more callers' needs and ensuring that you don't lose any new business.
Busiest Time of Day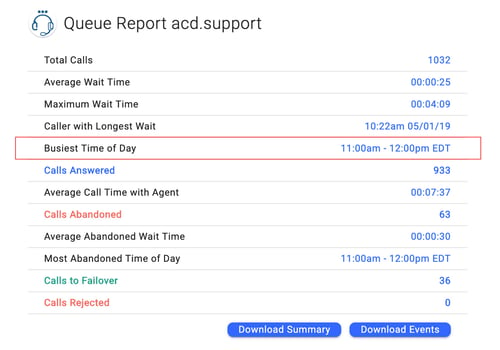 The Busiest Time of Day metric identifies the time of day that had the highest volume of calls.
You can certainly add more call agents to the phone lines during this time period- the sheer volume of calls would justify that action. However, consider other methods of communication that you can offer during this busy period. Setting up live chat (such as OnSIP sayso) on your website could cut down on calls and also provide visitors with an alternative way to contact your business. Some people might have a quick question or clarification that would be perfect for a brief chat session. If you're unsure about whether you can handle chat responsibilities, offer it only during your busiest time of day to get a feel of how (or if) your site visitors will use it.
Average Abandoned Wait Time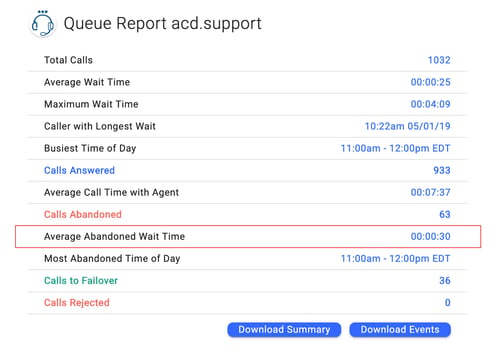 The Average Abandoned Wait Time metric displays how long, on average, callers who abandoned their calls waited before they hung up. During this waiting period, it's critical that callers do not hear dead air while they are stuck on hold.
While Music on Hold has been the standard method to keep waiting callers engaged, there are other options available to you that can help reinforce your brand and expand your business. Have you just released a new product, or are you running a sales promotion? Inform callers of your latest news by using a customized on hold announcement— you can record and upload messages that will play to waiting callers. One survey found that "88% of callers preferred On Hold Messages to other hold options, and 16% made purchases based on an on hold offer." A custom on hold message may be the key to keep callers waiting until they can speak with a call agent!
Enrich Your Business with a Cloud Phone System
Today's cloud phone services record every way that your business is using the phone system and provide you with access to these invaluable call tracking metrics. It's up to you to take that information and use it to your benefit. Ask your cloud VoIP provider how you can access this data. If they don't provide it, seriously consider finding a new service that does- you'll be turning your phone system into an active, rather than passive, part of your business's operations.