One of our recent customers made a grand entry into the world of tech startups in 2011. SessionM strives to bridge the gap between smartphone app developers and publishers / advertisers. We spoke to Principal Operations Architect Tom Vachon to learn more about SessionM and their telecom needs.
What is SessionM? Describe the story of how this organization was formed.
SessionM harnesses the proven power of game mechanics to ignite audience engagement and dramatically improve retention. A simple SDK integration enables you to keep your content fresh and your audience invigorated with achievements, points, status and rewards. The platform then ties these breakthrough content moments to sponsorships by top brands, creating valuable and new revenue opportunities for publishers. The company was formed in the spring of 2011, lead by Lars Albright, one of the innovators and co-founders of Apple's iAds Platform. SessionM is headquartered in Boston with offices in NYC, San Francisco and LA and is backed by Charles River Ventures, Highland Capital, and Kleiner Perkins Caufield & Byers.
What were you looking for in a phone system? Tell us about your search. How did you find OnSIP?
SessionM was looking for a phone system, which would scale and allow us to have a national presence without leasing lines from the phone company. One very important item for us was not having hardware on premises to create the phone system and allowing for flexibility as our company grew at a very rapid rate. Our search started with a review of two types of systems, outsourced PBXs, like OnSIP, and call redirection services like RingCentral. We quickly ran the math and found any redirection service would be very expensive for us and would end up being a roadblock to our growth. We did initial research of outsourced PBXs from an ArsTechnica article. This gave us an idea of how each service performs against its competitors and how the pricing would differ from each other.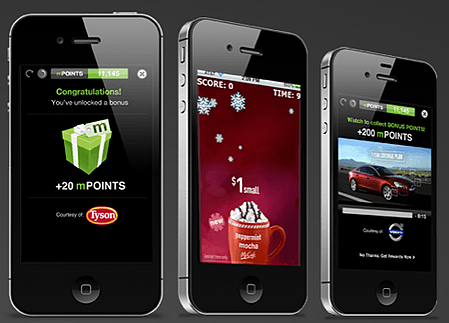 Some SessionM Ad Units.
Did you compare us to competitors?
We did compare OnSIP to competitors such as Aptela, 8x8, and even VoIP provided by our cable company. We found that [no] per user/extension fees was one of the major selling points for OnSIP. Additionally, we found the features of OnSIP, such as attendant menus, business hour routing and conference services to be extremely cost beneficial to our growth. We found that other companies would end up costing 1.5-2x more than OnSIP and we would still have to pay for more extras such as conference lines (for which we would have to pay outbound charges to use).
What features does your company use most?
Our company uses almost every feature of OnSIP from my.onsip to voicemail-to-email. The top three features we use are the crystal clear conference calling, server-side provisioning of phones, and the voicemail system. Another thing which our users find very convenient is the ability to forward calls to their mobile phones directly from their handsets to allow them to have a single unified number to present to our customers and clients.
How easy/intuitive was the actual set up?
Setting up OnSIP was extremely easy. The Boot Server makes setting up remote users as simple as plug in the power and plug in the network, it has offloaded many hours of walking a remote employee through a setup from my team. Creating custom greetings for our system was the hardest part, which is to say, it required a specific file format, but that was the hardest part. The entire system is intuitive and has saved me countless hours on all fronts.
What are your future plans for your business?
Our business is going to continue to grow on the East Coast, the West Coast, and internationally. OnSIP will allow us to keep in constant contact, whether someone is working from home and using a softphone, or working overseas and using a desk phone, they are just as close as a 4 digit extension away.