A nice aspect about being a service provider for a common business need is that we have a wide variety of customers. Today, I received an email from a customer of ours, George Marakas, owner of K and G Cycles LLC. K and G Cycles is an online motorcycle parts and accessories superstore.
Their website is packed full of motorcycle parts and apparel, as well as a user forum and Facebook page for motorcycle enthusiasts to connect. They seriously know motorcycles. One thing they also know is that reliable customer support and a scalable telephone solution are necessary.
In George's email (below), he explained how they use OnSIP and intend to in the future. His employees from several locations stay connected with OnSIP. And, OnSIP has cut his phone bill costs. "The bottom line is that OnSIP cut our phone costs by over 70% and increased our productivity immeasurably. We can't live without OnSIP," said Marakas. Take a look, and feel free to send us your stories too. Special thanks to K and G Cycles for making our jobs rewarding on a Friday afternoon!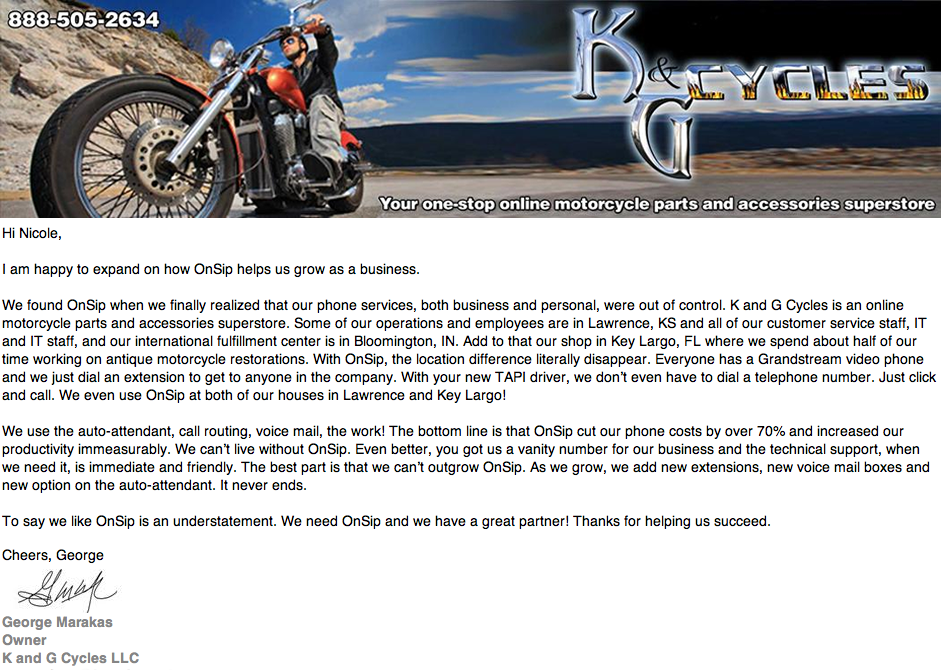 Full email text:
Hi Nicole, I am happy to expand on how OnSIP helps us grow as a business. We found OnSIP when we finally realized that our phone services, both business and personal, were out of control. K and G Cycles is an online motorcycle parts and accessories superstore. Some of our operations and employees are in Lawrence, KS and all of our customer service staff, IT and IT staff, and our international fulfillment center is in Bloomington, IN. Add to that our shop in Key Largo, FL where we spend about half of our time working on antique motorcycle restorations. With OnSIP, the location difference literally disappear. Everyone has a Grandstream video phone and we just dial an extension to get to anyone in the company. With your new TAPI driver, we don't even have to dial a telephone number. Just click and call. We even use OnSIP at both of our houses in Lawrence and Key Largo!

We use the auto-attendant, call routing, voice mail, the work! The bottom line is that OnSIP cut our phone costs by over 70% and increased our productivity immeasurably. We can't live without OnSIP. Even better, you got us a vanity number for our business and the technical support, when we need it, is immediate and friendly. The best part is that we can't outgrow OnSIP. As we grow, we add new extensions, new voice mail boxes and new option on the auto-attendant. It never ends. To say we like OnSIP is an understatement. We need OnSIP and we have a great partner! Thanks for helping us succeed.

Cheers, George