What is an announcement? The dictionary definition is: "A broadcast message, especially a program note or commercial" which sums up nicely what the OnSIP announcement application does.
Each OnSIP package comes with one or more announcements and additional announcements can be purchased for $4.95 each per month.
Most OnSIP clients use the announcement to broadcast some company information by linking to it off the main auto attendant menu: "Please press 4 for the company fax number", or "press 5 for our mailing address." Then, when the caller presses 4 they hear the announcement recording: "Our fax number is 212-555-2345." After hearing the announcement the caller is sent back to the main menu.
But you can do more with an announcement. How about letting your callers hear about your December promotions before they get transferred to the sales queue or group? Do you want to let callers know about your Holiday hours prior to going to your main attendant menu? It's all easy to do.
To add an announcement for an upcoming December sales promo go to the Apps tab and click on the Create New Application link.

You will need to add the specific announcement recording .wav via the Resources tab.

Then go and modify the attendant menu you want the announcement to play off of. In the attendant menu shown: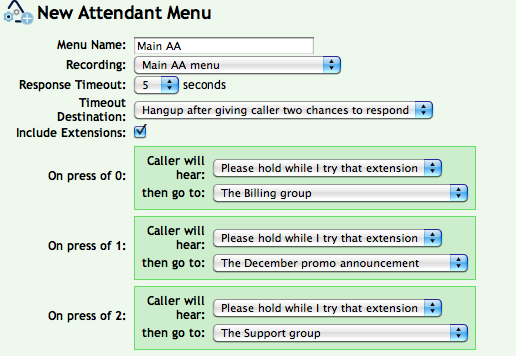 I have changed the destination of "On press of 1" to: The December promo announcement. You'll see in the next picture that I have selected the Transfer To: The Sales group.

So, when a caller dials my number, they go to the main auto attendant menu, choose "1 for sales" and hear my December promotion before getting transferred to the The Sales Group.
You can record multiple announcement messages using the Recording resource and substitute them for each other depending on specific needs. You'll find that announcements, among the many OnSIP hosted PBX features, are an easy and cost effective way to broadcast messages, especially a program note or commercial.