For some OnSIP customers, the holiday season brings good cheer... and very high call volume. This is especially true for Box-O-Mania, a unique toy company and new OnSIP customer. Impressed that this company made the leap to a new phone service during their busiest order time, we asked Max Tselevich, CEO, a few questions about his business and OnSIP experience.
Describe Box-O-Mania
Box-O-Mania is a unique toy company that puts a modern twist on the traditional cardboard box - the inspiration behind imaginative play and creative learning without complicated instructions and power charges. Inspired by this timeless toy, Box-O-Mania play boxes and specially-designed reusable stickers provide kids with the creative space in which they can use their fantasy through a variety of themes: a fire station, a beauty salon, a home, a clubhouse and more.

Made of lightweight, yet sturdy corrugated plastic, Box-O-Mania play boxes offer more than twelve square feet of interior space for up to three children; they are easy to assemble, convenient to transport and store away. Most of all, they are fun! Box-O-Mania corporate headquarters are located in West Hollywood, CA but our factory (that we built ourselves from ground up) is located in Shandong Province, China.
How did Box-O-Mania get started?
Box-O-Mania is the brainchild of 12-year old Anna Tselevich who has been fascinated by playing with cardboard boxes for as long as she remembers. Her imagination, however, went beyond the re-use of plain, discarded, ordinary boxes. And while she wanted to retain the simplicity and creative potential of the traditional box, she thought of ways to enhance it that would give kids the opportunity to enjoy the beloved classic toy in a whole new way. For more than four years, Anna repeatedly mentioned the idea to her father Max, a successful entrepreneur in Southern California. He too had enjoyed playing in boxes as a child. In 2009, he decided to move forward with his daughter's idea and make it a reality. After more than a year of meetings, designing sessions and prototypes, Box-O-Mania launched in 2010.
What is Box-O-Mania's most successful product?
Our most successful product so far has been the "My Place" play box kit.
What phone service did you have prior to OnSIP? Why did you want to make the switch?
Well, we've tried just about everyone in the past: from Aptela to Fonality, latter being our last provider ...their co-hosted product, called Trixbox Pro. I have a feeling Fonality is probably shying away from this product now and for a good reason: it's not a very stable solution, not for a small business. Unless you have a full time IT department, you're basically on your own. It's quite scary sometimes, especially when there is a press article that's about to come out about us, etc. So when I discovered OnSIP, I couldn't believe my eyes - an all-in-one PBX solution (and then some!!!), completely off-site, and it just works. Right from the moment you sign up, it just works! I was floored how easy it was to set up menus, a call tree, etc!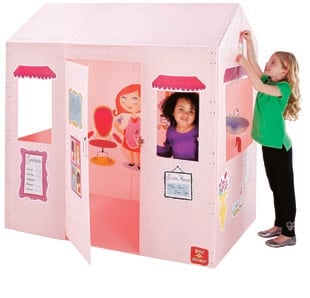 What were you looking for in a phone service?
I was looking for simplicity, ability to take my current phones (expensive Aastra 6739i's), and the ability to manage everything remotely. My team is in China, Philippines, United States (NY, CA, FL, CO), Russia, etc. You can imagine how scary it can be even thinking of uniting two, three PBX units for one or two remote employees...
How was the switch to OnSIP?
The switch is going somewhat smoothly... OnSIP so far is looking very promising. I hope we're going to see many more features in the future.

Tell us about your holiday season
...Boy, its crazy! We sent out so many individual packages for our drop shipping clients, it's unbelievable. Play boxes are being sent to customers all over the world. Sometimes, we get together and trace all our routes on the map just for fun at the office. With our factory in China, and our sales agents in the Philippines and United States, our routes look rather fun and complicated!