If you own a business that has offices or locations in different cities, you need technology that will unite your dispersed staff and foster team cohesion. The good news is that there are already many software apps that support multi-site businesses: consider Slack, Zendesk, and G Suite, just to name a few.
A cloud phone system is another excellent option that will help to unify your business and its employees in five key ways.
1. Bridge Gaps Between Offices with a Variety of Communication Channels
A unique challenge that multi-site businesses face is creating a sense of unity among staff members who are separated by distance. By setting up a cloud phone system at your organization, your employees will be able to connect, collaborate, and communicate in these effortless ways:
View the presence statuses of coworkers by using softphone applications. Employees can use these apps, provided by their VoIP service and typically available as desktop and mobile apps, to see which of their colleagues are available for a phone call, currently occupied on a call, or offline (and away from their desks).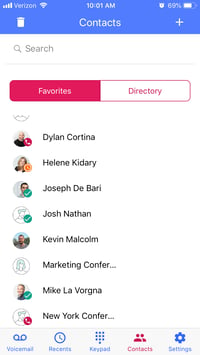 One-click call coworkers. Rather than having to dial phone numbers or extensions, an employee can one-click voice or video call a colleague right from the softphone app itself—no phones needed.
Chat with coworkers. In addition to phone calling, employees can also use the app to send IMs to other coworkers. This can be especially helpful for a customer service agent who is on the phone with a customer but doesn't know the answer to a question; the agent can quickly IM a manager for assistance.
2. Encourage Video Calls and Video Conferencing to Promote Staff Unity
Video calling goes a long way to help build team camaraderie and friendship among coworkers who are separated by great distances. Encourage your staff members to make video calls to their colleagues and host video conferences for team or department meetings. Using the service's softphone app, employees can video call colleagues right from their preferred devices, whether it's a desktop computer, laptop, or smartphone. It's a great option that helps keep distributed workers connected to and engaged with one another.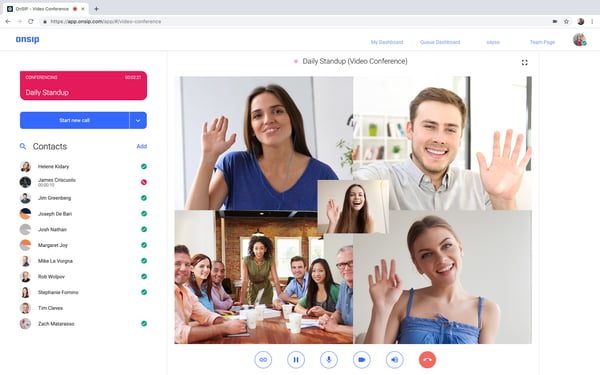 3. Manage Your Company's Phone System from One Web Admin Portal
Web admin portals of cloud phone systems empower you to administer phones, users, and features across all of your business's locations. New employee starting in the Los Angeles office? Just log into the service's admin portal and set up the new user, including any features s/he needs (like a voicemail box). And what's more, you won't need to contact the provider's representatives and wait around for them to complete tasks for you.
4. Direct a Sales or Support Line to Ring Phones in Different Locations
If you have sales or customer service representatives scattered across your offices, you can virtually unify those reps under one phone number. By doing so, you'll ensure that callers always reach an available rep when they call your business.
In the VoIP service's admin portal, simply create a ring group and add all of your sales or support reps to the group. Then, set this group as the destination of your sales or support phone number. Whenever someone calls that phone number, all of the designated reps' phones that are in the group will ring, no matter where they're located.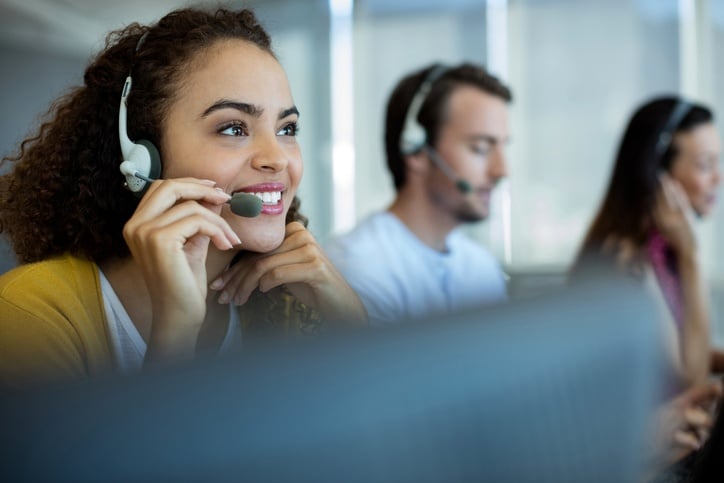 5. Configure Business Hour Rules to Send Calls to Open Offices
Another option you have to ensure that callers don't reach a voicemail box is to send incoming calls to your open offices. For example, let's say that your business has a New York City office and a San Francisco office. You can configure business hour rules so that incoming calls during morning hours (when the San Francisco office is closed) are only sent to employees in the NYC office, and incoming calls during evening hours (when the NYC office is closed) are only sent to employees in the California office.
It's an effective way to pool your staff together. And by doing so, your business will be able to provide customers with phone support throughout the day and late into the evening.
The Many Benefits of Using a Cloud Phone System
If you run a business that has multiple offices or remote/traveling workers, you'll find that deploying a cloud phone system is one of the best decisions that you can make. You'll gain access to many features that encourage staff communication, streamline business operations, and improve customer service outreach.