A "tech stack" usually refers to a list of all of the cloud software, programming languages, and other computing technologies that a business uses as the foundation of its service or to power its product offerings.
For this blog, we're going to apply the tech stack idea to remote working! Which cloud apps and technology services should your business be using to support a remote staff? After all, with the right cloud tech stack in place at your organization, a work-from-home day will be just another day at the office.
Communication Apps
Communication is key to keeping dispersed employees informed about what each person is working on. With everyone working from their homes, it's crucial that you provide your staff with a virtual replacement for in-person check-ins and meetings.
Business communication applications provide a centralized dashboard for staff members to connect in a variety of ways: in-app chat messages, group chat rooms/channels, and even voice and video calls. When staff need to collaborate on presentation decks, compile quarterly reports, or work together to troubleshoot a customer's support issue, they can seamlessly send document links and chat messages to each other within the app. They can also use these apps to talk about last night's sports scores or catch up on a coworker's recent vacation—a necessary replacement for watercooler chat to keep team camaraderie high.
These communication apps typically come in web browser, desktop, and mobile versions, so your staff members can use the option that best fits their working habits.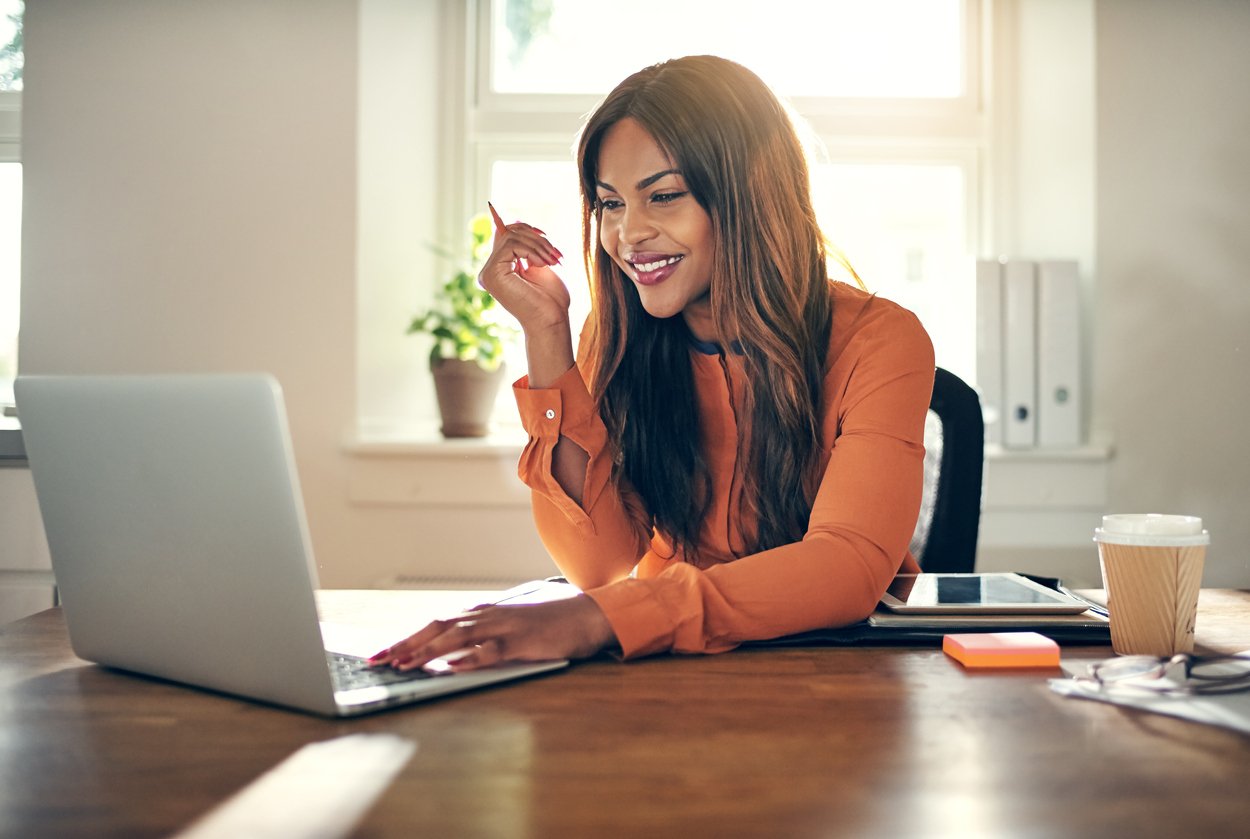 Apps to Consider:
Chanty
Google Hangouts
Microsoft Teams
Slack
Video Conferencing Apps
While chat apps have begun to include video calls/conferences as part of their products, a separate solution may be needed if your business has frequent video conferences with a big group of participants.
Dedicated video conferencing applications are packed with features. Some examples include: HD video and audio streams, call recording and call transcription abilities, screen share, integrations with calendar apps and email clients, and a host control panel that manages the video conference call. These conferencing apps have the ability to host hundreds, and even thousands, of video callers on one conference call.
Video conferencing providers commonly offer their applications as web browser clients, desktop clients, and even mobile apps, meeting a variety of business conditions.
Apps to Consider:
Hosted VoIP Phone System
If you're not already using it at your business, a hosted VoIP phone system will round out the communication channels for your remote staff. Organizations that use VoIP don't have to maintain telecom equipment in their offices, and individual employees simply connect to the VoIP service over their Internet connections.
Hosted VoIP system features, including voicemail to email, call queue dashboards, and integrations with popular business apps, help working-from-home employees remain productive. VoIP providers also offer video calling and video conferencing as part of their service platforms, so be sure to try them out. If the conferencing feature meets your business's needs, you won't need a separate video conferencing app.
VoIP services also equip users with softphones, which are telephone applications accessed on a computer, laptop, or smartphone. Each employee at your company gets access to his own softphone, where he can make and receive calls (both audio and video), listen to voicemails, and see the contact availability statuses of his remote working colleagues.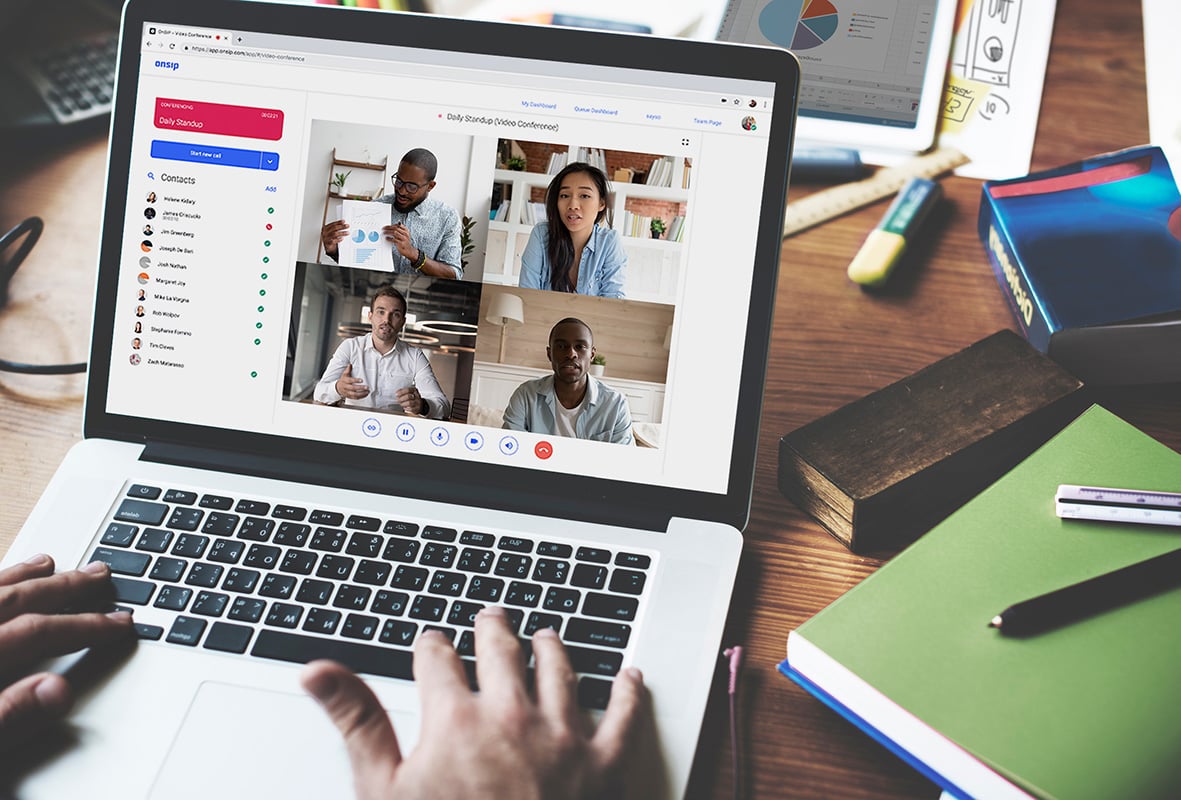 OnSIP's softphone, the OnSIP app, is free for all users on an OnSIP account, and it is available in the browser, as a desktop application, and as a mobile app. Remote workers who use the OnSIP app can keep in touch with colleagues and stay responsive to customers on any device that they choose.
Services to Consider:
Collaboration and Work Management Apps
In addition to communication software, management and collaboration apps help remote employees work together to efficiently complete business tasks. These apps meet a variety of use cases, which we'll break down here:
Calendar Apps
While working outside of an office environment, a remote worker can benefit from a calendar app to keep track of her workday. She can schedule the time and date of upcoming meetings/conference calls and block off time when she is leaving work early or going to a doctor's appointment. She can also make her calendar available to her remote work colleagues so that they can see her availability on a day-by-day basis.
Apps to Consider:
Google Calendar
Microsoft Outlook Calendar
Collaboration Apps
When brainstorming sessions in a physical conference room are not an option, give your staff virtual ways to collaborate. Business collaboration apps enable remote workers to collaborate with teammates on work-related documents such as slide presentations, reports, and sales collateral. A staff member can create these documents in the cloud and share them with his colleagues. Those colleagues can then leave comments or make edits in real-time.
Apps to Consider:
G Suite
Microsoft Office 365
Work/Project Management Apps
For a comprehensive overview of what each employee is working on, as well as a way to keep track of the progress that teammates have made on specific work projects, consider setting up a work management application. These apps let you assign tasks to colleagues, where they can link to specific documents, provide status updates, and even offer support to coworkers when a task is completed. With a work management app, you'll know exactly what is on each person's plate while they are working from home.
Apps to Consider:
Customer Relationship Management (CRM) Apps
CRM software is a central part of sales and customer support representatives' workdays. Once in a CRM application, a rep can pull up a customer's contact record, create a support ticket whenever a customer calls in for assistance, and jot down in that ticket both private notes for teammates as well as public updates that are sent to the customer. The rep can also access tickets that coworkers have created. With CRM software on hand, your remote working reps will continue to provide outstanding support to customers without skipping a beat.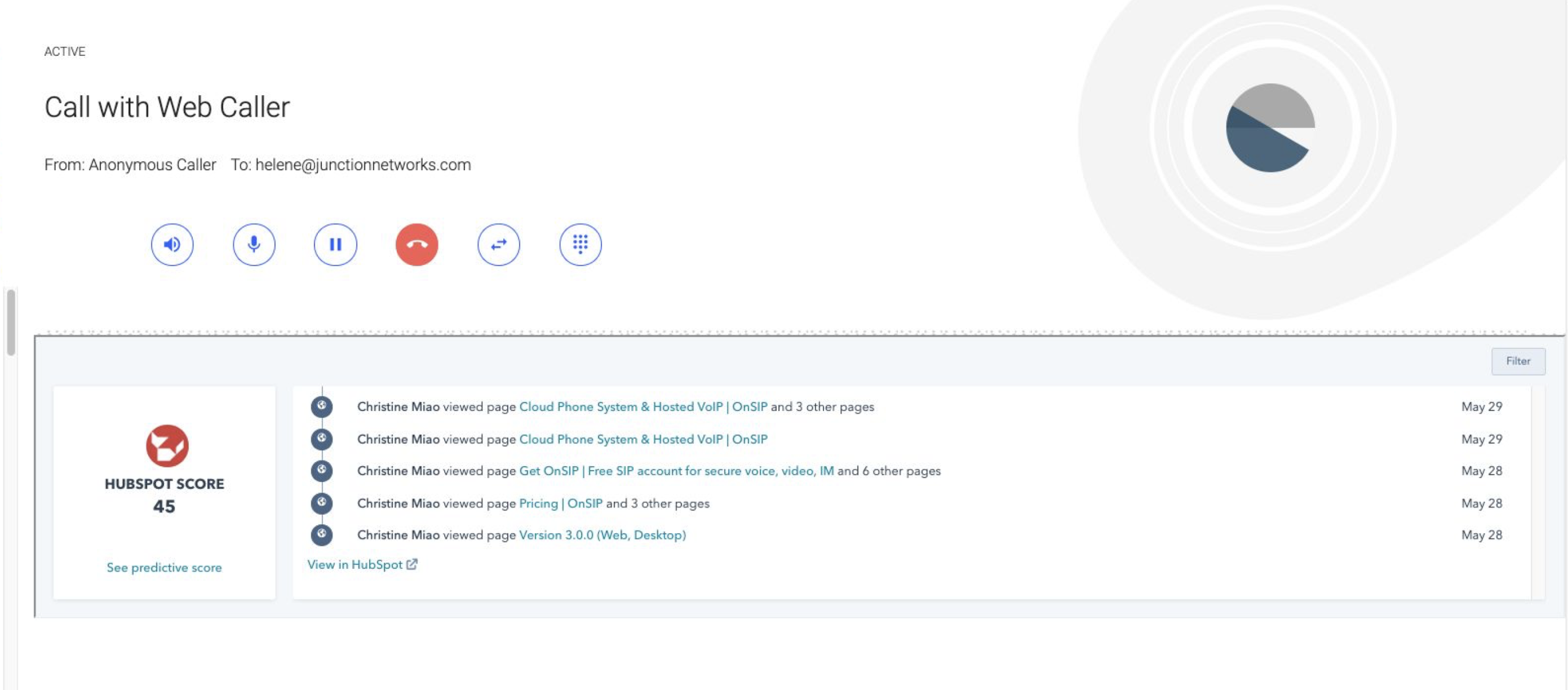 Apps to Consider:
HubSpot
Salesforce
SugarCRM
Zendesk
Password Management Apps
You and your dispersed colleagues will have a lot of cloud tech apps to keep track of, so it's imperative that you all use unique and strong passwords to ensure those apps are secured. A password manager helps you generate hard-to-crack passwords for all of the apps that you use. It even stores each app's username and password combination for you in a virtual vault, so to speak. All you need to do is just remember one main "master" password that logs into the manager itself.
Apps to Consider:
1Password
Dashlane
LastPass
Create Your Own Remote Work Cloud Tech Stack That Meets Your Business's Needs
We've certainly presented many different business apps for many different use cases here! Your business likely won't need an app in each of the above categories; some apps may overlap in functionality, and you can mix and match them based on your company's budget and your employees' requirements. But whichever apps that you include in your cloud tech stack, know that you're empowering your remote workers to be as productive and efficient as if they were sitting at their desks in the office.