Your newest coworker is furry and has no sense of personal space, and your new commute is from the shower, to the coffee maker, to the laptop on your desk at home.
Whether it's just for a day or for an extended period, you and your coworkers are hustling through the work from home life! OnSIP can provide you with the communication technology that you need to work with colleagues as if it were just another day at the office.
Get Your Very Own Softphone App
Using OnSIP, each staff member at your company gets his own softphone, the OnSIP app. The app is available in a variety of formats: in a web browser (Chrome, Firefox, or Opera) window, as a downloadable desktop application, and as a mobile app for your iOS or Android smartphone.
A software-based telephone, the OnSIP app lets you make, receive, and transfer business calls—and much more—straight from your computer or laptop. Use the web or desktop app in the following ways to communicate and connect with distant work colleagues.
Presence Status: See if Your Coworkers Are Available or Busy on a Call
You may not be able to stop by your colleague's desk or pop your head into his office to see if he is available. But you'll still know if he's busy on a phone call or free to discuss a work task, thanks to the OnSIP app.
Your Contacts list, part of the app's dashboard, displays an onscreen directory of your company's staff. Simple color icons next to your colleagues' names update in real-time to let you know who is busy on a call (along with a call timer that shows how long they've been on a call), who is available, and who is away from their computers.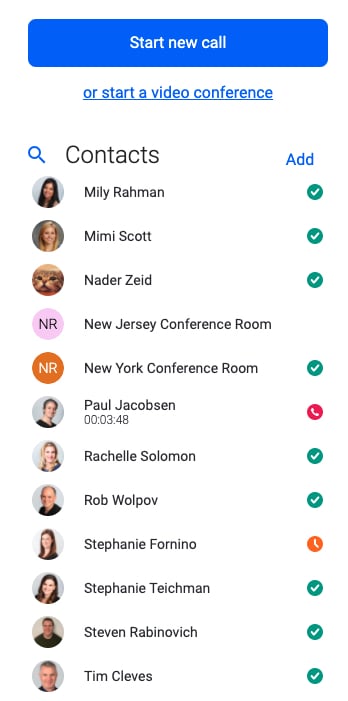 And your own presence icon in your coworkers' app dashboards also updates as you answer a call or become available. When you need to step away from your computer, just set your own status to "Away" in the OnSIP app to inform your colleagues that you're not at your desk.
Click-to-Call: One-Click Call Your Coworkers
Forget extensions and call your coworkers with just a click!
When you click on a coworker's name in your Contacts list, you'll pull up her contact page that shows her work extension and any direct phone lines. You'll also see two buttons: one with a phone icon and the other with a video camera icon. Simply click on the phone icon button to get on a call with her right on your computer or laptop. You won't have to pick up a phone and dial a number since the call is transmitted over your Internet connection.
Video Calls: Chat With Coworkers Over Video
Use the app to video call a work teammate when a face-to-face conversation is necessary, too. Simply go to your coworker's contact page and click on the button with the video camera icon on it. You'll initiate a video call with that coworker, provided you both are using computers or laptops with video cameras on them. Collaborating with a coworker over video is a smart way to bridge the distance while you both are working remotely—and you don't even need a pricey videophone to do so.
Video Conferences: Schedule Group Meetings Over Video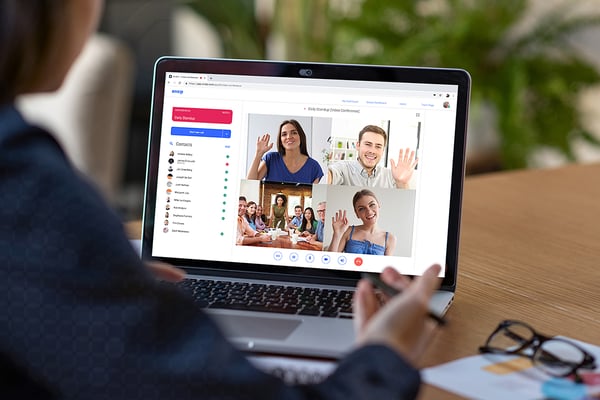 For times when team standups or department meetings are scheduled, use the OnSIP app to set up or join video conference calls. Once you launch a video conference in the app interface (easily accomplished from a link on the left side of the screen), up to five video callers can join the conference call.
Work teammates can video call in straight from their own OnSIP web or desktop apps. If an external, non-OnSIP caller needs to join, simply send her a link to the video conference call's web page—it's unique to this specific call. The web link appears in a popup after you launch the call, so you can easily copy and paste it into an email. It's also accessible by clicking on the button with the link icon below the call's video feed.
When she opens this link in a Chrome, Firefox, or Opera browser window, she can video call in using just her browser. She won't have to download any software or external applications onto her computer in order to join the video conference.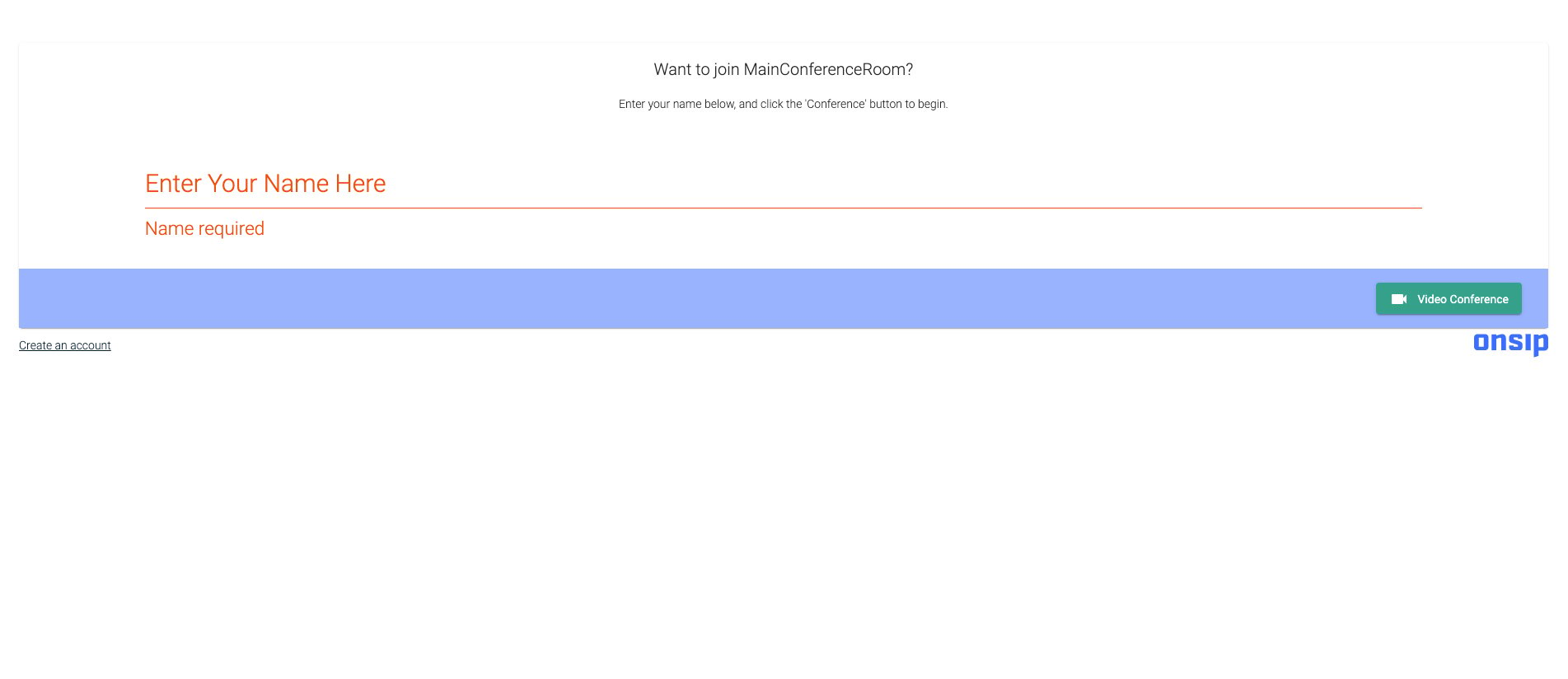 Drag and Drop Call Transfer: Send a Call to a Coworker Using Just Your Mouse
When you need to transfer a call to a work teammate, the app provides you with a fast and easy way to make the transfer. Instead of dialing a star code and your coworker's extension, all you have to do is click, drag, and drop! Click on the call transfer button on the active call screen, drag it over to your coworker in your Contacts list, and release your mouse to drop it. A popup appears asking you to confirm the call transfer; once confirmed, the call is instantly sent to the selected work contact.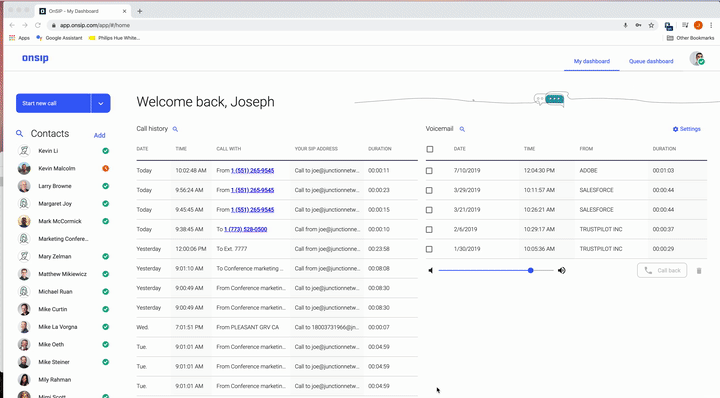 Chat Messages: Collaborate With Coworkers Through Text Chat
In addition to voice and video calling, the OnSIP app provides simple text chat on a coworker's contact page. Below the section providing her contact information, you can type messages into a text field and send them to her. She'll be alerted to a new text chat message by a small blue dot next to your name in her Contacts list. By pulling up your contact page in her app, she can then type and send a reply. OnSIP text chat is a great way to get a quick answer to a question when you're on the phone with a customer.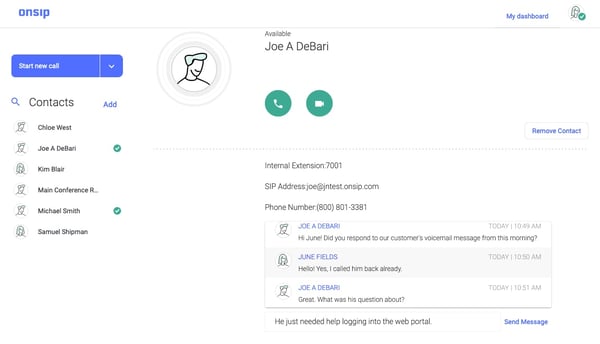 Custom Contacts: Add External People to Your Contacts List
Do you and your work teammates collaborate with outside vendors or agencies on a regular basis? Add them into your contact directory as custom contacts.
Click on the "Add" button at the top of your Contacts list, and then click on the plus sign next to "Custom Contact." Type in his name and phone number, and click on the "Create" button. He'll then be added to your Contacts list, where you can one-click call him from your computer or laptop just as easily as if you were calling one of your coworkers.
Visual Voicemail: Listen to and Delete Messages Through On-Screen Icons
Make retrieving your work voicemail as easy as accessing your personal voicemail on your smartphone!
The OnSIP app displays your work voicemail messages in visual format on the right side of the main "My dashboard" screen. By clicking on a message, you can play it, replay it, and even download it to your computer if you wish. When you need to delete a message, add a checkmark in the box to the left of it and click on the trash bin icon at the bottom of your voicemail list. You'll be navigating your voicemail quickly and efficiently instead of having to dial hard-to-remember PIN codes and menu prompts.
Another customization option available to you is voicemail to email: This feature automatically sends new voicemail messages to your email address. In the app, enable voicemail to email from the Settings button above the Voicemail section. New messages will be sent as email attachments, so you can play them directly from your email inbox.
The OnSIP Mobile App: Keep in Touch Wherever You're Working
If you're addicted to your smartphone like the rest of us, rely on the OnSIP mobile app to keep in touch with your remote work colleagues. The mobile app provides many of the same features and functionality of the web and desktop apps, including:
Adding in custom contacts to your contact directory
Accessing and deleting your business voicemail messages
Viewing your coworkers' availability (presence) statuses
Video calling coworkers
No matter which app (or apps) you use, OnSIP will help to make your work from home day as productive and collaborative as if you were sitting at your desk in the office.