We've spent years honing the art of calling in the browser, whether with InstaPhone and InstaCall, or with Salesforce integrations. But now we've reached for a new solution, a browser-based phone that keeps you connected to the office even when you're away, and helps you stay informed about your employees, customers, and co-workers.
The OnSIP app is a phone app for modern teams.
The OnSIP app can act as an on-the-go phone or a complete desk phone replacement. It runs on Chrome, Firefox, Windows, and Mac. The OnSIP app allows you to make instant HD voice and video calls to co-worker extensions and callers on the Public Switched Telephone Network (PSTN). It also comes with phone presence to tell you which of your co-workers is on a call. All OnSIP customers have access to the app for free.
A Business Phone Without the Cords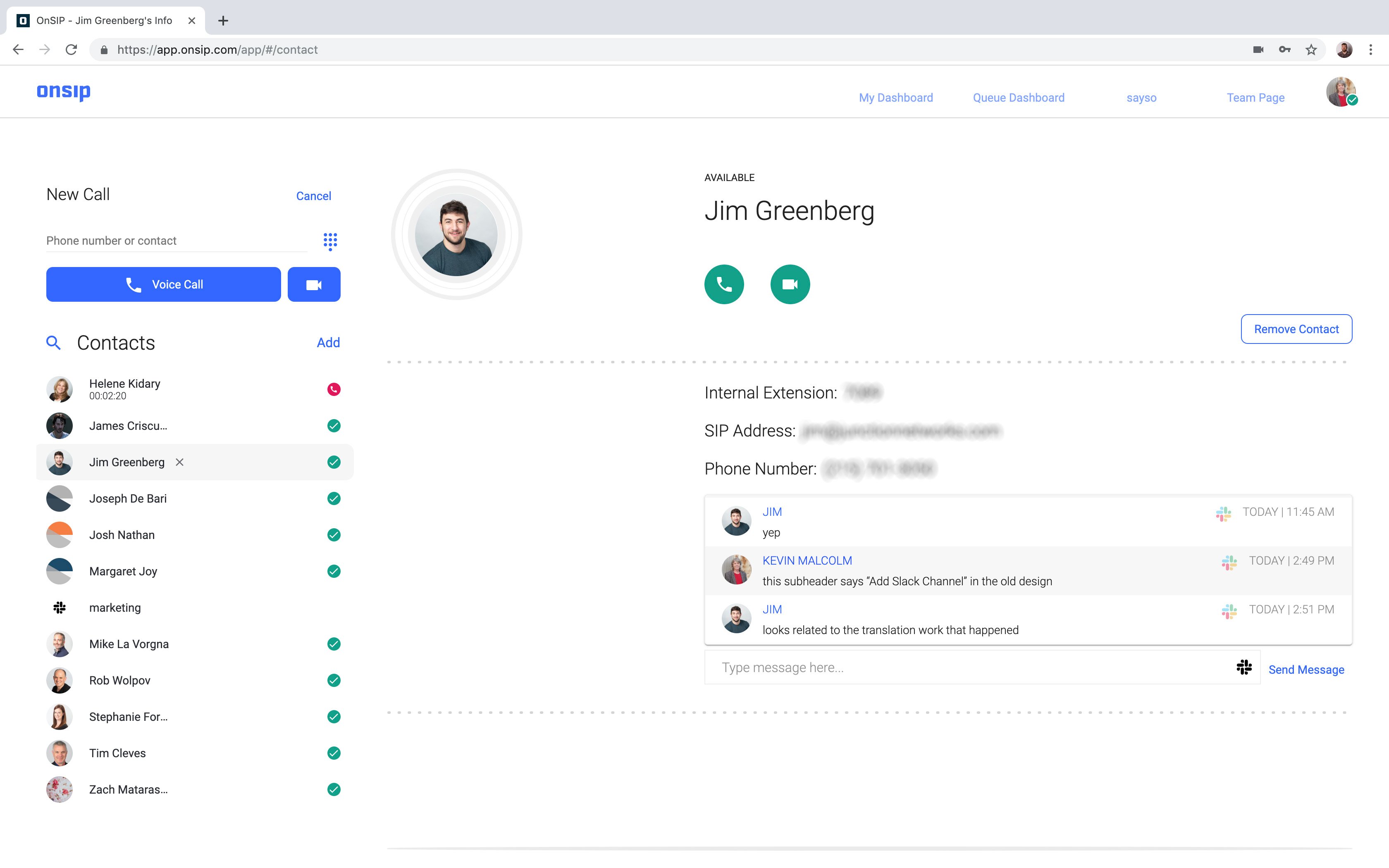 The OnSIP app can serve as a full replacement for your current business phone. It makes voice and video calls instantly - including free SIP-to-SIP and extension dialed calls. The app offers all the communication tools you need to run your business:
• Number & extension dial • Call transfer • Caller ID
• Call hold • Multi-call management • HD Voice
• Voicemail management • Recent call list • Mute
The OnSIP app incorporates all the elements that make a business phone what it is, minus the cords. Everything takes place in the browser, making it primed for working remotely. With the OnSIP app, you can leave your office whenever you like and still harness your workplace phone system.
Stay Connected with Co-Workers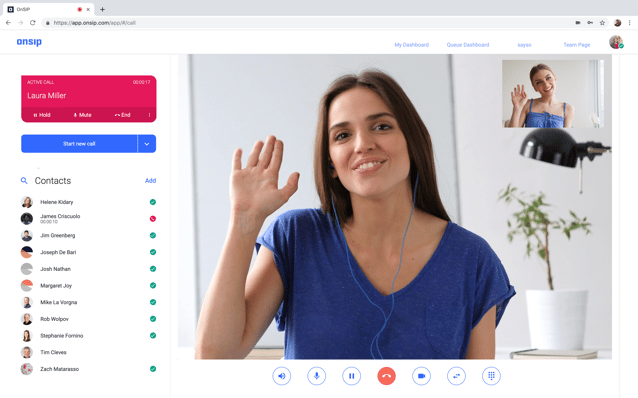 Stay plugged into the office by using the OnSIP app's collaboration and phone presence capabilities. Calling apps up until now have struggled to incorporate co-worker presence. But the OnSIP app offers you all the collaboration features traditional desk phones use, such as phone presence, global availability, and contact management.
Phone presence tells you when one of your co-workers is on a call, allowing you to talk to him or her at ideal times, instead of playing phone tag all day. This saves you time and increases communication within your team. Global availability lets you set your call availability—available or away—across all of your registered devices. Drag and drop call transfer is an intuitive function that makes it easier to transfer calls intuitively.
Contact Management allows you to add and remove phone contacts from your address book, such as co-workers and custom contacts, just like on a traditional desk phone. When used along with phone presence, Contact Management keeps your contacts at your fingertips. You can call your contacts via extension or through the Public Switched Telephone Network at the click of a button.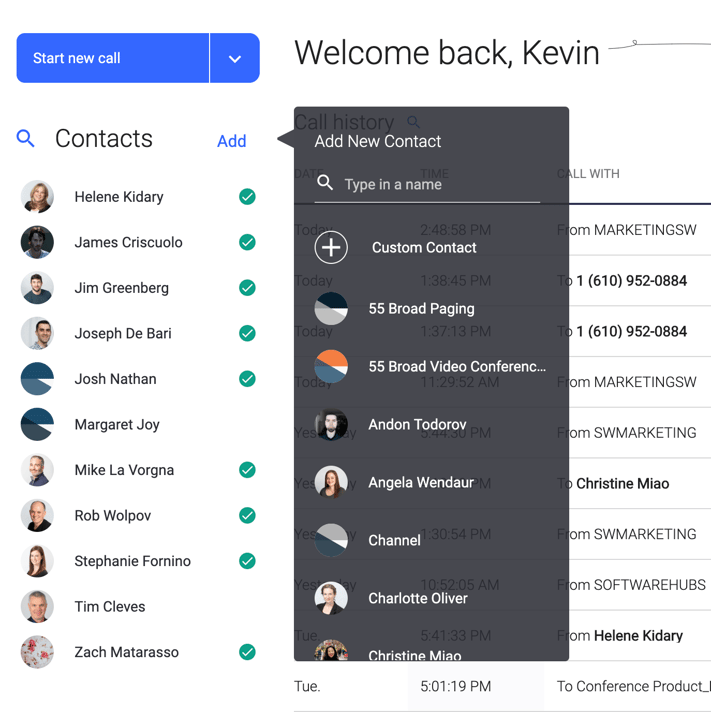 The OnSIP app lets you use your own domain for your OnSIP addresses, enabling your team to voice call each other by email address. The app also generates a unique call link for you that can be shared with anyone. When people click the link, they will be directed to a webpage where they can voice or video call you for free.
Real-Time Management Tools and Reporting
Enhanced Queues are integrated with the OnSIP app to give supervisors up-to-date information on call metrics and the ability to communicate with queue agents and customers. Enhanced Queues are available as an additional paid feature for all OnSIP customers.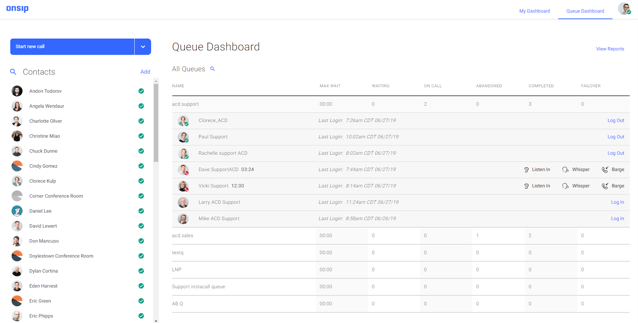 Some of the Enhanced Queue features included with the OnSIP app include:
Real-time dashboard - an up-to-the-minute overview of your company's call queues
Historical reporting - customizable reports to uncover calling trends
Queue supervision features - Call Monitor, Call Whisper, Call Barge
Queue alerts - instant notification for issues that require attention
Call Whisper allows supervisors to speak to the queue agent alone; Call Monitor allows supervisors to listen to the call undetected; and Call Barge allows supervisors to speak to both the agent and customer at the same time. These features help you steer employees in the right direction, and they also allow you to close sales when the time is necessary. Reporting gives supervisors a way to gauge team progress and identifies times when calls might need to be monitored or entered.
The OnSIP App: Calling, Presence, Seamlessness
The OnSIP app is easy to access—just log in with your SIP address and password to access your phone. With business calling features, collaboration capabilities, and call management functionality, you can take advantage of a full-featured phone system directly from your web browser.
We're also happy to engineer yet another product with Google's WebRTC API. So give the OnSIP app a shot! Let us know what you think about it on Twitter or Facebook.