Today's cloud phone systems do much more than just direct calls and light up buttons on a desk phone. Addressing rapidly changing business needs, their service platforms offer: voice and video calling, mobile communications, IM/chat, video conferencing, integrations with CRM and help desk software, screensharing, SMS...the list goes on and on.
Considering the fact that cloud phone systems provide all of these productivity-boosting features, ask yourself an important question: Are you doing work that your phone system can handle?
In this post, we'll illustrate 6 ways that a cloud phone system can cut down on your work tasks and boost your efficiency.
CRM Integrations Display Key Caller Data
Cloud phone systems offer integrations with an assortment of CRM platforms, including Salesforce, Zendesk, Highrise, and SugarCRM. These integrations enable the CRM service to use the data in your phone system, and vice versa. Some of them even provide a softphone that is built directly into the CRM platform's web interface.
The benefit of using CRM integrations is that they will equip your sales and support reps with useful caller data even before a call is answered. Reps won't have to ask for a caller's name, company name, or account number. Upon an incoming call, a popup notification will appear on the rep's computer, supplying caller ID information and web links to the caller's record in the CRM service. Armed with this data, the rep can greet the caller and immediately focus on his/her issue.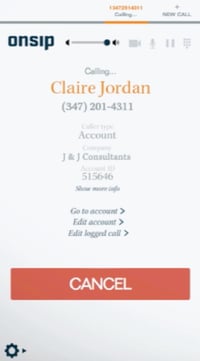 Calls can even be automatically logged into the caller's CRM record without the rep having to manually enter any information. The date and time of the call, call length, support ticket number, and other pertinent info will be saved in the caller's record, allowing your reps to quickly type in a few notes and then move onto the next call or case.
ACD Queues Keep Callers on the Line
An ACD queue is a feature that holds callers in line until the next available agent can answer the call. It is critical to ensuring that callers don't hear busy signals or get sent to a voicemail box when all of your agents are occupied.
While callers are waiting on hold, take advantage of that time to present engaging information. In addition to music on hold, cloud phone systems provide other options that keep callers on the line. Use a customized on hold announcement to inform callers of a new product or current sales promotion. These announcements can help to reinforce your brand and keep customers informed when new products are released.
Automatically Email Queue Reports to a Queue Supervisor
ACD queues also record essential queue performance data on call and agent activity (average call wait time, maximum call wait time, average call duration per call agent, etc.). Queue supervisors simply select the dates to review and can then generate reports that display historical queue statistics.
But, instead of having the supervisor manually log into a web portal and run these reports, cloud phone systems can automatically email them at specified time periods. For example, OnSIP customers can configure queue reports to be emailed every day, week, month, or quarter. The supervisor can then access these reports right from an email inbox, saving time and allowing him/her to review them even when away from a computer.
Listen to Voicemails from an Email Inbox
Retrieving voicemail messages can be a pain. You have to pick up a phone, remember PIN numbers, and navigate menu prompts; and if you have to replay a message, make sure you press the button that replays it, not the one that deletes it!
Configure voicemail to email for an effortless way to review your messages. The feature automatically sends every voicemail to a customer-specified email address. Since the audio of the message is attached to the email, you can listen to the message directly from your inbox.
In addition to cutting out the hassle of dialing into a voicemail manager, voicemail to email gives mobile and remote workers the ability to review their messages wherever they are working: at home or even while commuting into work on a bus or train. And since voicemails can be retrieved from an email inbox within seconds of when they are left, staff members can call the customer or lead back while the issue is still top of mind.
Call Detail Records Supply Accurate Billing Data
Do you bill clients per phone call or per phone consultation?
Cloud phone systems keep track of every call that is made and received by your account, updating records in real time. These call detail records provide comprehensive information such as: date and time of the call, call length, source and destination phone numbers, and much more.

Instead of manually keeping track of every call that is made to and from each client, rely on a cloud phone system to store call details. Account administrators can access call data at any time by logging into the system's web portal, selecting the time period to review, and generating the report. These reports will show the call data that you need to accurately bill your clients. And if you need to further examine the data, you'll have the option to download the reports as a CSV file.
Auto Attendants Pass Along Basic Business Info to Callers
An auto attendant is a pre-recorded greeting that answers each call made to a business. It states the name of the business, thanks callers for calling, and provides callers with menu prompts to reach specific people or departments. Try setting up an auto attendant to assist your receptionist.
An auto attendant will help to provide basic business information to callers. For example, one of the menu prompts can play a recording that states your business's street address, hours of operation, and driving directions, so that your receptionist won't have to relay the same information over and over again. And another prompt can present callers with a dial by name directory that allows them to reach a specific employee. If callers need to speak with the receptionist, simply configure the auto attendant so that dialing "0" will call the receptionist.
By automating certain information in an auto attendant greeting, you'll free up your receptionist's time by cutting down on the calls that s/he has to answer.
Turn Your Cloud Phone System into an Active Part of Your Business
Cloud phone systems provide a long list of features and abilities that will help your business run more efficiently. By automating specific tasks that you and your employees are manually performing right now, you'll free up valuable time and enable your staff to be more productive throughout the workday.
Topics: SMB Leadership, Business Technology, Office Management