When's the last time you cleared out your voicemail box? Do you find that you have to listen to the same message several times just to write down a name or phone number? With a voicemail transcription service, you'll no longer have to deal with these issues.
What is a voicemail transcription service?
Voicemail transcription is a service that converts audio voicemail messages into text format, which is then sent to the user via email or text message. It is sometimes referred to as 'speech to text', 'voice to text' or 'voicemail to text'.
While this feature is included with some cloud phone systems, it can also be integrated with an existing business voicemail service. In this case, the user directs his/her voicemail-to-email feature to send all voicemails to the third party transcription service. The third party service then transcribes the voicemails and sends the user an email or SMS with the transcription.
Some voicemail transcription services are completely automated, while others rely on people to do the work manually. The one that is best for your business will depend on what level of accuracy you need, and how quickly you want to receive the transcription.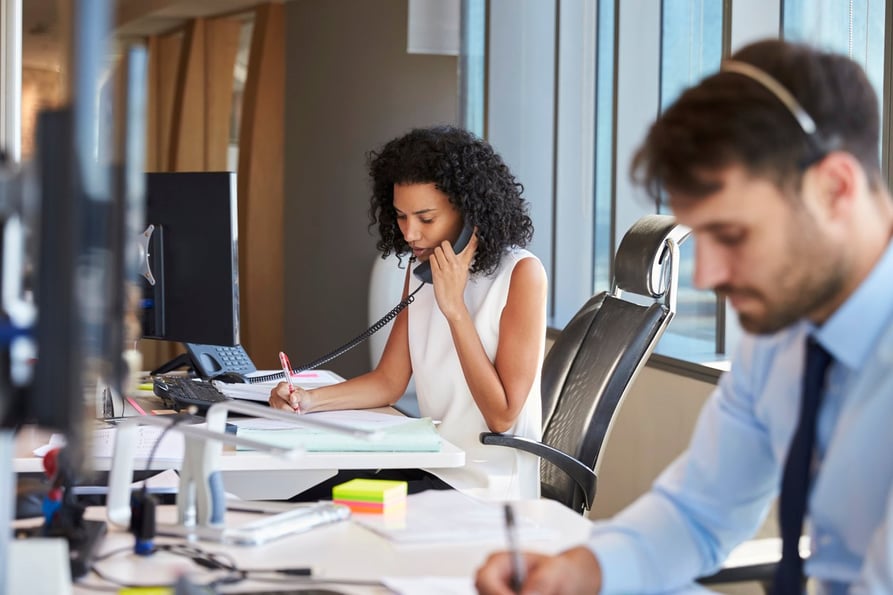 Benefits of business voicemail transcription
Aside from not having to listen to muddled messages—especially those with lots of background noise—here are some ways having a business voicemail transcription service can save you time.
No more voicemail navigation
Let's face it - checking your voicemail messages is annoying. If you're on a phone, you have to dial a phone number and go through a series of prompts, including entering a PIN. If you're on a computer, you still have to log into a web portal and select each individual message.
With a voicemail transcription service, all of that is unnecessary. Instead, you can simply check your email or text messages and skim the transcription to gather the key details in a few seconds. It's also great for situations where it's disruptive or inappropriate to be on your phone.
Easily search for and filter messages
With voicemail transcription, you have readable text that you can search and filter right in your inbox. This is helpful when you need to look up an important detail in a message, like a name or phone number, but don't have time to listen to an entire voicemail message. Since messages are text-based, you can easily search their contents without having to remember who left you the voicemail and on what date and time.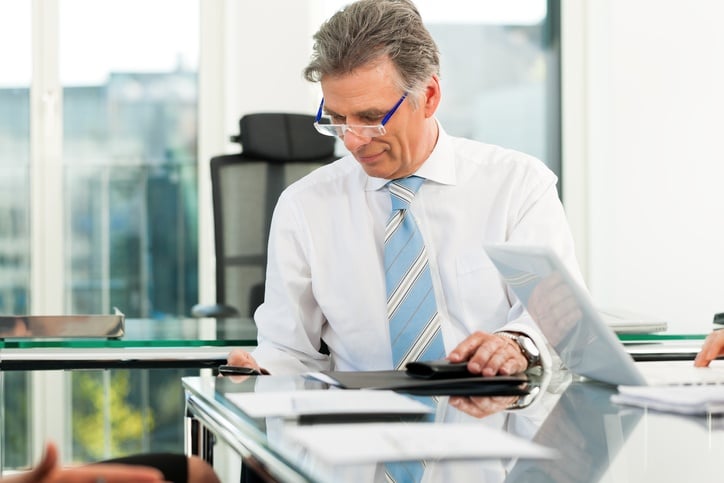 Free up voicemail storage space
By sending each voicemail as an email or SMS to your inbox, you no longer need to save them in a separate storage service. Most voicemail services have a limit on how many messages can be recorded before the box is full. Once that happens, you need to go in and delete messages in order to make room for new ones.
With a voicemail-to-email service, you have the option of deleting the voicemail from your phone system or third party storage service once it has been sent to you. This frees up space for new voicemails to be saved, so callers never reach a dead end.
Business voicemail transcription services
Here are three options to consider for business voicemail transcription, including features, integrations, and pricing.
PhoneTag

PhoneTag offers voicemail-to-text solutions for both personal and business use. The Small Business offering includes integrations with popular VoIP phone systems, including OnSIP. PhoneTag uses speech recognition technology to convert a voicemail into text, so no one actually listens to your messages. The text is then delivered via email or SMS with a copy of the audio file for reference. The service also includes call forwarding from your mobile and/or landline phone to your PhoneTag account.
PhoneTag offers four different pricing plans for varying number of messages per month. They range from Tag40, which offers 40 messages per month for $9.95, to Tag500, which offers 500 messages per month for $99.00.
Phonewire

Phonewire provides business telephone system sales, nationwide installation, text messaging, and technician services. One of the services they offer is voicemail transcription, 'typed by actual human beings'. Transcriptions are sent to an email address with the audio file attached, and also include a Gender ID with the Caller ID information to tell you whether the caller is male or female. Phonewire also offers a developer API that integrates with most business phone systems and voicemail services, including OnSIP.
Phonewire offers three different plans, targeted to individuals, small offices, and enterprises. The individual plan starts at $19/month for 30 minutes of audio transcribed, billed at 1 second increments. The small business plan is $53/month and includes 100 minutes of audio, with unlimited users. Finally, the enterprise plan is $250/month and includes 500 minutes of audio, with unlimited users. The individual and small business plans include a free trial for 2 weeks or 100 messages.
TalkScribe

TalkScribe offers a voice to text transcription service that is "100% people powered". They boast quick and accurate transcriptions that can be sent either via email or SMS. They also have a quick dictation service and can design custom interfaces involving voicemail transcriptions for web applications.
TalkScribe has five different rate plans, depending on how many messages you need per month. The Starter plan is $9.30/month, and includes 30 'message units' (30 seconds of recording). Messages can be up to five minutes in length, and plans can be shared among multiple users. Users can sign up for a free trial of the service before making a purchase.
Take the hassle out of business voicemail management
With services like voicemail-to-email and voicemail transcription, today's business professionals no longer need to waste time listening to every voicemail message. Being able to quickly read a message means faster response times and better organization. And as speech recognition technology grows more advanced, you can expect to see more of these services in the future.
Need a professional business voicemail greeting? Check out some of our sample scripts: