What's the best way to connect a group of people who are working in different locations? Why, get them all on a conference call, of course!
Conference calls have been a staple of the business world for decades, and the shift to remote working has only served to reinforce its usefulness. In this blog, we dive into the topic, discussing how a conference bridge works, what some of its important benefits are, and how you can use OnSIP to set up a conference bridge(s) for your business.
How Do Conference Calls Work, and What Is a Conference Bridge?
A conference call is a business calling feature that connects multiple people on a single call. Callers dial a specific phone number that gives them access to a centralized and virtual "conference room." Equipment familiarly known as a "conference bridge" can answer many separate phone calls at the same time and link—or "bridge"—them together. That way, the group of callers can speak and listen to each other as if they were all in the same room.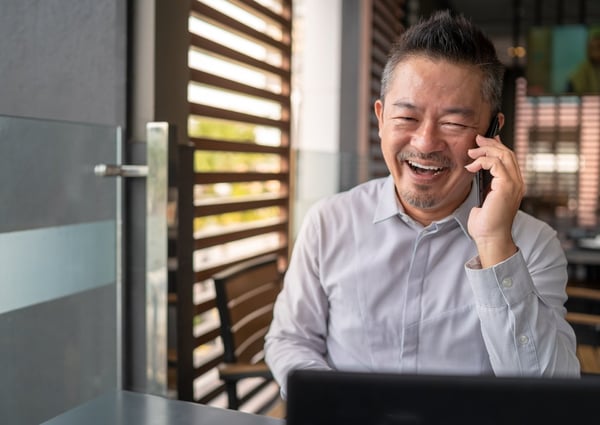 Depending on the service provider that you are using, conference calls can accommodate dozens to hundreds of callers. If you're using a hosted VoIP or UCaaS service, the provider will maintain the conference bridge hardware in one of its data centers—your business simply connects to it over the Internet.
While you can certainly use a regular desk phone to call into a conference, there are specialized phone devices built specifically for conference calls. Current popular VoIP conference phones usually have a "Y" shape design, where the phone's speakers are housed in the top two spokes of the "Y," while the bottom spoke has the keypad, volume, and other call control buttons. More advanced devices have touch screens, Bluetooth support, detachable microphones, and interoperability with some popular business applications.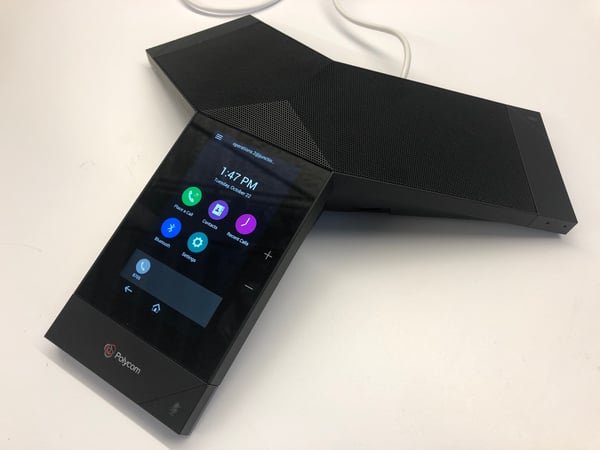 OnSIP's softphone, the OnSIP app, enables you to dial into a conference call without needing a physical desk or conference phone (if you so choose). Whether you log into the app in a web browser window or open the desktop or mobile versions of the app, you'll be able to call into a conference directly from the softphone's interface on your screen.
For recommendations on VoIP conference and desk phones, download a free copy of our Top Business VoIP Phones guide.
The Many Benefits of VoIP Conference Calls for Your Business
1. Continue Meetings When Staff Members Are Working Remotely or From Home
Team standups and department meetings don't have to be suspended during times when some or all of your coworkers are remote working. Just take your meetings virtually by hosting a conference call. Participants can call in from wherever they are working to give updates on their work projects or brainstorm your company's product development roadmap.
2. Secure Your Calls by Requiring a PIN Number
Secure your conference calls by creating a passcode or PIN number for your conference bridge. When callers dial the extension or phone number of the conference call, they will be required to also dial the PIN number before they are able to enter the call. PIN numbers ensure that your calls are kept confidential and that only appropriate persons can access the conference.
3. Create Separate Conference Bridges for Separate Purposes
Take full advantage of the conference call feature by creating separate conference "rooms" for separate purposes. For example, you can equip each of your company's sales reps with her own conference bridge so that she can utilize it for meetings with sales leads. You can create specific conference bridges for different company departments, such as Engineering, Marketing, and Customer Support. And you can even give your company's executives their own personal conference rooms to use for business meetings on an as-needed basis.
4. Cut Back on Business Travel Expenses and Lost Productivity
If your business has many separate branches, you won't have to cut back on your staff's productivity in order to have group, department, or company-wide meetings. Simply set up a conference bridge and schedule a conference call—even on a recurring basis if that's how your business operates. A conference call eliminates the expense and time-drain of making your staff travel to a specific office in order to attend the meeting.
5. Access the Conference Call on a Variety of Devices
Whether you're using a conference phone, desk phone, softphone on your computer, or app on your smartphone, you can join the conference call using your preferred device.
How to Set Up an On Net Conference Suite with OnSIP
In the OnSIP Admin Portal, click on the Apps tab, then click on Create New Apps.
Select the On Net Conference Suite icon, then click on the Create a new On Net Conference Suite button.
Enter in a descriptive name for your suite and click on the Confirm button.
Your new on net conference suite will be available for immediate use.

By selecting its name in the list of Apps in your account, you can modify its details at any time. You can assign it a direct extension so that your work colleagues can call the suite via extension dialing. Or you can assign it a phone number to make it easy for external parties to call in. Don't forget to give it a PIN number, too, to keep your conference calls private and secured.
Further Reading: Conference Call Etiquette
So make sure that your business is using the conference call feature provided by your telephone or hosted VoIP service provider! Your staff members will benefit from it in a variety of ways. And for conference call etiquette and best practices, consult our Step-by-Step Guide to Chairing a Business Conference Call and 10 Tips for a Smoother Meeting blog posts.