Desktop softphone applications are becoming more ubiquitous in the workplace, not just as third party solutions, but also as integrated first party apps from VoIP providers. Desktop softphones offer several advantages for customers, including decreased costs from licensing fees, easier contact importation, and seamless integration with localized features.
A softphone is a piece of software that has the capabilities of a business phone. A softphone can either run as a downloadable app for PC or mobile, or in a web browser. A desktop softphone is a native application that runs on a computer. A desktop softphone shouldn't be confused with a "desk phone", the physical telephone most people have sitting on their office desks.
Desktop softphone apps provide specific benefits that many desk phones, and some other softphones, can't offer. These include geographic flexibility, video and messaging, contact integration, employee presence, and other features that bolster team communications.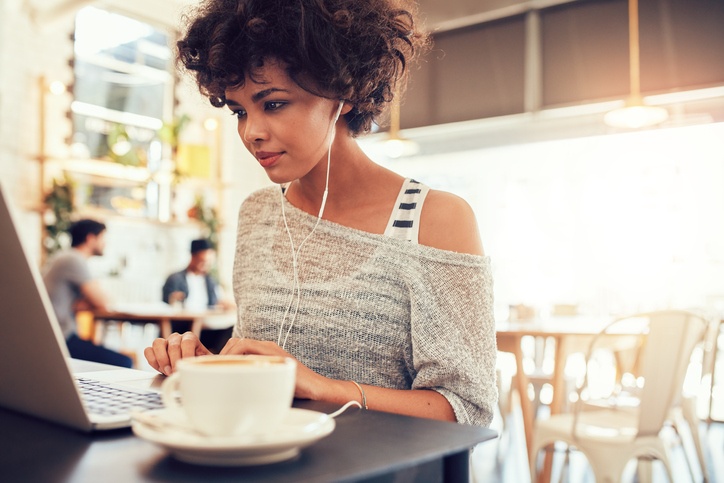 Geographic Flexibility: Work Anywhere
A desktop softphone allows users to make and take phone calls from any computer with an internet connection. This enables employees to stay connected away from the office, whether they are at a café, an airport lounge, or a poolside cabana. It also saves on hardware costs—instead of a desk phone, a user needs only a headset for optimal call quality.
These days, desktop softphones allow teams to conduct business almost anywhere. Most apps are equipped with all the standard desk phone features. With a third party app like Zoiper for Mac, a business executive can easily join a conference call, forward an inbound call to another department, and check on the status of a remote employee, all while sitting at a Starbucks while waiting for a Lyft.
Contact Integration: Save Time & Effort
Most desktop softphones can pull contacts from outside sources, such as a user's email account, .csv file, or a computer's contacts app. This saves employees the time and effort of manually entering contact data when setting up the softphone. Some apps automatically provide the entire company directory and allow employees to add and edit contacts to lists within the app interface. This customization allows employees to keep their contacts organized and curated.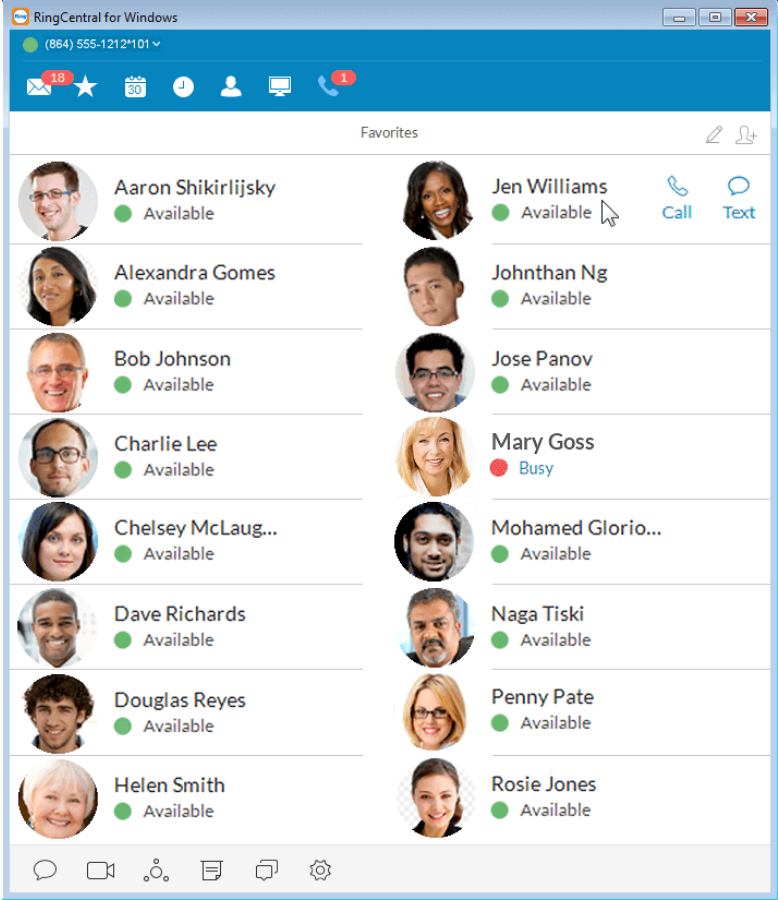 Contact integration is beneficial not just for coworkers, but also for outside contacts as well. For example, a manager of a car dealership can import a list of vendor and manufacturer support numbers to RingCentral's softphone from an existing contact directory or using RingCentral Cloud. This saves time and ensures that he can access both internal and external contacts on one interface.
Video & Messaging: Enhanced Collaboration
Video and messaging are two key ways in which desktop softphones surpass most desk phones. Video capabilities allow employees to participate in one-to-one and multi-party video conferences. Messaging capabilities are either built into the app or integrated with third-party platforms.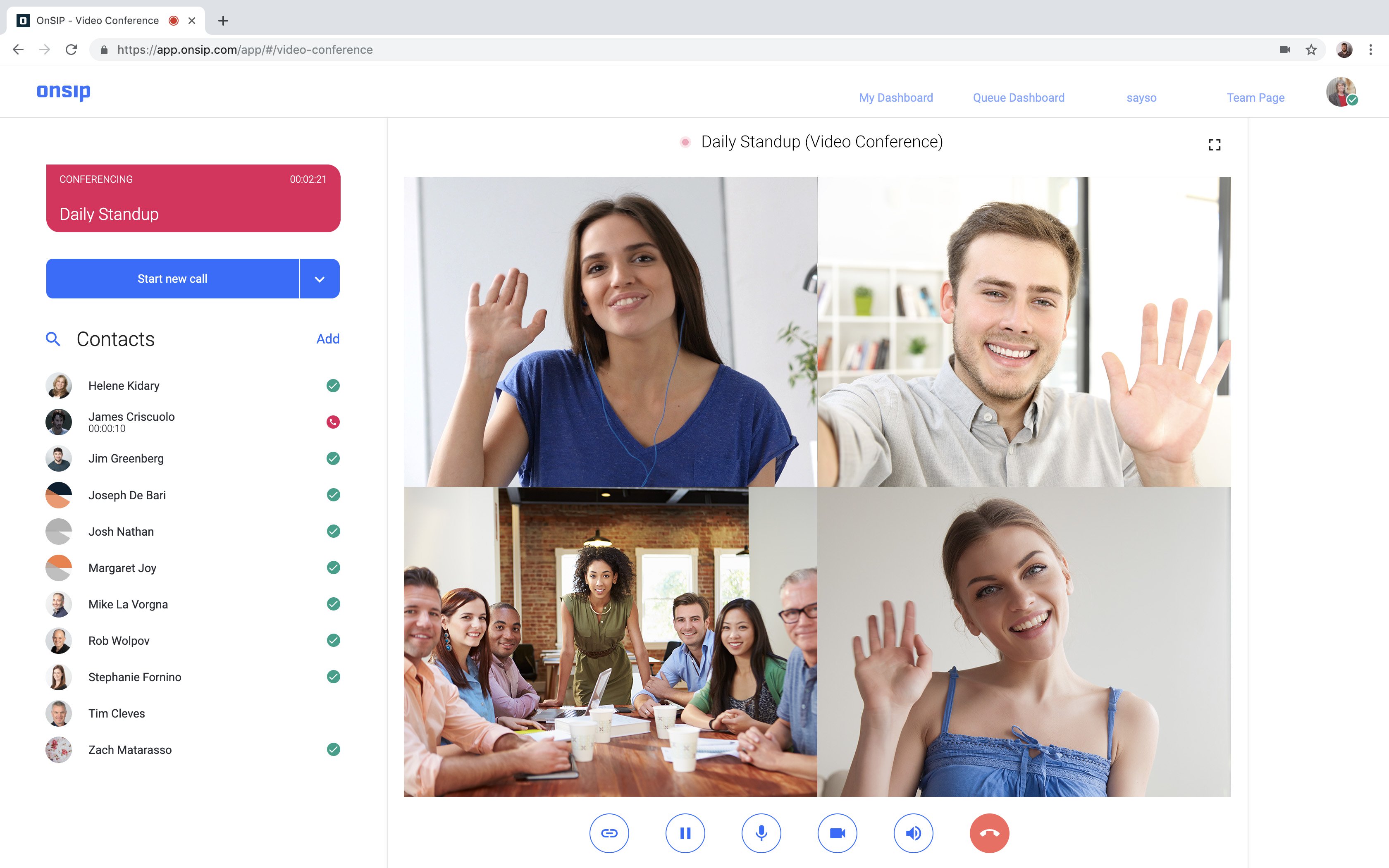 By grouping together features such as messaging, voice and video conferencing, and cloud phone system functionality, employees can stay connected to each other on a single platform rather than relying a stack of third-party communication apps.
Employee Presence: Team Efficiency
Presence relays the availability status of contacts: online, offline, on a call, busy, away, or do not disturb. This real-time visibility allows team members to only make contact with people who are able to answer the phone, diminishing phone tag and missed calls. It also makes transfers and hot hand offs between employees much smoother.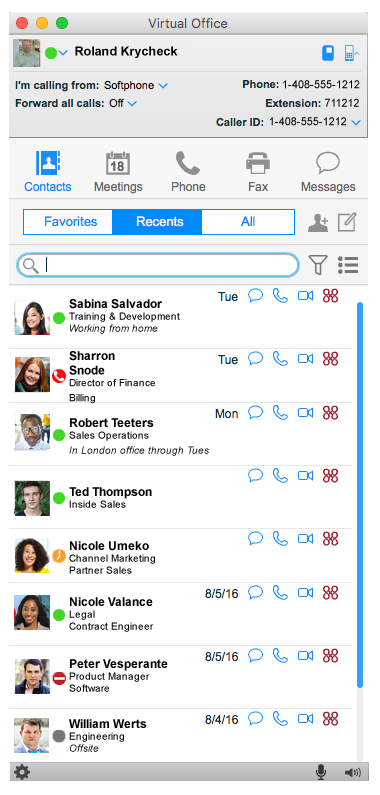 For example, a receptionist can quickly glance at his 8x8 Virtual Office Desktop to see that the product manager has set his status to "Do Not Disturb", indicating that he should ask callers to leave a message rather than transferring them over.
Presence can add insight into queue monitoring for sales and support teams as well. During busy periods, supervisors can manage and assign agents based on queue wait times and availability. This cuts down on confusion and wait times as customers wait to speak to an agent. This is pertinent to just about every business, considering that a survey conducted by Google found that 90% of all callers hang up after five minutes of waiting.
SMS Capabilities: Engage More Contacts
Over 80% of American adults send and receive text messages, making it the most common cell phone activity. Marketing texts have a 45% response rate, while email only has a 6% response rate. The high success rate of SMS make it the new frontier to conquer in terms of sales, marketing, and support.
Even more, 64% of consumers with texting capabilities would prefer to use texting over voice as a customer service channel. Incorporating SMS into a sales and support operation is a great way to reach out to prospects, nurture leads, offer technical support, and engage in just about any customer-facing interaction.
Desktop softphones such as Bria allow employees to send text messages to prospects and customers from individualized phone numbers. This increases contact engagement and opens up a new channel for customers to get in touch. For more information on outbound phone number best practices, read our 5 Best Practices for Business Caller ID blog.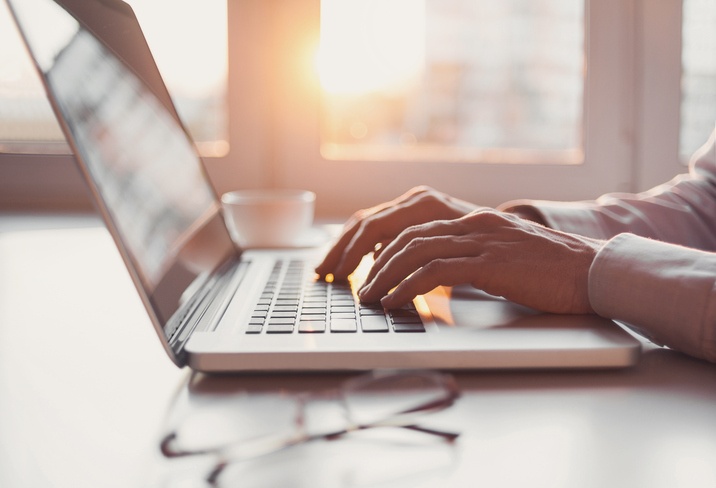 Desktop Softphone: More Features, More Mobility
A desktop softphone is a solid solution for a company that wants a feature-rich and on-the-go business phone. Portability is only one benefit of a softphone app. Video calling, messaging, contact integration, presence, and text messaging all put softphones beyond their office desk counterparts.
Desktop softphones are often associated with remote working, and rightly so. They increase the reach of a business phone system and open the door for a more geographically diverse workforce. However, employees can also use a desktop softphone not just as a temporary substitute for a desk phone, but as a complete replacement for one.
Desk phones certainly aren't going anywhere. But when 43% of employed Americans say they work remotely, a phone system that supports desktop softphones, or even webphones, might be something to consider when looking for a communications solution.