Most standard VoIP phones support 3-way or 5-way conference calling. For larger conferences, a conference bridge is employed. Business-grade conference bridges support both SIP and Public Switched Telephone Network (PSTN) calling. Most business VoIP companies allow for up to 15 users per conference bridge.
For conference calls over 15 parties, most companies rely on a third party platform. However, paying for a separate phone service can be expensive. On top of monthly service fees, you typically have to pay per minute charges for every conference call your employees make using the PSTN.
Most conference call services will also require you to dial into the conference via a landline phone number, usually an arbitrary 1-800 number, in addition to PIN and conference identification. Since this 1-800 number is not connected to your existing phone system, it's easy to forget what number to dial. It's often no surprise when meetings are delayed or disrupted by complicated conference call instructions.
OnSIP Feature: External SIP Address

A SIP address is the web version of a telephone number, a unique identification that allows you to make and receive phone calls (example: cathy@pizzapalace.onsip.com). There's a corresponding SIP address for each active number or extension on your cloud phone system. When you make call from one SIP address to another, it's routed entirely over the internet and bypasses the standard telephone network.
Similar to an external phone number, OnSIP allows customers to add external SIP addresses to their phone system and assign them internal extensions and internal SIP addresses. This makes it easy to reach contacts outside your business network without having to dial their full phone number. And since SIP-to-SIP calling is free with OnSIP, calls made to an external SIP address don't cost a cent for your business.
Hosting Large Conference Calls with OnSIP
In order for this feature to work with a conference calling service, that service must allow SIP calling and provide a SIP address for you to call. A few examples of services that allow SIP dial-ins to a conference bridge include:
To show you how this might work, here is a short guide on how to setup a SIP-to-SIP conference bridge with TurboBridge and OnSIP.
1. Create a TurboBridge account.
First, visit the TurboBridge Pricing page to create an account.

TurboBridge offers up to 300 users per conference call, including both SIP and PSTN callers. TurboBridge comes with call recording, conference email reports, dial out to add participants, and other features. Most importantly, TurboBridge gives you a unique SIP address that allows you to dial-in to the conference via another SIP-enabled endpoint.
2. Create an external SIP address for TurboBridge in the OnSIP Admin Portal.
With your OnSIP credentials, log into the Admin Portal and go to Resources -> New Resource -> External SIP Address.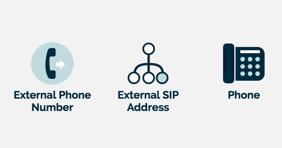 3. Fill in your external SIP address information.
Give the external SIP address a name (e.g. Turbobridge). Use "bridge@turbobridge.com" for the foreign address (SIP address) field. You can also assign an optional internal extension for quick dialing.

4. Call the external SIP address to connect to your Turbobridge conference.
Call the extension you just assigned from the OnSIP app, VoIP phone, or any SIP-based device. Once the call is connected, a prompt will ask you to enter the Meeting ID and PIN number for your TurboBridge conference. Enter the digits using your dialpad, and you will be connected to the conference.
Benefits of SIP-to-SIP Conference Calls
There are three key benefits of using a SIP-based conference calling service in conjunction with your business phone service:
Assign the conference bridge an extension within your phone system. This can be accomplished by adding an external SIP address, and allows you to dial the conference as if it were a part of your phone system.
Get free calling minutes for the conference call. When you dial the external SIP address for the conference call, a free SIP-to-SIP call initiates between you and the conference call platform, so you won't be billed for the call on your phone system.
Experience the call in HD voice. SIP-to-SIP calls use the G.722 codec, popularly known as HD voice, which offers a noticeable increase in call sound quality compared to PSTN calls.
What Conference Calling Service Should I Use?
The conference call setup we detailed above is only one example of how to host large conference calls on your business phone system. In general, the best solution for you will depend on a few factors:
How often do you host conference calls?
How many people need to join these conference calls?
Are the conference calls mainly with internal staff or third parties?
If you work at a small business, where conference calls occur occasionally and don't extend beyond three or five people, you can probably sidestep the whole issue of conference bridges by purchasing IP phones and softphones that offer 5-way calling.
For small and medium sized businesses that conduct conference calls with over five people, you'll definitely need at least one conference bridge. If your average meeting size is 15 parties or less, the standard conference bridges offered by providers such as OnSIP should take care of your logistical needs. If your teams often experience friction due to an overused conference bridge, it wouldn't hurt to expand your count. In OnSIP's Conference Suite bundle, conference bridges go for $5 per bridge.
If your company frequently hosts large conference calls involving over 15 parties, it might make sense to look for a third party provider. TurboBridge has a whole page on SIP Conferencing, which states that "unlimited free SIP access" is included with its Flat Rate plan. This Flat Rate plan comes in at a minimum of $9.95 per month, with no charge for USA dial-ins, but 3.2 cents per minute for toll-free dial-ins. Other services offer different packages, but will typically include some flat rate monthly fee for enterprise accounts.
For more idea on how to improve your company conference calls, check out some of our previous blog posts: