Ten years ago today, our telegenic CEO & Co-Founder, Mike Oeth, blogged about OnSIP's support for video calling. Then as now, any OnSIP customer with a video-capable VoIP phone could make video calls as easily as voice-only ones. Since then, this has become more accessible through better bandwidth and codecs, but most importantly, the increase in video-capable endpoints.
But back in 2008, at least, Mike admitted that video calling had not become a habit on the job. "My kids call the grandparents on the video phone every now and then, but as a business tool, at least here, it has not caught on," he said. We wondered if ten years along that had changed among folks such as Mike or those newer to the working world.
Formal and informal polls suggest that yes, the way people communicate at work is shifting, and video calling is growing with the influx of millennials and the retreat of boomers to the aforementioned grandparental role. (In other words, boomers may be video calling more, too -- but more likely with remote grandkids than coworkers.)
It's mobility.
A lot of that shift can be pegged to the rise of smartphones over the past decade. Millennials, born in time to grab iPhones and Androids on their way to middle school, have grown up with a communications mindset more attuned to picture and text. If they're going to talk on those hand-held computers at all, they're more likely to see the ones they're speaking with.
That's the conclusion of a 2016 study carried out by consumer research firm NPD Group. They found 52 percent of millennials aged 18-34 making video calls on their smartphones, 10 percent more than the year before. In fact, video calling ranked just below shopping in smartphone use, reflecting this generation's preference for mobile Internet over PCs. In 2017, WhatsApp disclosed the runaway adoption of its video calling button: 1.2 billion users spending more than 340 million minutes a day making more than 55 million video calls.
While WhatsApp was never meant for the workplace, today, this stronger pull toward video calling carries over to the workday desktop. In a May 10 webinar, Gigaom analyst Stowe Boyd remarked,
We've seen the same kind of mainstreaming of video in the business context, where it's both trivial and unexceptional to say, 'Let's get the three of us in a face-to-face meeting about this, now.' We've already gotten to the point where even people in the same building would rather video each other from their desks [than get up to attend a physical meeting].
Fellow Giga analyst Bob Eagen agreed, noting that the old assumption of work-at-homes sitting unshaven in their pajamas no longer applies. "People don't do that anymore because there's an expectation that video is a very necessary interaction," he said.
Our experience with video
OnSIP has offices in 3 states and remote employees in every department. As you might be able to guess, we value real-time communications and its ability to bridge those geographical gaps using the latest technology. We've found that video is the single best way to do that.
As mentioned in the Stowe Boyd quote above, there's no longer a barrier to getting three or more people "in a room" together to sort something out quickly and efficiently. Our desktop app offers the ability to create a video conference room and send a web link to other parties to join - even if they don't have the same app installed or running.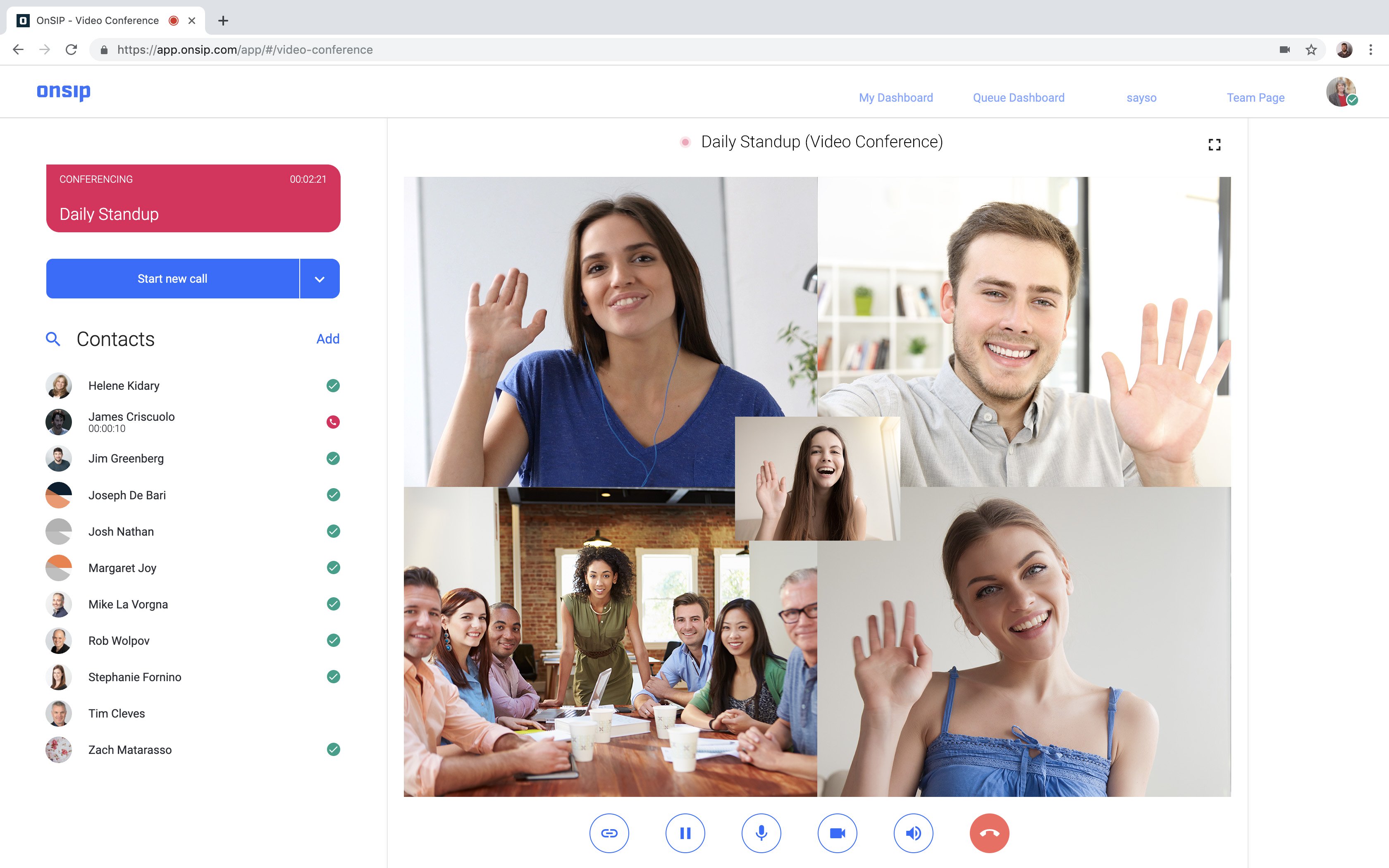 While video calls were once reserved for those of us with expensive executive-tier VoIP phones, we've made it easy for ourselves and our customers to quickly match that experience with their work computers. There's no more need for coordination - if they've sent you an email or instant message, they can hop on a quick video call from the same device.
We've found that with video, there's less talking over each other, less "who just joined the call?", and more empathy when you're face-to-face with the person you might disagree with on a particular topic. It's a large step in the right direction after text-based technology has allowed us to drift apart.