What's the business calling equivalent of huddling with two of your coworkers in an office conference room for a meeting? Why, a three way call, of course!
What Is a Three Way Call?
This phone calling staple doesn't require much of an explanation, as its name basically explains what it is. It's simply a phone call that has three parties on it: The person who made the call, the person to whom the call was made, and a third person who joins the active call between them. Once all three callers are on the line, they can speak to and hear each other in one conversation.
You may see this call feature written in a variety of different ways: 3 way phone call, 3 way calling, etc. However, they all refer to the same thing.
And while it's similar to a conference call, there are some important differences. One such difference is that a conference call requires the use of a conference bridge, which is hardware that can answer tens (or even hundreds) of calls and link ("bridge") them together so they are all on one call. A three way call, on the other hand, does not require the use of a conference bridge.
How to Start a 3 Way Phone Call
On a VoIP Phone
3-way calls are accomplished through the VoIP phone that you are using, so the exact process to start a call is different depending on the phone model that you have. Typically, you start a call with the first party and then use the phone's Conference button to start a second call with another party and join both calls together. Consult your VoIP phone's user manual to learn the precise sequence to follow.
In the OnSIP Web App
You can use the OnSIP app, our full-featured business softphone, to make a three way phone call. While the app is available in a variety of formats to meet your preferred working habits—a web app in Chrome, Firefox, and Opera web browsers and a desktop app for Windows, Mac, and Linux machines—this calling feature is only available when logged into the web app (app.onsip.com) in a Firefox browser.
Once logged in, initiate a phone call by selecting the Start new call button, typing in the phone number, and then selecting the Voice Call button.
Then, click on the button with the plus sign (the Conference button).
Type in the phone number of the third person that you want to call. If this person is a user in your company's OnSIP account, simply type out the person's name and select the contact from the dropdown that appears.
Click on the Add to call button. When that person answers, all three parties will be on the same call.

While the call is active, you can mute the audio and place the call on hold as you would with any two way call.
Can You Have a Three Way Phone Call With Video?
With the prevalence of video meetings and video conferences in today's workplace, you may have a need for three way video calls, too. You can use OnSIP video conferencing to get on video with two other coworkers or external callers.
The video conferencing feature is available in both the OnSIP web app and desktop app, and it allows up to five callers to be on the call. Follow these steps to get on a three way video call:
After logging into the web or desktop app, click on the start a video conference link.
In the text field, enter a name for your video call. For example, "MorningStandup," or "TeamReview."
Click on the Start Conference button.
If you want two other coworkers to join your video call, all they have to do is log into their OnSIP apps, click on the start a video conference link, type in the same name that you gave your call, and select the Start Conference button. You will then see them on video on your call.
If you want two callers from outside your company to join your video conference, you can send them a unique web link for your video call. Once they open the link in their browser windows, they will be able to join your call over video, too.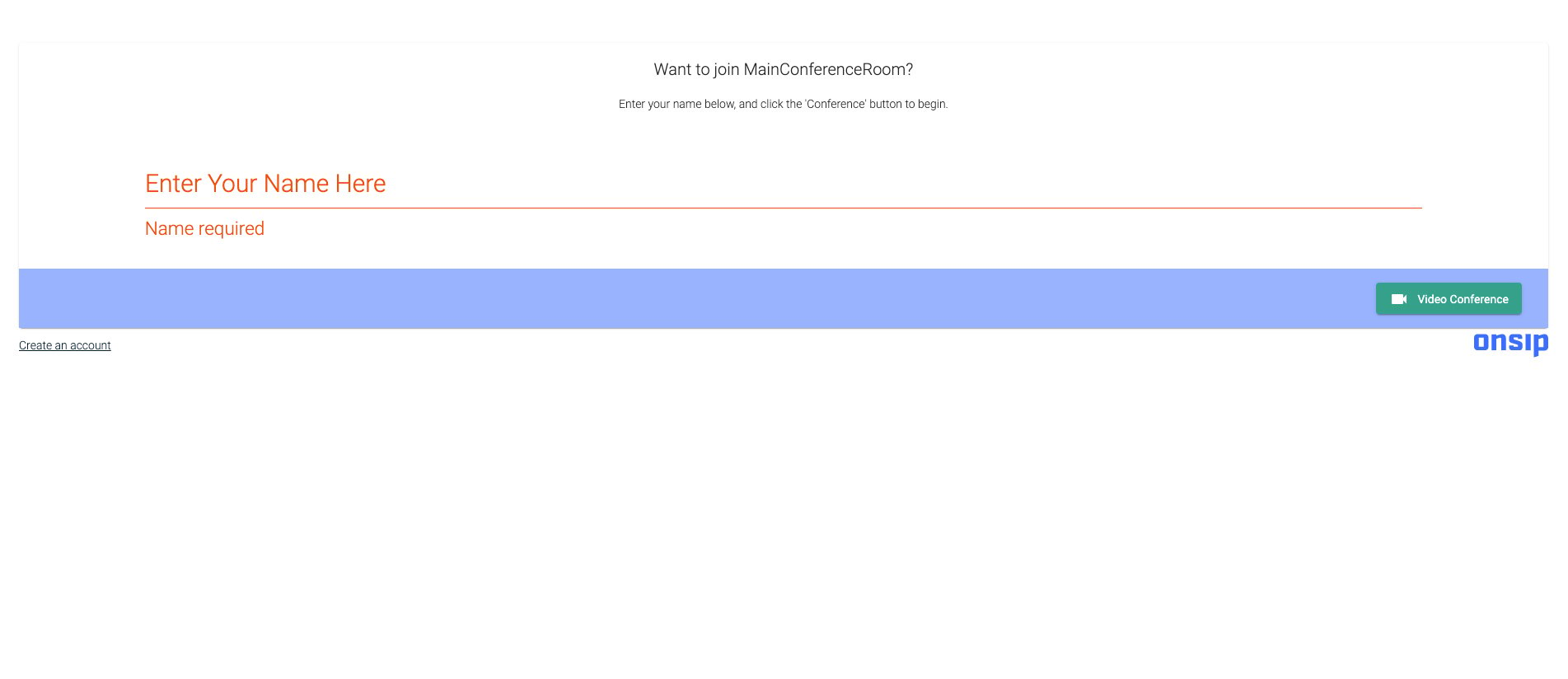 Connect and Collaborate on Group Calls
Three way phone calling is a smart way to collaborate with coworkers when you need to get a quick answer to a question or loop in a teammate if plans change on the fly. And when you or your two colleagues are remote working or on business travel, introduce video into the call with OnSIP's video conferencing—it will be as though you're all sitting in the same conference room at the office!