Today's work environment is highly interactive. Employees are often expected to be accessible via multiple channels, including email, phone, social media, text message, and video. With advances in technology such as WebRTC, video calling is now easily available and affordable. Most laptops and mobile devices are now equipped with high-quality webcams, so users can make and receive video calls at any time, from any location.
There is a wide variety of options for organizations looking to use video calling on PCs, smartphones, and web browsers. The breadth of choices is good news for individuals and businesses alike. Here are six popular services that offer free video calling.
AnyMeeting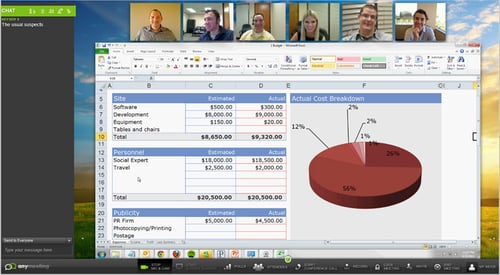 AnyMeeting has a free video calling service that that's supported by ads. AnyMeeting offers personal meeting URLs, screen sharing, phone and VoIP audio, and text chat. It also has robust integrations with Google, Evernote, and Facebook. There are no downloads needed to engage in an AnyMeeting video call - it's a web-based software app that runs via an Internet browser.
AnyMeeting has paid account upgrades that give users additional features and eliminate the ads. These upgrades include file sharing, meeting recording, in-session note taking, and PSTN audio. The product review site Revuezzle.com gave AnyMeeting a perfect 10/10 for features.
The OnSIP App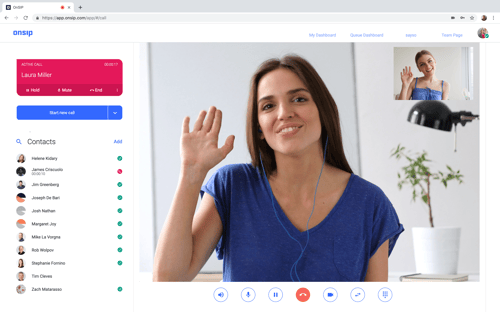 The OnSIP app is a webphone that comes with free video calling. The app offers personal meeting URLs and free Internet voice calls, along with business phone features such as extension dialing, call hold, call transfer, and phone presence. The app also supports video calls.
The OnSIP app runs directly from the browser and requires no downloads. Users can access the app for free by signing up for the OnSIP Free Plan. Or businesses can sign up or upgrade to a paid plan for a complete business phone system replacement and use the OnSIP app as a desk phone alternative.
The OnSIP app's video quality is powered by VP8 and H.264 codecs. Stephen Shunk, IT Specialist at Level Agency, had this to say about the app:
"I instantly was attracted to its easy-to-use interface. One of my favorite OnSIP features is the ability to have a desk phone, web app, and smartphone app open at the same time — and have OnSIP ring me wherever I am at any given moment during the working day."
Skype
Skype video calls can be made on Windows, Android, iOS, Mac, and Skype for Web. There's also a standalone meeting app called Skype Meetings that focuses entirely on voice and video group chats. Video chats can be shared via invite links through Skype for Web. You can use chat commands, including add and find, along with roles during the call. There's also a screen sharing feature.
You can send photos and files to people during video chats. Upgrading to Office 365 allows for meeting recording, instant message, and chats with up to 250 people.
Benoit Pepicq of AndroidPit.com recently reviewed the lastest version of Skype, and had this to say:
"Regarding audio and video calls, I can say from experience that the quality is very satisfactory. Again, it all depends on the device used and the quality of the connection, but overall it's very fluid on the audio front, slightly less with video but it also depends on the camera quality."
Google Hangouts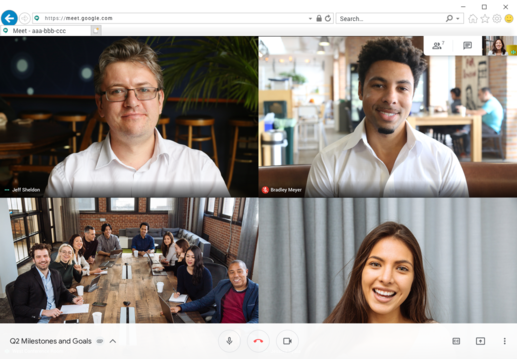 With Google Hangouts, call invites are sent using an email address, phone number, or saved contact name. You can also send standalone web links as invites. Invitees do not need a Google account to engage in a Hangouts video call. The main dashboard can be accessed through Google+ and Gmail.
Google Hangouts is available for Android, iOS, and the Chrome web browser. Hangouts broadcasts video quality between 360p (SD) up to 720p (HD), a slightly lower quality than the average YouTube video. According to Max Eddy at PC Magazine, "The video was not of stellar quality, but it was more than adequate."
Max also went on to say:
"I love the new interface, resurrection of a traditional contacts list, and how the app touches so many different forms of communication. It really does it all, without you needing to sign up for yet another messaging service. Best of all, it lets you reach other people without them signing up for another service."
ooVoo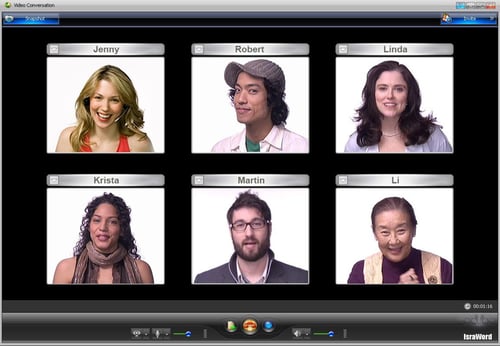 ooVoo runs on Mac, Windows, iOS, and Android. It can also be used through Facebook. ooVoo comes with the ability to send texts and pictures. The app does come with ads; users have to upgrade to ooVoo Premium to get rid of them. A major bonus of ooVoo is that calls can be recorded for free.
According to TopTenReviews, "ooVoo conferencing tools feature a proprietary technology called SuperClear Video, boasting a better video quality by adjusting for poor connections and low-bandwidth." ooVoo boasts 150 million registered users, with 100,000 more added each day. Its central audience is millennials - 65% of users are under the age of 25.
Free Conference Call
FreeConferenceCall.com has a bevy of features, including screensharing, live rewind, call video recording, annotation tools, chat, and others. The service runs on iOS, Android, and via the web. Free Conference Call for Business comes with extra features. From Gene Marks of Forbes:
"The [business service] will offer secure and high-quality HD audio and video conference calls with 99.99% reliability, white-label corporate branding with a personalized audio greeting, hold music and messaging, and PBX integration. And something else that many of us using the free service aren't used to: live 24/7 customer support and training."
Free, But At What Cost?
There are plenty of services that offer free video calling. Just about all the services listed in this post can be implemented on a professional B2B basis, with many offering enterprise grade features after upgrades. It all depends where you draw the line.
Do you need video call recording? Do you want to connect your business phone system to your video calling software? These are questions that only you can answer based on your needs. But when it comes to video calling, you know you have plenty of first rate options, free and paid alike.