Looking for an alternative business VoIP platform to RingCentral?
When performing a cursory search, it may look like all VoIP providers are basically the same. They all offer a (mostly) similar set of calling features, they all spotlight their own computer and mobile softphone apps, and they even all take a similar approach to pricing plans. (Did someone say Unlimited Calling?)
However, you'll find that a VoIP service is not a "one-size-fits-all" thing. While we wholeheartedly believe that a VoIP platform will benefit any business that uses it, it's just a matter of finding the service that best provides the suite of features and options you need to empower your staff and delight your customers.
Here are 4 reasons why OnSIP is a great RingCentral alternative:
1. VoIP Pricing Flexibility: OnSIP's Pay as You Go Option
As presented on its website, RingCentral's pricing plans are dependent upon three things: the number of users you have, whether you pay for the service on a monthly or annual basis, and which of its four service tiers you select for your business. Each tier comes with Unlimited Calling within the US and Canada, and opting for annual billing shaves off $10 from each tier's cost.
OnSIP also has an Unlimited Plan that offers our customers unlimited calling within our standard calling area; this area includes the contiguous US, Hawaii, and 20 other international countries and localities. However, our other billing plan—our Basic Plan—is rather unique in the hosted VoIP industry in that it allows a customer to pay for his business phone service on a "pay as you go" model.
OnSIP's Basic Plan enables customers to pay for their business calls on a per-minute basis; specifically, calls within the standard calling area are 3.2 cents per minute. If you have a toll-free number, calls to that number are 3.9 cents per minute. (You also pay for features on an as-you-go basis—more on this in the next section.)
Now, at this point, I'd bet you're thinking, "Oh wow! I'll be paying an arm and a leg if I had to pay for my calls on a per-minute basis!" And that's the selling point for Unlimited Plans: For a flat fee each and every month, you can confidently project what your business's phone costs will be over the year.
However, you may also end up paying much more than you need to for your business's phone calls. Check out what an OnSIP customer wrote on his review of our service: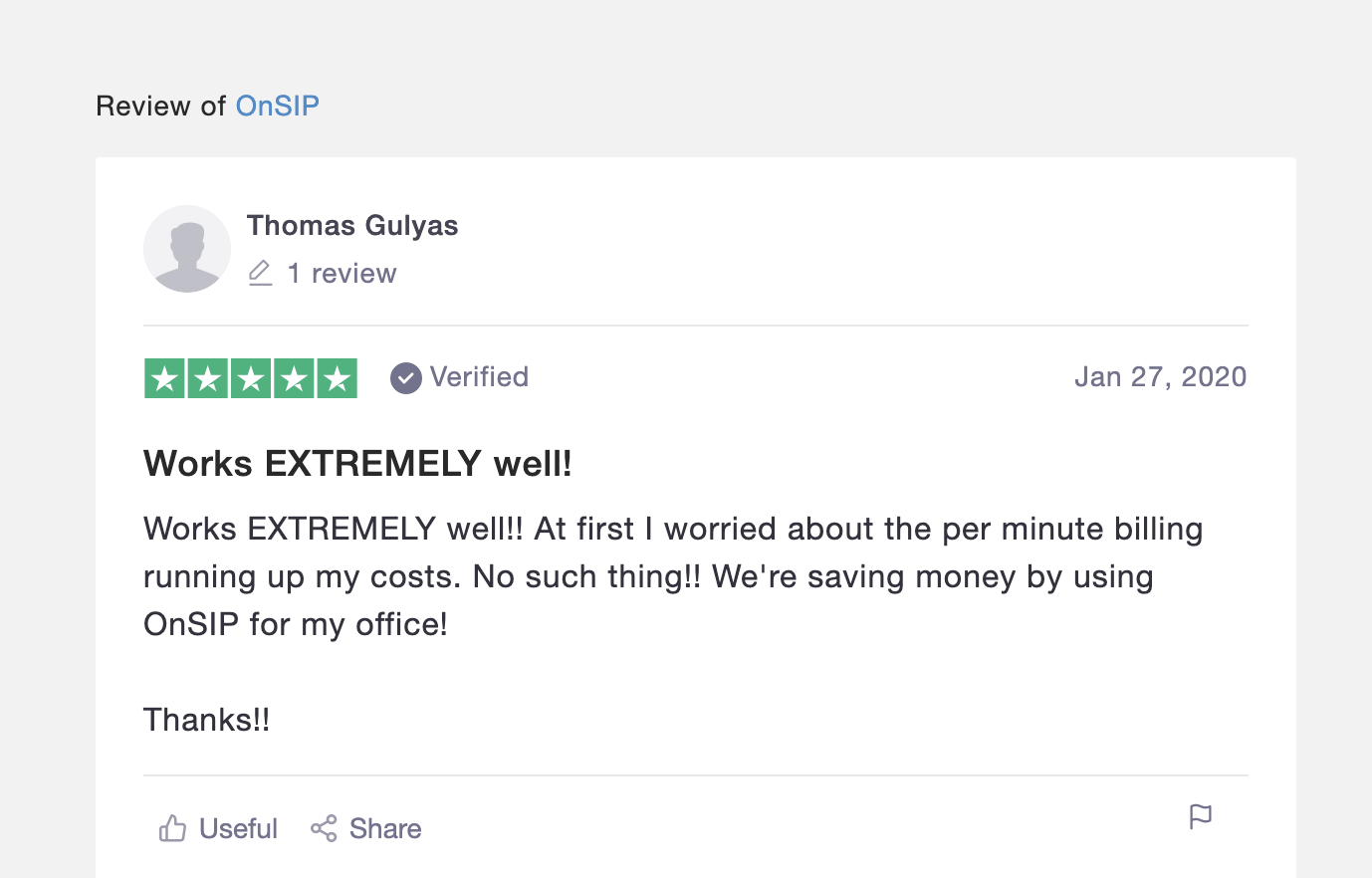 We can't guarantee that your business will save money on our Basic Plan—for many organizations, a flat fee for unlimited calling will reduce their calling costs. But it doesn't hurt to check, right? Take out the past two to three months of your business's phone bills, do some quick math, and compare the totals you get with what you've actually paid. You may find that you can cut down on your business phone bills, like Thomas did!
2. Add Calling Features as You Need Them; Remove Them When You Don't
In addition to paying for your calls as you go, you also pay for your calling features as you go on OnSIP's Basic Plan. For a $49.95 monthly fee that covers the entire account—not a per user fee—you can set up a handful of features, including three auto attendants, three ring groups, one dial by name directory, etc. If these allotted feature amounts cover what you need for your business, great! You won't have to pay a dime more.
If you need to set up additional calling features beyond what is offered by the Basic Plan, you can do so at any time within the Admin Portal. For each additional feature(s) that you configure, you simply pay its a-la-carte per month fee as displayed on our Pricing Page. Whenever you no longer need the particular feature(s), just delete it from your account and the corresponding fee will be removed from your upcoming invoice.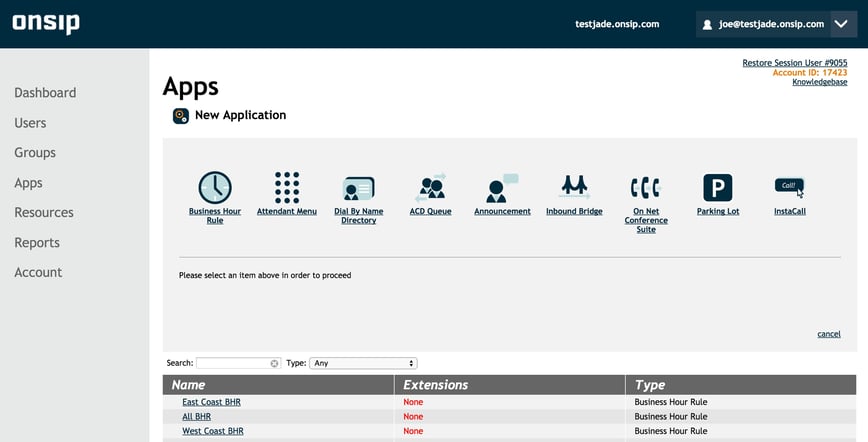 This ability to add and remove features in real time is part of OnSIP's VoIP pricing flexibility: It's what lets our service flex in order to meet your business's communication needs over time. Simply set up additional features when you need them and remove them when you don't. You'll gain the confidence in knowing that you're not wasting money on calling features that you're not using (not to mention the hearty thanks of your company's Finance Department!).
3. OnSIP
sayso

: Web-Based Voice Chat, With Video, Too

Another of OnSIP's flagship features is sayso, our unique inbound chat solution. sayso isn't just another website chatbot on the market—it's a way to connect website visitors to your company's representatives over a voice or video call.

When going to your website, a site visitor will see sayso as a floating button in the bottom left or right corner of her browser window. When she clicks on the button, she'll see a short list of available reps along with options to place a voice or video call to them. This call occurs entirely within the web browser window, so she won't have to pick up a phone or navigate an auto attendant menu—she'll be speaking with the rep in seconds.
You can set up and use sayso on your website completely free of charge with sayso's Starter Plan. If you want to access advanced functionality such as call analytics, screenshare, and integrations with HubSpot and Zendesk, you have the option to upgrade to the Pro Plan.
While RingCentral, within its Engage Voice product, does have live chat/chat widgets that you can customize and add to your website, it appears to be limited to text chat only. OnSIP's sayso lets you engage with leads and customers over video directly on your website—building trust, remaining accessible, and literally putting a "face" on your business in the process.
4. Outstanding VoIP Support with OnSIP's Customer Success Team
Whether it's to get help configuring a phone or setting up a feature, you'll be contacting your VoIP provider's customer support department at some point. Whichever provider you choose, make sure that you spend some time looking into their customer support team: You'll thank yourself later when you need VoIP support.
OnSIP's Customer Success Team has received many accolades over the years. From taking home the Bronze Stevie® Award in the Customer Service Team of the Year - Computer Software category at the 2015 American Business Awards to being a two-time (2020 and 2019) recipient of Business Intelligence Group's Excellence in Customer Service Award, our Customer Success representatives have distinguished themselves from the terrible calls and horror stories that are rampant in the customer support world. To learn more about the values that our Customer Success Team members live by and enact on a daily basis, read what our Senior Director of Customer Success, Larry Browne, had to say in our blog post on customer service best practices.
But as the saying goes, "You don't have to take our word for it." After each support ticket is closed, we send out invitations to our customers to write a review of OnSIP, whether good or bad, on Trustpilot, an online community review platform. We've received hundreds of reviews on our Trustpilot page over the years, and a recurring theme we see is about our stellar Customer Success team.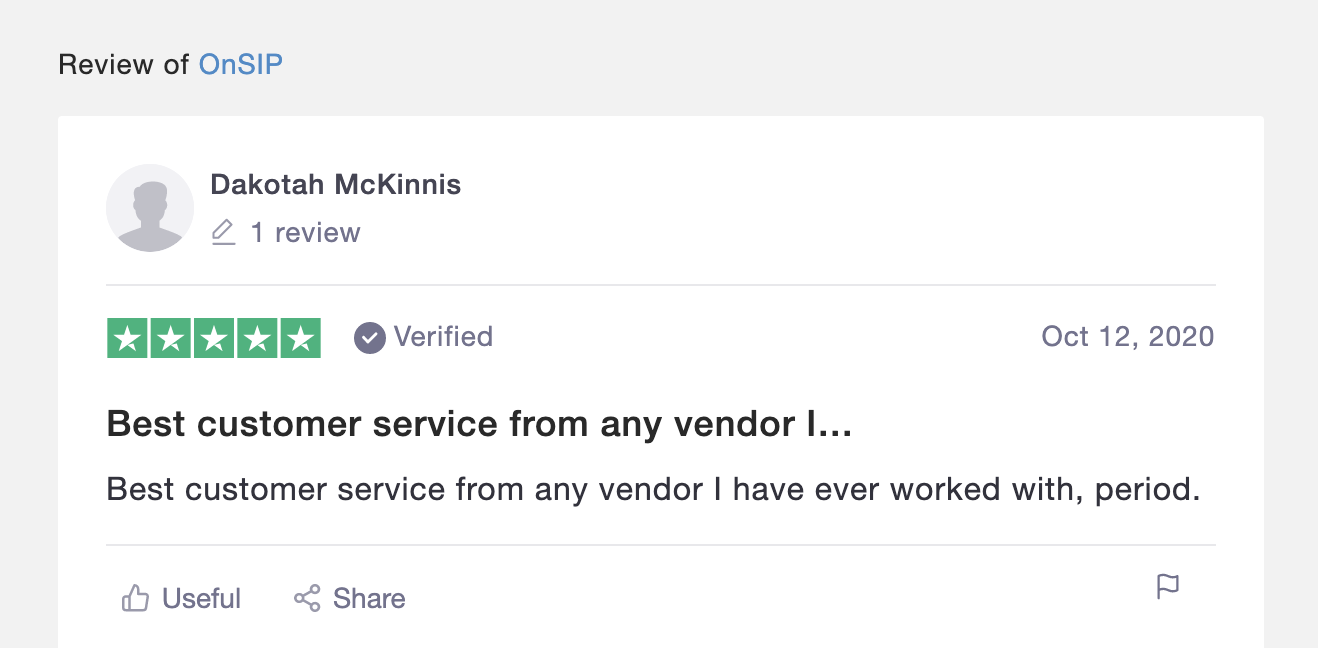 For More Information...
If you want to learn more about how OnSIP can work at your business, we encourage you to speak with one of our Sales reps. You might even try a sayso call to them through www.onsip.com by clicking the phone icon button in the lower right corner of your screen (in addition to speaking with a rep, you'll get to see sayso in action, too!). They'll discuss your business's specific needs and how OnSIP's features can address them. For more of a side-by-side comparison of RingCentral and OnSIP, read our companion post detailing the pricing, features, phones, and support of each service.