Written by Joe De Bari, Lead of Marketing Communications at OnSIP. The following content was last updated on February 2, 2020. Any new information since that date may not be included in this article.
OnSIP and 8x8 each provide businesses with top class cloud phone system solutions. Both hosted VoIP platforms were built from the ground up by their respective companies. Although the two services share many of the same features, they ultimately offer different options and experiences depending on the customer's priorities.
This blog is a deep dive comparison between OnSIP and 8x8 in the areas of pricing, features, phones, and support. Much of the information featured in this blog is available on 8x8's website. The other facts were gathered by contacting 8x8.
Pricing
8x8
For the purposes of this blog, we are focusing on 8x8's X Series - Cloud Communication Software.
8x8 offers its customers four pricing plans for their X Series service, each billed on a per month per user basis. The 8x8 Express plan costs $12.00 per month per user. The X Series X2 plan costs $25.00 per month per user. The X Series X4 plan costs $45.00 per month per user. And the X Series X6 plan costs $110.00 per month per user. Each of these plans provide unlimited calling (to an "Unlimited Calling Zone") and mobile and desktop apps; the "Unlimited Calling Zone" covers an increasing amount of countries as you move up in plans, from just the U.S. and Canada in the 8x8 Express plan, to 47 additional countries in the X Series X4 and X Series X6 plans.
The 8x8 Express plan provides a suite of features which include call handling features, team messaging, and video meetings with screen sharing. The X Series X2 plan starts off with the same suite of features and adds on others like voicemail transcription, call recordings, and unlimited Internet fax. The X Series X4 plan provides the same suite of features as found in the X Series X2, with even more features: an operator switchboard and analytics/call quality reporting. Finally, the X Series X6 plan takes the X Series X4 plan and additionally offers: skills-based routing, native CRM and Knowledgebase, and more.
The 8x8 Express plan has a 30-day trial period.
OnSIP
Customers of OnSIP can choose from among two paid pricing plans and one free website chat plan:
Unlimited Plan: The Unlimited Plan offers unlimited Standard Area calling for $18.95 per person per month (the Standard Calling Area covers the contiguous U.S. and 16 other countries). This plan enables customers to set up an unlimited amount of calling features like voicemail boxes, groups, and auto attendants; if features like conference suites and call queues are needed, they can be purchased a la carte. Call recording for each user is included in the Unlimited Plan.
Basic Plan: On OnSIP's Basic Plan, customers pay for features that they use and calls that they make on a monthly basis. This plan enables you to customize your account by building your own feature package: starting off with a standard set of popular business phone features at $49.95 per month, you can then add (and delete) additional features as needed. Calls cost 3.2 cents per minute (and 3.9 cents per minute for inbound calls to toll-free numbers). Extension to extension dialing, internal calling, and SIP-to-SIP calls are all free. There is no setup fee, nor any monthly recurring charges, when adding users or phones on this plan; you just pay for the calls that those phones make.
sayso Website Chat Plan: OnSIP's innovative sayso Website Chat Plan lets you use sayso, our website voice and video chat solution, for free! Once you add sayso to your website, site visitors can click on a call button to quickly start a voice or video call with one of your business representatives right through the browser window—no phones needed. The call occurs within the browser and entirely over the Internet.
All OnSIP plans have a 30-day free trial period.
Features
OnSIP and 8x8 each provide standard business calling features that are prevalent in today's cloud phone systems market: auto attendants, video conferencing, voicemail (and voicemail to email), HD voice, call queues, call recording and other staple offerings that are found with all of the biggest VoIP providers.
Unlike some other hosted VoIP providers, OnSIP and 8x8 both provide geographically redundant servers in data centers across the continental U.S. (and in 8x8's case, they have additional data centers across the globe). In other words, both companies house servers and services in more than one location; that way, if there's a problem at one of the data centers, the other centers can be immediately used as backup. This kind of geographic redundancy allows OnSIP and 8x8 to retain enterprise-grade uptimes.
OnSIP provides a free business softphone to all of its customers. The OnSIP app is available in the browser (Chrome, Firefox, and Opera), on desktop for Mac and Windows computers/laptops, and on mobile for iOS and Android. With the apps, users can make/receive voice and video calls, host small group video conference calls (web and desktop app only), listen to and delete voicemails, chat with coworkers, view their presence statuses (and set their own as well), and more.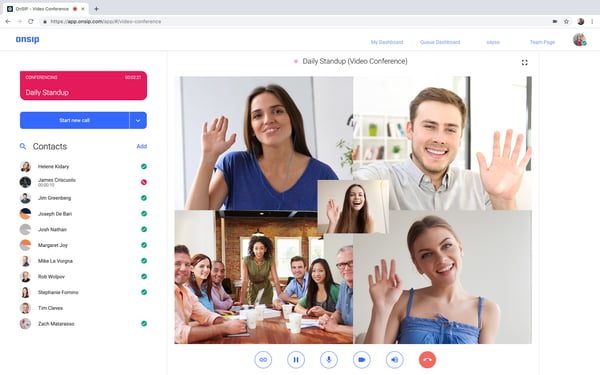 8x8 also has business softphones available for their customers over a variety of platforms. Their Virtual Office app is available for iOS and Android devices and allows the user to make/receive calls, IM coworkers, listen to and delete voicemails, use a star code during a live call to switch from a desk phone to a smartphone, and more. 8x8's Virtual Office Desktop provides voice and video calling, call recording, instant messaging capabilities, visual voicemail, and more all via a Mac or Windows application. And finally, their Virtual Office Softphone offers a variety of calling abilities straight from Internet Explorer, Firefox, and Safari browsers.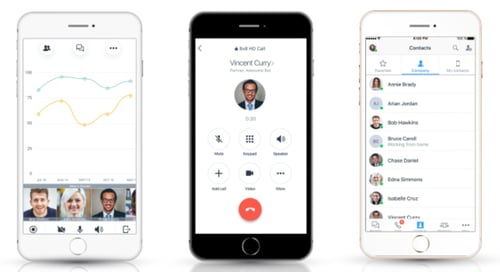 One of OnSIP's signature features, sayso is a unique web calling solution in the business VoIP market. Installing the sayso button on your company's website allows visitors to engage in video or voice calls with one of your staff members using only their Internet web browsers, with no downloads or plugins required. Your customers can choose which department they'd like to speak to and quickly start up a conversation with a representative with just a mouse click.
OnSIP has many integrations with CRM and help desk platforms, including Zendesk (with CRM lookup), HubSpot, Google Analytics, and others. The company also makes developer APIs available that empower web developers to add real-time communications into their own apps. 8x8 likewise integrates with many popular CRM and helpdesk platforms: Zendesk, Outlook, Salesforce, G Suite, Okta, and others. The company similarly offers APIs for developers to enhance their app or platform's performance.
Call monitoring features (Monitor, Whisper, and Barge) are each offered by OnSIP and 8x8. For OnSIP, these features are available in the Enhanced Queue Dashboard (found in the OnSIP web and desktop app). This dashboard has two parts: a real-time call and agent dashboard, and a reporting section where supervisors can generate performance reports for past time periods.
8x8 does have unlimited Internet faxing available. It comes standard in the X Series X2, X Series X4, and X Series X6 plans.
Phones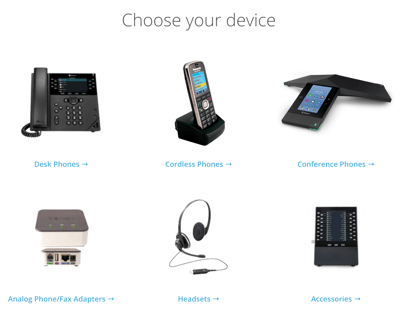 8x8 sells desk phones, cordless phones, and conference phones from four main manufacturers: Polycom, Cisco, Yealink, and Panasonic, along with headsets, sidecars, and other accessories. The company also offers the 8x8 Flex Hardware Program, enabling customers to rent phones from among a specified lineup of Polycom devices on a month-to-month basis. Customers are afforded the option to upgrade or change models. Customers can also use phones purchased from a third-party, as long as the phone has a valid factory-installed device certificate. For more information on third-party phones compatible with 8x8, see their Compatible Equipment Matrix webpage.
OnSIP continues to offer a Bring Your Own Device (BYOD) policy and does not sell phones to customers. The company does offer provisioned phones through a preferred partner. OnSIP furthermore provides a 'boot server' to its customers that automatically configures Polycom, Panasonic, Cisco, Yealink, and Grandstream phones. However, customers are free to use any phone that follows the SIP RFC standards—those devices will work with the service. The company also maintains its own section of objective phone reviews to help customers choose the best device for themselves.
Support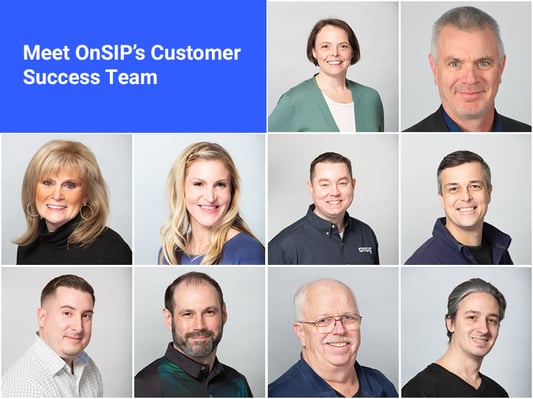 Based in Doylestown, Pennsylvania, the OnSIP Customer Success Team offers ongoing support to customers over live phone calls, live chat, support tickets, and an online Knowledgebase. The team's current average caller wait time is 22 seconds per call. Customers have given the OnSIP service a 4.5/5 TrustScore rating on Trustpilot. OnSIP's CEO and Co-Founder Mike Oeth answers at least one support call per day, in order to stay up-to-date with issues that customers are facing.
8x8 hosts a Support Knowledge Base that links customers to a variety of FAQs and self-help articles that cover features, devices, user guides, account management, and much more. The Support Knowledge Base also has a section that lists 'Service-Impacting Issues' for transparency to their customers. Customers can also contact 8x8 Support via live chat, live phone calls, and support cases.
8x8 is a registered trademark of 8x8, Inc. 8x8 and its products/services are not affiliated with OnSIP or Junction Networks, Inc.