On Monday night, our Customer Success team took home the Bronze Stevie Award at the American Business Awards Ceremony for the Customer Service Team of the Year - Computer Software category. Larry Browne, our Director of Customer Success, was on hand at the Fairmont Millennium Park Hotel in Chicago to receive the award.
"Creating relationships with customers is every bit as important as working with them to solve their issues," said Larry. "We build trust with customers. They know when they call, they're going to get the answer they need, and we work to make it as pleasant an experience as possible. Many customers are surprised the first time they call that we answer so quickly and think we have a much larger team. I love talking with people and assisting them with their issues— big or small. Every day is a series of new challenges."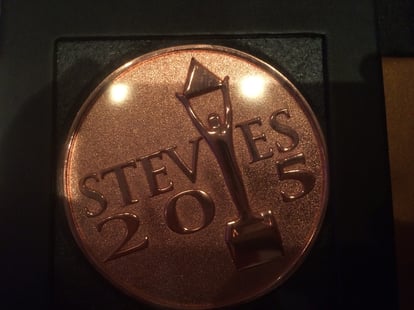 According to the American Customer Satisfaction Index, the average software company has a customer satisfaction rate of 76%. But according to OnSIP's Zendesk customer satisfaction rating, our customers are satisfied with our performance 98% of the time. We're delighted with our Customer Success Team's track record of success, which is why we secretly entered them in the American Business Awards without their knowing.
Stevie Awards competitions receive more than 10,000 entries each year from organizations in more than 60 nations. Honoring organizations of all types and sizes and the people behind them, the Stevies recognize outstanding performances in the workplace worldwide. OnSIP has won Stevie Awards on previous occasions, but this marks the first time our Customer Success Team has been entered in one of the categories.
"We are extremely impressed with the quality of the entries we received this year. The competition was intense and every organization that won should be proud," said Michael Gallagher, president and founder of the Stevie Awards. "To those outstanding individuals and organizations that received Gold, Silver, and Bronze Stevie Awards, the judges and I are honored to celebrate your many accomplishments. You are setting a high standard for professionals nationwide."
Congratulations to everyone on the Customer Success Team!