The blog is by Eden Harvest, member of the OnSIP Support Team. Read how Eden handles a traffic jam and no cell service with only 15 minutes until he's scheduled to host a live webinar.
You ever have one of those days? You're in transit to work when everything grinds to a halt and the seconds tick by in your head, tick tick tick... We've all had days like this, but when you're a webinar host, and you're scheduled to give a live presentation in fifteen minutes, traffic like that can have you screaming at the wheel like a maniac.
Every Thursday 12:00 PM Eastern, I host a live introductory OnSIP webinar. During the webinar, I demonstrate how easy it is to set up an OnSIP phone system and field questions. Delivering useful information to new and prospective customers, I take my responsibility as a webinar host seriously.
So, if stress is a killer, I think last Thursday shaved two weeks off my life. Ultimately I had to embrace the reality that I would not make it back to the office by noon to host the webinar… Cancel? Call in to the conference and ask customers to reschedule? Both awkward. Luckily, I had a back-up plan.
The pressure heats up
I began hosting the OnSIP basics webinar about a year ago, and have worked through many versions. When we felt the timing and content was right, we crafted a good outline. My coworker Chuck Dunne, who likes people and has personality to burn, quickly emerged as an excellent understudy. Our goal is to have 'redundancy', and now that Chuck can host the webinar, I am no longer the human embodiment of 'single point of failure'. I called from the road to tell Chuck he would be hosting, but he didn't answer, so I called Larry. Larry reminded me, "Chuck's moving today; he's had it in the calendar for weeks." So much for my back up plan.
I jumped off at the next exit and started searching for a McDonald's. I can often get a great WiFi signal while burning my lips on their coffee. It was 11:45 now, time to send out the invitations to all new customers. The McDonald's signal got me online quickly, and I sent out the invites, but this was far too noisy a spot for conducting the webinar.
I jumped back in the car and went to another restaurant. They gave me their WiFi password, I had just enough time to order an iced tea and open up the screen sharing tool. When I tried to call into the audio conference, I realized that the room I was in had no cell service. I could feel the stress monkey jumping onto my back again.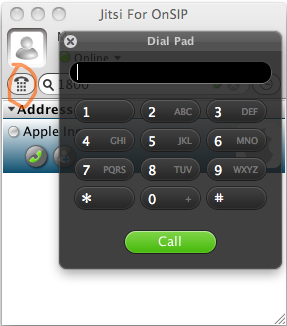 Jitsi for OnSIP to the rescue!
But then I realized this is the 21st century, and I have OnSIP. My WiFi connection was strong, so I quickly registered a Jitsi softphone on my laptop and called the sip address of our conference bridge, connecting me to the webinar with clear, strong audio. I took a sip of tea and opened up the screen sharing tool, and the webinar was up and running. There were several attendees, and I was able to deliver the information just as smoothly as I can from the office.
Jitsi for OnSIP is a free soft phone that you can download here for Mac or Windows. Jitsi for OnSIP has been customized to work seamlessly with OnSIP— Just download, login with your my.onsip credentials, and make calls!
The webinar must go on! And thanks to OnSIP and Jitsi, the show can go on from anywhere. So, if you join the next webinar, don't be surprised if I'm hosting it from your local Applebee's.