On November 14th, 2019, in the Philadelphia Eagles Locker Room, a select group of Chorus Communications Partners and Suppliers gathered for an interactive—and enriching—business seminar. It was Chorus's 5th Annual Technology Fall Forum, and OnSIP was happy to support the event as a Panel Sponsor. Helene Kidary, OnSIP's VP Channel Sales, returned to the Forum, this time as a panelist where she participated in the seminar and provided insight for the attendees.
"Coopetition" at the 2019 Fall Forum
Chorus Communications hosts the Fall Forum each year to give their top-performing Sales Partners and Managed Service Providers (MSPs) an opportunity to learn about critical ways to grow their businesses. During the immersive seminar, panelists present key products and solutions offered by their respective companies, and attendees learn how those features can be used to support their clients' needs. This year's Forum at Lincoln Financial Field in Philadelphia was packed with more than 150 in attendance.
The panel discussion was moderated by Michelle Caffrey, Technology Reporter for the Philadelphia Business Journal. Using her background in tech, she presented a case study centered on a large Insurance Company that has 18 offices across 6 states and then skillfully led the discussion. Panelists, including Seth Gibbs, Sales Manager of Telesystem, and Jonathan Harris, Channel Solutions Architect of Verizon (to name just a few), explained in detail how each of their company's solutions can work together in "coopetition" to offer an innovative and collaborative solution to the highlighted scenario.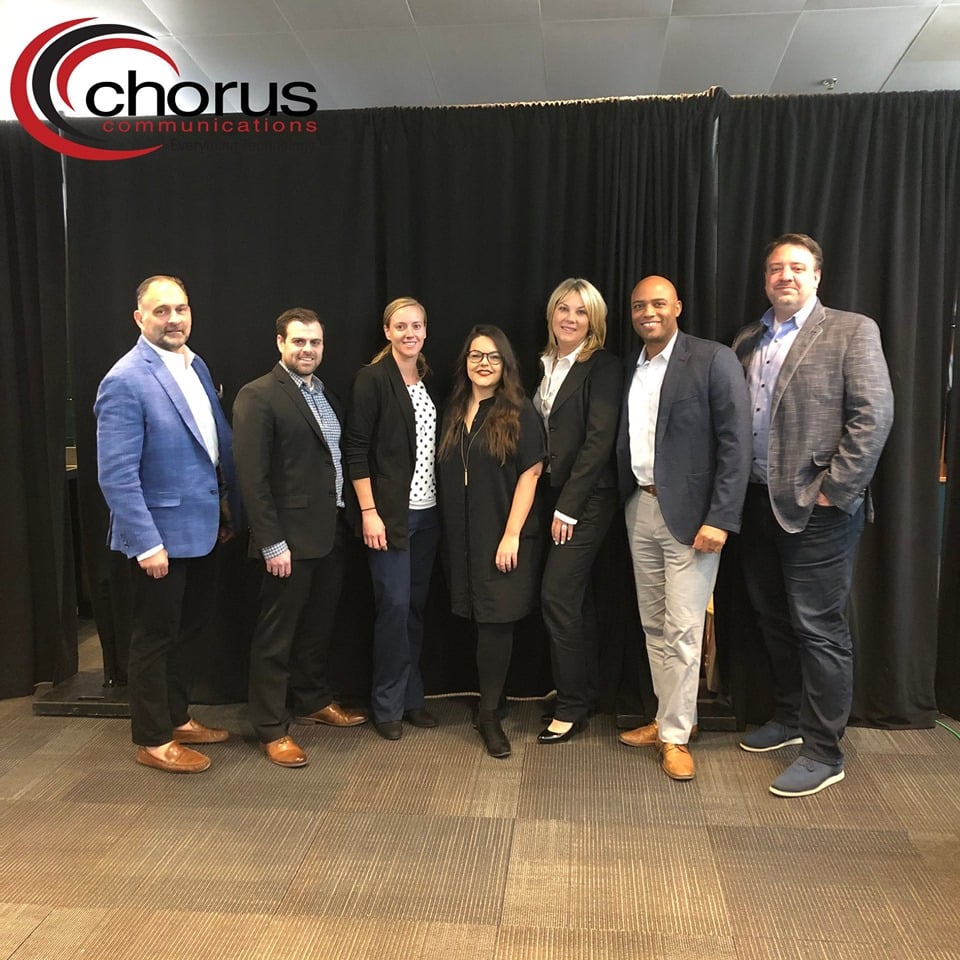 During the Q&A session of the seminar, the audience learned how to integrate different companies' solutions to successfully solve their clients' issues—a unique opportunity offered by Chorus's extensive network of providers in the UCaaS, telecom, and key cloud industries.
Panelist Helene Kidary of OnSIP Presents sayso
While speaking on the panel, Helene enthusiastically presented sayso, OnSIP's powerful voice and video web chat button. Following a 45-second overview video that illustrates how sayso works (watch it here!), she explained how sayso transforms the way that businesses communicate with their website visitors and customers.
With sayso on your website, visitors can click on a button to start a voice or video call with an available representative of your business. Since the call (note that it's not a text chat) occurs entirely in the browser window, site visitors don't have to pick up a phone or navigate an automated menu. They don't even have to wait on hold: sayso updates in real-time and only connects available representatives (those who are not currently on a call or marked as "Away") to visitors.
Helene has previously moderated the seminar panel at the 2016 Fall Forum. This year, she was honored to return to the Forum as Chorus Communications' 2019 Channel Champion, awarded during their Carriers Ball this past September!
Catching Up with Friends and Meeting Special Guest: Lane Johnson
Following the seminar, attendees had a chance to meet and mingle during a networking event held right inside the Eagles tunnel and all-new Axalta Club. Complimentary cocktails and gourmet stadium fare were served. And to cap off the event, Lane Johnson, an offensive tackle for the Eagles, made a special appearance, taking pictures and signing autographs.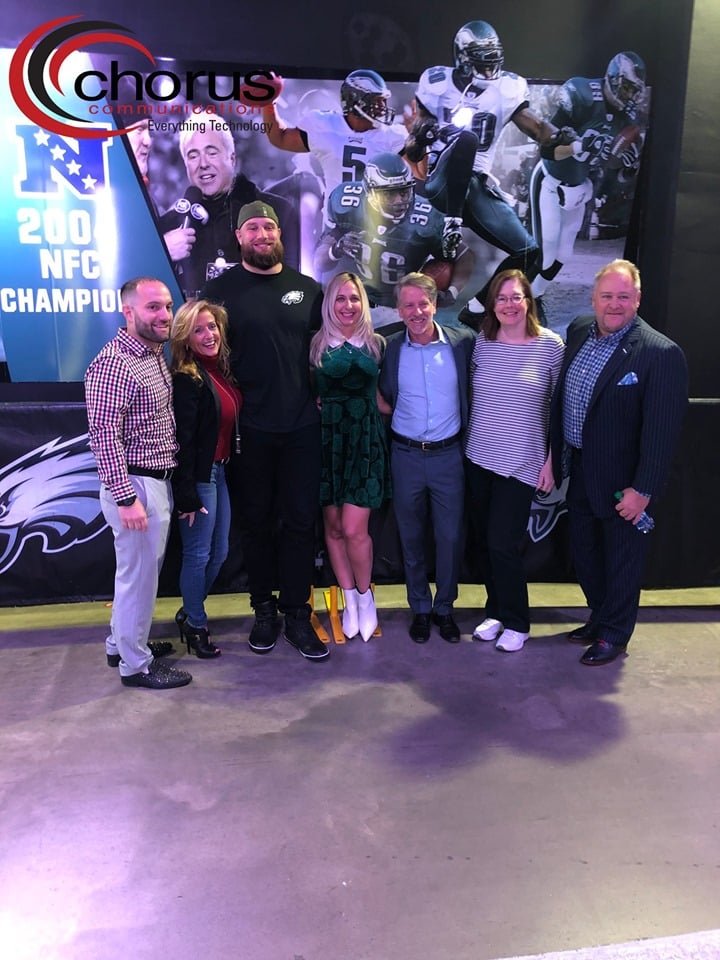 "It was really a privilege to participate as a panelist at this year's Forum," says Helene. "My colleagues on the panel and I were able to concretely demonstrate that Chorus' well-known 'coopetition' is indispensable when it comes to getting the job done for the customer. We spoke in front of a full house of attentive faces, in a perpetual nod of 'yes.' That just says it all, if I may sayso."
OnSIP is always proud to support Chorus' high-quality events, as they have mastered the production of insightful, memorable, and fun gatherings. While this was our first sponsorship of the Fall Forum, we've previously been sponsors of their long-running Who's Who in Technology (2017, 2018, 2019) and Carriers Ball (2017) events.
We can't thank our friends at Chorus Communications enough for their continued hospitality and for hosting yet another awesome event!