OnSIP is proud to share that our very own Helene Kidary, VP Channel Sales, was named Channel Champion at the 5th annual Chorus Carriers Ball!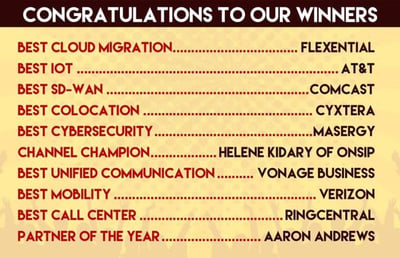 Created to celebrate "The Top Carriers in the Biz," the event brings together telecom and cloud technology partners from across the country. This year's "Revolution" theme touched every corner of the ball, which was held at Union Stage at the Wharf in Washington, D.C. The acclaimed Beatles tribute band, the Beat Tells, performed, followed by the first-ever TECHS GOT TALENT contest where partners showed off their musical chops.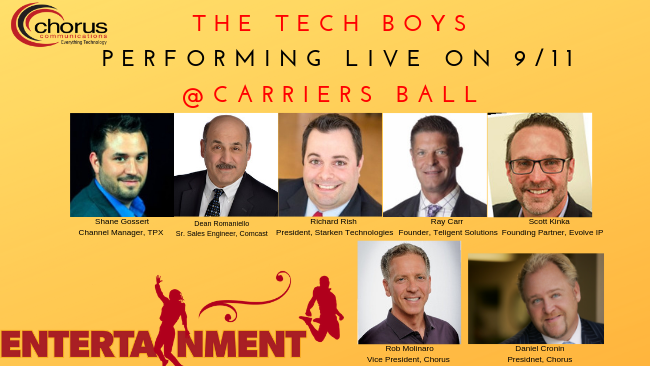 Helene is going on her third year with Chorus and has nothing but praise for the Philadelphia-based Master Agent:
"They will only set you up for success, never failure. Should a problem arise, they'll stand shoulder to shoulder with you until problem solved. And when it's time to celebrate the wins, they throw down like no one else can."
Several awards are presented at the Carriers Ball after extensive voting. Helene made it to the final three contenders for Channel Champion alongside reps from Vonage and RingCentral. She flew to D.C. just in time to accept her award after a whirlwind week exercising her dynamic business skills in front of a new tech audience at INBOUND.
Her colleagues at Chorus agreed that it was a well-deserved win, and then some:
"You have been consistent, persistent, and when you ask me for different ways to approach the Channel or particular [Chorus Partners] individuals, you listen and you put it in motion." –Amy Servis, Channel Manager, Chorus Communication
Here at OnSIP, everyone knows what a champion Helene is, and we're thrilled that Chorus recognized her exceptional talent. Congratulations, Helene!